Twitter Is So Emotional After Meredith & Derek's Final Grey's Anatomy Reunion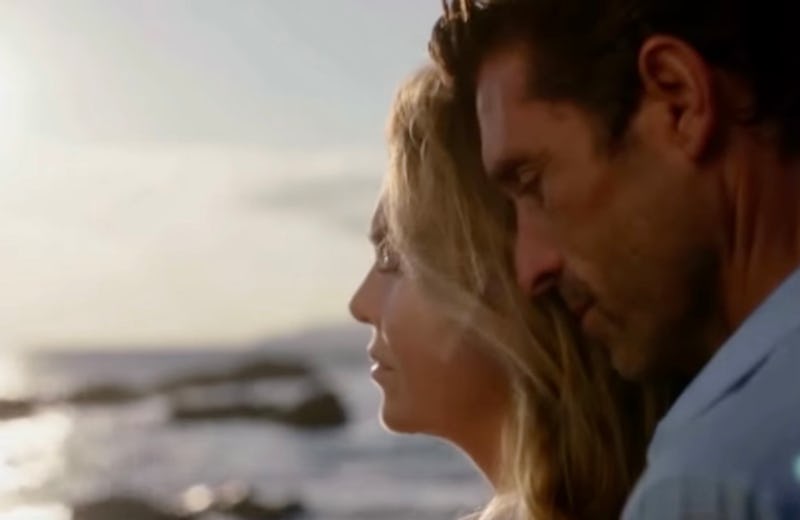 ABC/screenshot
Spoilers ahead for Grey's Anatomy Season 17, Episode 13. Before saying goodbye for likely the last time, Meredith and Derek finally had their wedding in the April 22 episode of Grey's Anatomy — only this time, there were no Post-its involved. "Ellis draws this picture of us," Meredith began explaining to Derek of their daughter. "I'm in a wedding dress, you're in a suit. I show her the Post-it note, but she just...hates it. She feels robbed." After Derek joked that Ellis must get that from his mother, the pair erupted in nostalgic laughter.
Just like that, the beach worked its magic. Meredith appeared in a white dress holding a flower bouquet, while Derek suddenly had on a khaki suit jacket over his baby blue button-down. "You hate weddings," Derek noted, which was something Meredith couldn't deny.
"I hate weddings, but I'd give this to her if I could," Meredith replied before asking Derek what he wanted her to promise him. His request was that she torture herself less, but leave it to Mer to do the exact opposite, making Derek appear just inches from her face. "I don't want to leave the kids," she remarked, to which he replied, "I don't want you to leave the kids." And as the camera pulled away, they sealed the deal with a kiss, though it remained unclear if Meredith would ever be able to leave him.
The moment had been subtly teased in the episode's promo, which included Yael Naim's "Flashdance...What a Feeling" cover (i.e. the same song from MerDer's Season 5 Post-it wedding) playing in the background. As some fans pointed out on Twitter, however, Grey's may have been playing an even longer game with their hints, as Derek suggested 12 whole seasons ago that they get married on the beach in the Bahamas.
Back at Grey Sloan memorial, Winston had an "out of the box idea" to help Meredith wake up and called in a very special reinforcement: Zola. After convincing Maggie to go along with the plan, the docs snuck in MerDer's eldest daughter — in full PPE — to see her mom, hoping the interaction would motivate Meredith to open her eyes again.
"You have to go," Derek told Meredith as they shared one last embrace on the beach. "It's not your time yet. Our kids need you. You have to go." And go, she did. As Zola was mid-story about her siblings, Meredith finally woke up, seemingly for good this time. "We love you, Zozo," she told her emotional daughter as all her loved ones looked in from outside her hospital room.
With Meredith now awake, that meant saying farewell to Derek and the beach, too. As some viewers noted, it was almost six years ago to the day that fans first said goodbye to Derek following his Season 11 death on April 23, 2015. Though this time was much more expected (showrunner Krista Vernoff said all along that Patrick Dempsey would appear in four Season 17 episodes), it didn't hurt any less to see him fade away as he walked down the beach.
The good news is that it appears Meredith will survive COVID, but first, she and Derek had to give new meaning to the phrase, "'til death do us part."