Grey's Anatomy Star Anthony Hill On The Key Detail Fans Forget About Maggie & Winston
The actor on why the couple isn't actually moving that fast and what's next for their relationship.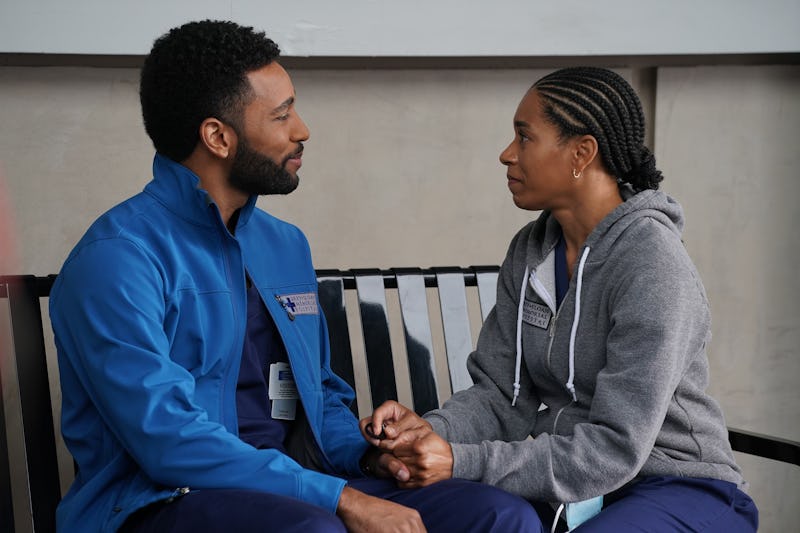 ABC/Richard Cartwright
Grey's Anatomy star Anthony Hill knows fans are skeptical of Winston and Maggie's relationship. Since the two former colleagues reconnected at the end of Season 16, their romance has progressed rapidly: in the April 1 episode, they got engaged after only a few months of exclusively virtual, long-distance dating. But Hill thinks there's one important detail that viewers tend to forget about Maggie and his character: they've already known each other for years. "[They] studied with each other and worked with each other at Tufts for a very long time," the actor tells Bustle. "People seem to forget that because it was only touched on in one episode."
Hill adds that he thinks Winston has become more of a "seize the day type of guy" since his mother died of cancer — a detail that was also only mentioned briefly when his character was introduced. "He's in a position in his life where he knows what he wants, and [Maggie] is in a position in her life where she finally knows what she wants. She's weeded out a lot of past trouble in her relationships, in her dating life, and this finally clicks and it works. They get each other and they make each other better."
Indeed, Winston has been a rare source of light for Maggie amid an otherwise bleak 17th season. Not only did he support Maggie from afar via FaceTime and with romantic gestures like a surprise backyard tent and virtual movie date, but he arrived from Boston — flowers in hand — right when Grey Sloan docs had to put Meredith Grey on a ventilator. As Maggie described just before Winston proposed, it's these moments of joy and connection that have kept her grounded.
Now, reality has begun to edge into their relationship. As Winston finally drove from Boston to Seattle to be with Maggie in the April 15 episode, white police officers pulled him over and ransacked his car, leaving Maggie to agonize helplessly from across the country. It was a painful episode to watch — particularly so soon after the death of Daunte Wright and amid Derek Chauvin's trial for killing George Floyd — but Hill promises there are happier days ahead for the couple. "There will be plenty of time and opportunities for fans to see the celebration and the joy and the planning," he says of their engagement.
Becoming a more permanent fixture at Grey Sloan will present new challenges for Winston, too. "He actually might have a hand in a big decision that's going to be made in a big out-of-the-box idea that affects the hospital as a whole," Hill teases, adding that he'll have some "pretty pivotal scenes" with both Richard Webber (James Pickens Jr.) and Teddy Altman (Kim Raver).
Of course, there will be "a little bit of tension" between Winston and Maggie's ex, Jackson Avery (Jesse Williams), but nothing the two can't overcome. "Ultimately, these two guys are grown men, and although there is a little bit of awkwardness between the two of them, I think that they might be able to move it aside and focus on the job they've got at Grey Sloan," Hill says.
Mostly, fans can anticipate getting to know more about Winston (and seeing more of his family). "I'm looking forward to having more of a three-dimensional man start to appear and [allowing viewers] to learn more about the ins and outs of this guy and what he's about. Yes, he is about Maggie, and, yes, he knows he loves her and is there for her. But what else is up with this guy's life?"