Grey's Anatomy Just Dropped A Major Hint That Meredith Could Die
Careful what you wish for.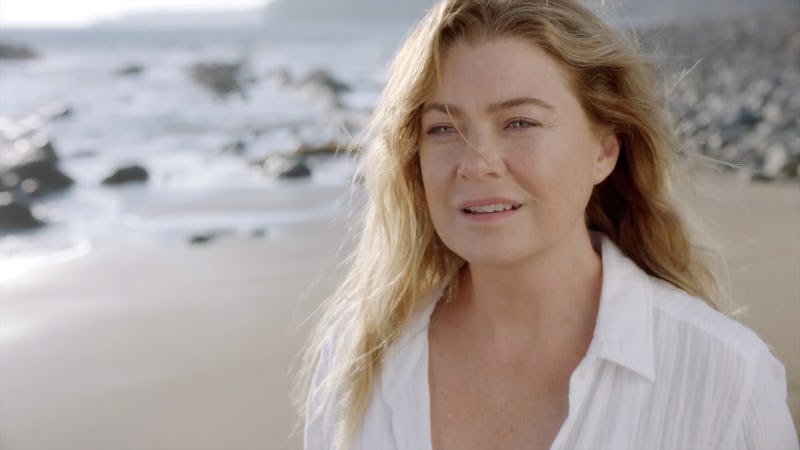 ABC
Spoilers ahead for Grey's Anatomy Season 17, Episode 12. Ever since Derek appeared on Meredith's beach on Grey's Anatomy, fans have been not-so-patiently awaiting an epic embrace. After the April 15 Grey's episode, however, they're singing a very different tune. The good news? Derek and Meredith finally touch on the beach next week. The bad news? That touch could mean, this time, she's joining her late husband on the other side.
The promo for the April 22 episode began with Richard puzzling over why Meredith isn't awake, despite showing remarkable improvement. (Yes, her brief period of consciousness in Episode 11 was just that.) Meanwhile, Meredith is back with Derek on the beach, socially distanced on a log. "People love you Meredith, people need you," he reasons with her, explaining that she's tired because she's still fighting. Meredith responds, "I want you closer," but he begins to warn her, "If you get closer..."
Derek didn't even have to finish his sentence before Meredith interjected, "I'll never leave." Cut to an image of Derek embracing Meredith, as the screen fades to white. Dr. Grey has always been one to defy standard rules and conventions, but will she really be able to tear herself away from Derek to finally recover from COVID? Fans aren't so sure.
Those concerns aside, the short sneak preview of their hug also served up a heavy dose of nostalgia for longtime Grey's fans. Several Twitter users noticed the parallel between their position for the beach embrace and one they shared in the elevator years ago. One particularly observant viewer even noticed the background music features the same song from MerDer's Post-it wedding in Season 5. (FYI, the song is Yael Naim's "Flashdance...What a Feeling" cover.)
As various visitors, including George, Lexie, and Mark, have shown up over the course of Season 17, fans noticed that Derek is the only one person Meredith could never get too close to. Prior to the reveal that they will finally touch, Grey's executive producer Andy Reaser reminded Bustle in December that Meredith has struggled to move on since Derek died.
"Derek is somebody that, if you think about her subconscious, she spent so much time saying, 'Am I ever going to be able to move past this?' So it makes sense, sort of poetically, how [showrunner Krista Vernoff] designed that to have them not be just all up in each other's business," he explained. "It's something that we intend to play with going forward, and as far as when he's going to appear, we're going to maximize the emotional and dramatic impact."
Fellow EP Meg Marinis added that the distance between Meredith and Derek was "very intentional" and that Derek would also appear "at very specific moments intentionally." Regardless of whether Meredith lives or dies, however, this will likely be the last time we see Derek — at least in non-flashback scenes anyway. Following Patrick Dempsey's initial Season 17 return, Vernoff told the Los Angeles Times that he'd appear three more times. And if you've been keeping count, the April 22 episode will officially be number four.