10 Dirty Documentaries You Can Watch On Netflix Right Now
From pole-dancing to voyeurism, each explores a different aspect of sexuality.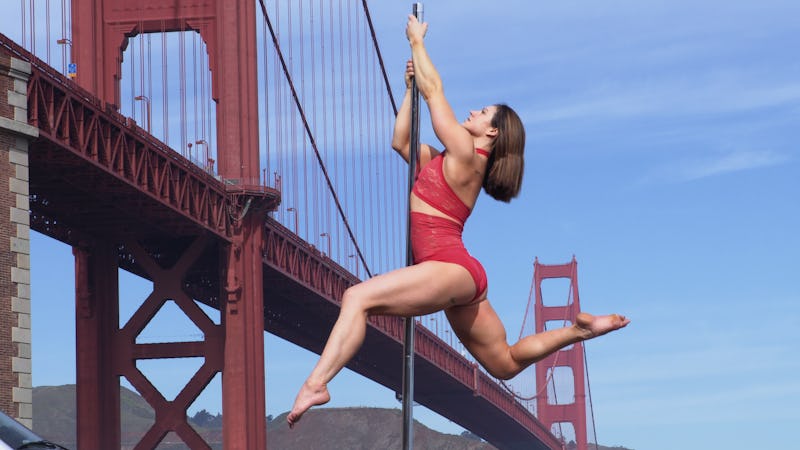 Netflix
Documentaries have been made about almost every subject imaginable, but sometimes you're in the mood for something specific: exploring darker, dirtier, sexier side of life. That's when Netflix comes in handy, as it boasts a considerable collection of dirty documentaries. Each has its own interesting points to make, and often, these films do a great job of expanding conversations around sex work and sex positivity. Sure, things get explicit and possibly even R-rated, but hey, these are documentaries. Real life is being captured frame by frame. Isn't that what you came for?
While Netflix's content library isn't unlimited, it does offer surprisingly wide range of documentaries about sex and sex-related topics. Whether it's a doc about a porn star getting ready to retire, a closer look at hook-up culture and spring break, or a Rashida Jones-produced investigation into the niche world of amateur porn, they doesn't hold back. So, if you're aching for something new, why not try one of these documentaries? With any luck, they'll push you to think about the world of all things sexual in new and unusual ways.
1. Rocco
This 2016 documentary follows Rocco Siffredi, an Italian porn star, as he navigates his last year in front of the camera. The film gives audiences an inside look into the porn industry, and what it really takes to be successful in that world. Fair warning: it features a very NSFW, unapologetic behind-the-scenes look at porn shoots.
2. Strip Down, Rise Up
This film explores the art of pole-dancing. A group of women with a range of experiences — some of whom have suffered trauma, others who have challenging relationships with their bodies, or still more who want to connect with their sensuality — go on a journey to learn pole-dancing for themselves (and experience healing) over six months.
3. Sex, Explained
Sometimes sexy, sometimes clinical, this docuseries explores everything and anything related to sex. From fantasies to childbirth to birth control, your sex education awaits. But in addition to a wealth of knowledge, you may also find liberation and pleasure in learning all there is to know about sex.
4. Mostly Sunny
Sunny Leone grew up in a conservative family, became an adult film star, and then "made it" as a reality TV star and actor. She's incredibly famous, controversial, and outspoken about her life and trajectory. Mostly Sunny a riveting portrait of woman who has, for better and worse, become a cultural sex symbol and taken control of her narrative.
5. Liberated: The New Sexual Revolution
Liberated: The New Sexual Revolution examines the modern social constructs around sex, dating, and hooking up through the lens of spring break. Because what's more sexy than a bunch of college students letting loose on the beach and drinking like there's no tomorrow? Of course, the documentary isn't all about the glossy, carefree glamour of 20-somethings on vacation — it's also about the gender roles imposed by the idea of "spring break," and how they can influence young adults' sexuality.
6. Christiane Amanpour: Sex & Love Around the World
Journalism isn't usually seen as dirty or sexy, but Christiane Amanpour's Sex & Love Around the World might be the exception. In this docuseries, Amanpour travels the world to see how sex is celebrated and understood in different countries and cultures.
7. Hot Girls Wanted
Rashida Jones produced Hot Girls Wanted with the aim of exposing the amateur porn industry. The documentary seeks to tear down the negative ways the industry can treat women, as well as forcing viewers to question their own preconceptions about porn and sex work.
8. Hot Girls Wanted: Turned On
This is the docuseries spinoff to Hot Girls Wanted, and it's all about how the internet widened accessibility to pornography — changed the porn industry and the wider world in the process. It's not exactly a sexy series; the six-episode show covers all kinds of ways that technology and sex overlap today, from how young women are recruited for porn to an alleged rape livestream.
9. Voyeur
A man, Gerald Foos, builds a motel with the express purpose of spying on everyone who comes to it — especially when they're having sex. The telling of this story is as controversial as the subject matter, with longtime journalist Gay Talese getting caught up in scandal. But at its core, it's a dark, unsettling look at an obsession with voyeurism.
10. Circus of Books
Finally, on the lighter end of the spectrum, there's Circus of Books: the story of a wildly successful sex shop owned by a lovely Jewish couple that catered to the Los Angeles gay community. It's incredibly sweet and poignant — and also occasionally sexy, too.
Additional reporting by Olivia Truffaut-Wong.
This article was originally published on