Disney & Ewan McGregor React To Racist Backlash From Obi-Wan Kenobi Viewers
"There are more than 20 million sentient species in the Star Wars galaxy, don't choose to be a racist."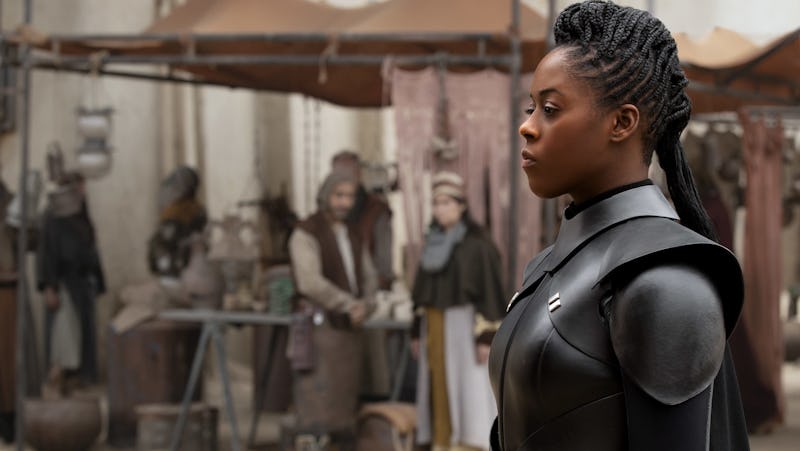 Lucasfilm Ltd.
Three days after the premiere of Disney+'s Obi-Wan Kenobi, the official Star Wars social media accounts responded on May 30 to racist statements directed at Moses Ingram and her character Reva Sevander (The Third Sister), the show's antagonist who is working for Darth Vader. On Instagram, Ingram posted examples of hateful messages she received during Memorial Day Weekend. The screenshots of direct messages from viewers ranged from threatening ("Your days are numbered") to racist (using the N-word and suggesting Ingram was a "diversity hire").
After posting the examples, Ingram shared a video of herself processing the negative notes, stating that there are "hundreds of those." She thanked her fans and those who have come to her defense before stating, "There's nothing anybody can do about this. There's nothing anybody can do to stop this hate. I question my purpose in even being here in front of you saying that this is happening. I don't really know."
Disney and Lucasfilm are attempting to do something about it, sharing a statement late on May 30 to Star Wars social accounts: "We are proud to welcome Moses Ingram to the Star Wars family and excited for Reva's story to unfold. If anyone intends to make her feel in any way unwelcome, we have only one thing to say: we resist." A follow-up tweet states, "There are more than 20 million sentient species in the Star Wars galaxy, don't choose to be a racist."
On May 31, the Star Wars social accounts followed up their previous posts with a video from actor Ewan McGregor, who plays the titular character, condemning the racist backlash. He began the clip by thanking fans for making Obi-Wan Kenobi the most-watched Disney+ original premiere of all time. He quickly segued into dismay at the treatment of Ingram, stating that the messages "broke his heart." He ended the video by supporting Ingram emphatically: "I just want to say, as the lead actor in the series, as the executive producer on the series, that we stand with Moses. We love Moses. And if you're sending her bullying messages, you're no Star Wars fan in my mind. There's no place for racism in this world. And I totally stand with Moses."
After similar racist reactions were slung at John Boyega and Kelly Marie Tran, other outspoken POCs in the Star Wars franchise, Lucasfilm apparently prepared Ingram for the onslaught. "It was something that Lucasfilm actually got in front of, and said, 'This is a thing that, unfortunately, likely will happen. But we are here to help you; you can let us know when it happens,'" Ingram told The Independent. She continued, "Obi-Wan is going to bring the most diversity I think we've ever seen in the galaxy before. To me, it's long overdue. If you've got talking droids and aliens, but no people of color, it doesn't make any sense. It's 2022, you know. So we're just at the beginning of that change. But I think to start that change is better than never having started it."
Reactions to and comments on the May 30 social post have been twofold: on one side, fans applauded the company for taking a stance while lamenting the need to do so; others used the space to continue to spew their hatred of Ingram and her character.
Some viewers defended their stance by clarifying that they were criticizing the character, not Ingram. Fans have been disappointed that the new show focuses on Reva more than the titular character.
Still others called out Disney's lack of response when Boyega and Tran endured similar backlash.
Responses to McGregor's video were of the same vain as the first Star Wars posts, with fans either applauding McGregor and standing with Ingram, or defending their dislike of Reva.
Ingram has not publicly commented on or reacted to either of the Star Wars social posts.