Doctor Who's Easter Special Confirmed What Thasmin Shippers Have Been Waiting For
Here's a recap of everything that happened.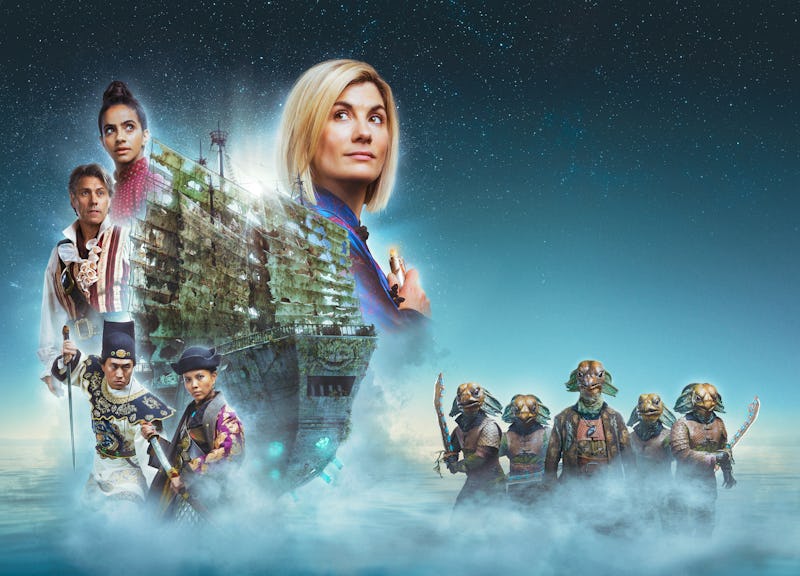 BBC
The second Doctor Who special for 2022 finally aired over Easter, treating fans to a swashbuckling adventure full of pirates and classic Doctor Who monsters. It's one of the last times we'll see Jodie Whittaker as the Time Lord, following her announcement that she'll be departing the show. Doctor Who is known for bringing back familiar faces, so this may well not be the end of her journey. Find out everything that happened in Legend of the Sea Devils, below.
What Happened In Legends of the Sea Devils?
The Tardis team landed in 19th century China, where they discovered a village that's been raided by Madame Ching (played by Crystal Yu). She's a pirate queen who inadvertently releases the Sea Devils after killing Ying Wai (played by David K. S. Tse), a man who has been guarding a gemstone trapping Marsissus, the leader of the Sea Devils.
Descendants of the Silurian species, the Sea Devils first appeared in 1972 when the Doctor – played by John Pertwee – fought them off. Now released again, this ancient, earthly reptile species plan on taking over Earth by flooding it with the help of said gemstone.
Ying Wai's son Ying Ki (Marlowe Chan-Reeves) and Dan (John Bishop) take the gem to confront Ching, who reveals that she's after the legendary treasure of sailor Ji-Hun (Arthur Lee), who disappeared after trying to find the treasure of a sunken Portuguese vessel, the Flor de la Mar.
The Doctor and Yaz (Mandip Gill) travel 274 years back in time to see exactly what happened to Ji-Hun and discover the sailor was betrayed by the Sea Devils. Back in 1807, the pair are inevitably taken to the Sea Devils' lair. Not only do they find the lost sailor's ship here, now full of alien technology, they also find Ji-Hun who has been kept alive this entire time through stasis.
A battle to save the world ensues, and the Doctor manages to retrofit Ji-Hun's ship to destroy the alien technology onboard. However, to do so one person needs to stay behind and sacrifice themselves by holding two cables together. The Doctor, of course, volunteers, but Ji-Hun sacrifices himself instead.
Is 'Thasmin' Officially Canon?
Legends of the Sea Devils was full of loving moments, like Dan finally calling Diane after what happened in the last special. But the main crux of the episode came towards the end, when Yaz finally told the Doctor she has romantic feelings for her. Thasmin fans certainly rejoiced, but were met with a very emotional scene as the Doctor, while reciprocating Yaz's feelings, said they couldn't be together.
When questioned by Yaz, the Doctor noted how "time always runs out" in reference to the upcoming regeneration. "I can't fix myself to anything, anywhere, or anyone," she tells Yaz. "That's what my life is. Not because I don't want to, because I might. But if I do fix myself to somebody, I know sooner or later it'll hurt." After telling Yaz: "if it was going to be anyone, it'd be you" she asks: "just live in the present of what we have, while we still have it?"
"I wish this could go on forever," the Doctor says, as she makes a wish on a skipping stone at the episode's end.
The Doctor Who Specials Release Date
The Easter Special, Legend of the Sea Devils aired on BBC One on Sunday, April 17. It's now available on BBC iPlayer, and will be followed by an autumn special, per Radio Times.
As part of the BBC's 100th birthday celebration, producers have promised that the final piece of the trilogy will be a "massive epic."
This article was originally published on