David Tennant Will Have A New Villain To Battle In His Doctor Who Return
The show's 60th Anniversary special will take viewers on a wild ride.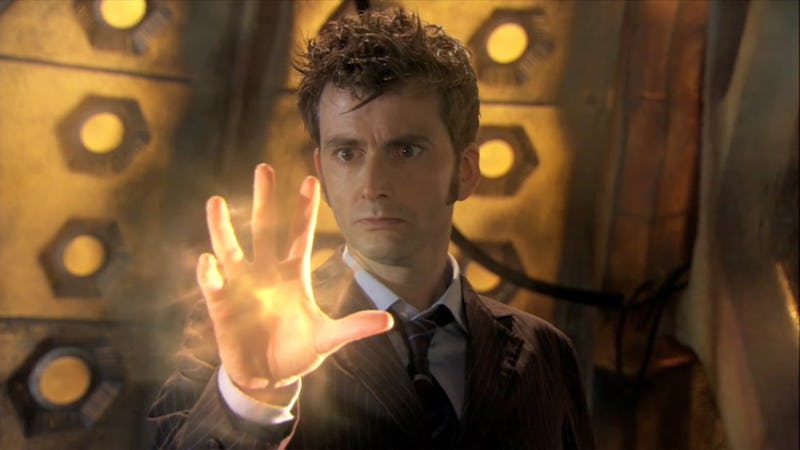 BBC
The hotly-anticipated Doctor Who 60th anniversary episode, airing in 2023, will feature a new villain called Beep The Meep. The character will share the screen with David Tennant and Catherine Tate, who are returning for the special episode. While Beep might be new to television screens, he's not new to the Doctor. First appearing in the original Doctor Who comic strips in 1980, Beep is something of a fluffy criminal. Described as having a "cute and cuddly appearance," he is actually "a sadist, enjoying inflicting pain on others for no real purpose." The Tardis Fandom notes: "He resented being thought of as cute, but used it to his advantage when manipulating people."
Little information has been shared about the special so far, but Tennant and Tate have reportedly been spotted filming scenes in Cardiff. Russell T Davies is back to run the show, after helming the series from 2005 to 2010.
Announcing the eagerly-awaited return of Tennant, Davies posted a picture of the actor alongside co-star Tate. Alongside the Instagram picture, he wrote: "They're back. The Doctor and Donna. But how? He wiped her memory."
He continued: "If she remembers, she'll die. But, but… is it a flashback? A dream sequence? A lie? A fantasy? A parallel universe?! Alt Doctor? The Land of Fiction?! You'll find out in 2023 as Doctor Who hits its 60th (diamond!) - anniversary."
Ahead of the anniversary special, Sex Education's Ncuti Gatwa will be making his debut as the 14th Doctor, taking over from Jodie Whittaker.
When the announcement was made, a statement was posted to the official Doctor Who website. Gatwa said in the post "There aren't quite the words to describe how I'm feeling. A mix of deeply honoured, beyond excited and of course a little bit scared. This role and show means so much to so many around the world, including myself, and each one of my incredibly talented predecessors has handled that unique responsibility and privilege with the utmost care. I will endeavour my utmost to do the same."