Dominic Fike's Amber Heard Comments Got Him Booed During A Show
The Euphoria actor shared what he admitted is "not a popular opinion."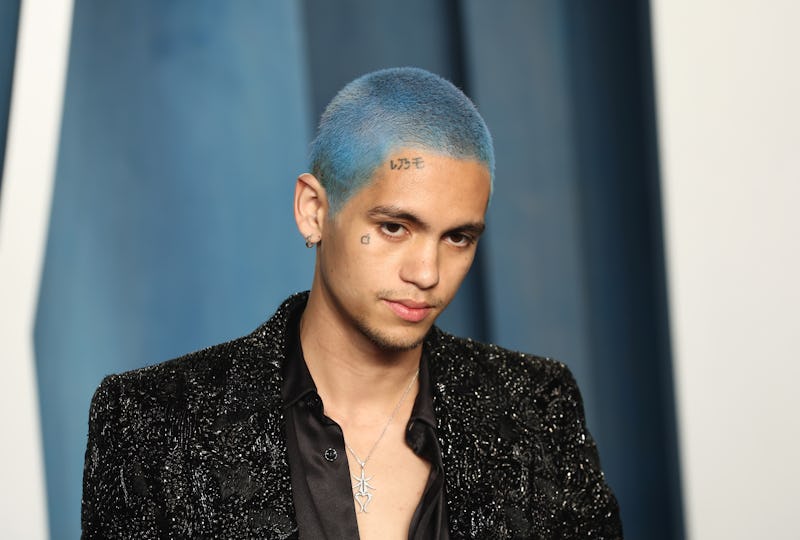 Arturo Holmes/FilmMagic/Getty Images
While performing a set at Northwestern University's Dillo Day on May 21, Dominic Fike's comments about Amber Heard didn't sit well with students. Amid Heard and ex-husband Johnny Depp's ongoing defamation trial, the Euphoria actor told the crowd between songs at the student-run music festival, "So I'm just going to come straight out and say it ... I'm going to be real with y'all, I actually, I think Amber Heard is hot, dude." The audible boos, which can be heard in various clips that later went viral, didn't stop him from continuing to make matters worse, though.
"I know it's not a popular opinion, and it's not the focus at the moment, dude," Zendaya's "Elliot's Song" collaborator added, as the audience jeered. "But I've been having these visions of her just beating me up. I think it's hot."
The highly publicized $50 million Depp-filed lawsuit stems from Heard's December 2018 Washington Post op-ed, in which she identified herself as "a public figure representing domestic abuse." According to Depp, who denies the abuse allegations, his ex-wife's statements harmed his Hollywood career. Meanwhile, Heard counter-sued Depp for $100 million, claiming that his defense that she concocted abuse claims as a "hoax" to "advance her career" had also put her acting gigs, including one in Aquaman 2, in jeopardy. Following a contentious, month-long trial, their attorneys made closing arguments on May 27, and the verdict is forthcoming.
After the May 21 Evanston, Illinois, concert, one student attendee tweeted that Fike's comments turned them off and were "disgusting no matter how you view the trial and a weird thing to say about a potential abuser/victim." As the video continued to circulate, more and more social media users criticized the musician and accused him of romanticizing abuse, with one noting that he "should be ashamed of himself." Fike, for his part, has not publicly responded to the backlash.
The musician-slash-actor is hardly the only celebrity to comment on Depp and Heard's legal matter, nor is he the first to experience public blowback. Referring to the trial as "a seven-layer dip of insanity" and "crazy" on her daytime talk show in April, Drew Barrymore, for example, accused both parties of "offering up this information that nobody had to know." On May 1, however, Barrymore apologized for her on-air remarks.
"It has come to my attention that I have offended people with making light of Johnny Depp and Amber Heard, and for that I just want to deeply apologize and appreciate everyone who spoke out because this can be a teachable moment for me and how I move forward and how I conduct myself," The Drew Barrymore Show host said in an Instagram video. "All I want to do is be a good person and I very much appreciate the depth of this and I will grow and change from it. … And I thank everyone helping me grow along the way and teaching me."
It remains to be seen if Fike will follow suit with his own mea culpa, though.