Prince Philip's Funeral Dress Code, Explained
Buckingham Palace has announced the Royal Family will not be in military uniform at Saturday's ceremony.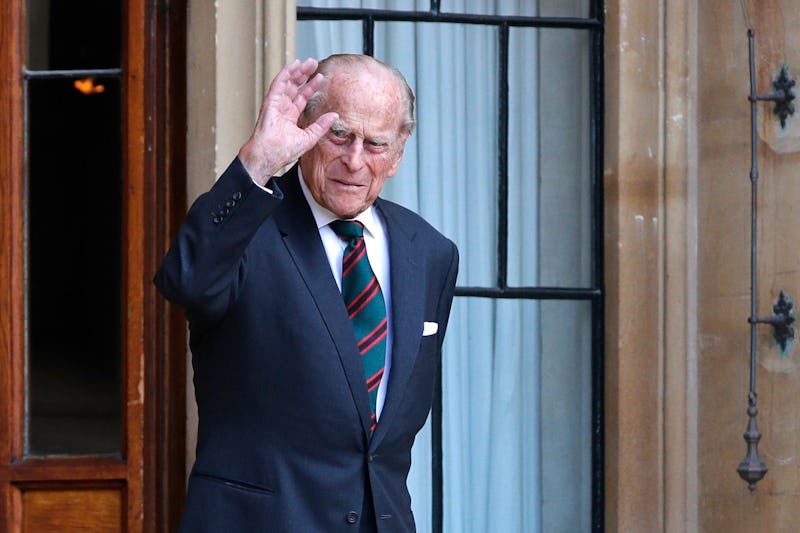 Adrian Dennis/AP/Shutterstock
The funeral of Prince Philip, Duke of Edinburgh, will take place on Saturday April 17 following his passing last week. The event, which officially begins at 3 p.m. at St George's Chapel in Windsor will be one of the smallest royal funerals in modern history, with coronavirus restrictions meaning that only 30 attendees are permitted. Although Prince Philip will be mourned with a military-style funeral, the Royal Family will not be donning military uniforms, and will adhere to a civilian dress code.
What Is The Typical Dress Code At Royal Funerals?
At royal ceremonial funerals, it has been the custom for ceremonial uniforms to be worn by members of the Royal Family who are bestowed military ranks. This would include Prince Charles, Prince William, Princess Anne and Prince Edward. At the last ceremonial royal funeral, held for the Queen Mother in 2002, this was the case.
Civilian dress is usually reserved for private family funerals. For instance, mourning dress was donned for the funeral of Princess Margaret in 2002, and for Princess Diana, in 1997.
At previous formal occasions, such as during his wedding, Harry wore the frock coat uniform of his old army regiment, the Blues and Royals.
Whats Is The Dress Code For Prince Philip's Funeral?
On Thursday, April 15, the palace announced that attendees will be expected to wear mourning dress. This means dark colours, suits, and blacks ties. A spokesman from Buckingham Palace said, "Members of the Royal Family will be wearing Morning Coat with medals or Day Dress. That's to say Members of the Royal Family will not be in military uniform."
This announcement was made amid concerns that Prince Harry would have been the only senior royal not in uniform. Although he served in Afghanistan as a Forward Air Controller between 2007 and 2008 and as an Apache Pilot between September 2012 and January 2013, and has served in the military for 10 years, he has given up his honorary military titles since relinquishing royal duties. His previous titles included Captain General of the Royal Marines, which he received in 2017 succeeding Prince Philip, Commodore-in-Chief of the Royal Navy, and Honorary Air Commandant of the Royal Air Force Honnington.
According to a military source who spoke to The Sun, the choice to go with civilian dress was one made by the Queen herself and was the "most eloquent solution to the problem" of what her grandson Harry would wear.
The decision to forgo military dress has also put an end to the speculation around what Prince Andrew, Duke of York, would wear, as reports suggested he had requested to wear Admiral's uniform despite having stepped back from royal duties also. Prince Andrew is currently marred by controversy surrounding his friendship and involvement with convicted paedophile Jeffrey Epstein.
Why Does The Dress Code Matter?
Given the strong military presence at Prince Philip's funeral, it is significant that the Royal Family will forgo tradition and instead don civilian mourning dress.
The decision comes amid rising familial tensions between the Sussexes and the Royal Family, following the aftermath of their revealing interview with Oprah, which Philip thought was "madness", according to royal biographer Gyles Brandreth. It also comes amid Prince Andrew's rising unpopularity in the public after his infamous Newsnight interview.
The choice to eschew military uniform altogether protects Prince Harry from being seen as an outcast and takes Prince Andrew out of the spotlight. As a military source told the Mail Online, if Prince Andrew were to don Admiral's uniform, it would likely "cause outrage for people."
ITV News' Royal Editor Chris Ship tweeted that it was a "safety first" decision given the circumstances surrounding the two men, while LBC's James O'Brien argued that "The Queen has surveyed, in her wisdom, this strange state of affairs, and she has concluded that it would just look daft, for the only member of the Royal Family that people automatically associate with the army, to be the only member of the Royal Family not in a military uniform at Prince Philip's funeral," referring to Prince Harry.