Dubai Hustle Is BBC Three's Answer To Selling Sunset
Here's everything you need to know.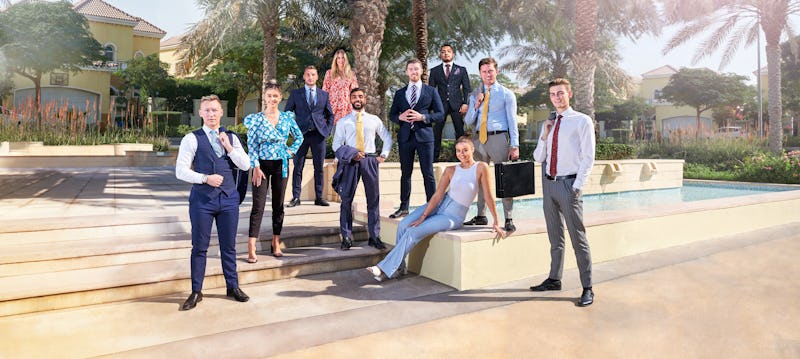 BBC / ITV Studios / Peter Maloney
Would-be property tycoons, rejoice: BBC Three has just announced a new reality series about British-owned property agencies in Dubai, appropriately named Dubai Hustle. After drooling over Los Angeles' luxury estates on Selling Sunset and gorgeous French apartments on The Parisian Agency, interior design lovers will no doubt soon find many more houses to add to their Pinterest boards. Here's everything you need to know about this upcoming series.
Dubai Hustle Overview
A group of young, driven real estate brokers in their 20s work with and against each other to sell high-end properties in the glitz of the Dubai market. Famous for being the playground of the global ultra-rich, the glamorous UAE city is bound to be highly competitive and the brokers must get familiar with stepping on toes and egos, all while navigating the complexities of Dubai's strict code of conduct. Who are you betting on hustling hard enough to land the biggest deals?
Dubai Hustle Release Date
Sit yourself down in front of BBC Three by 8 p.m. on Monday, May 23. A batch of four episodes will also be available to stream on BBC iPlayer from 6 a.m. the same day. No worries if you find yourself hooked, because the second part of the series will air later this year — watch this space.
Meet The Cast Of Dubai Hustle
Ellie Washington
Ellie, 26, hails from Huddersfield, Yorkshire, and has spent years in the insurance industry before making a career change into real estate. The show covers her struggles after moving from Leasing to Sales, with her work being scrutinised in the very first episode. Ellie also gets wrapped up in a will-they-won't-they relationship arc with a luxury kitchen designer, which will no doubt make for excellent TV viewing.
Azim
Northampton man Azim had struggled in the past to find a suitable career path and is relatively new to the luxury real estate game. He apparently receives an unexpected job offer in the first half of this season, but it remains to be seen if he will end up sticking with real estate or jumping ship.
Megan Flook
Megan grew up in the Emirate and Dubai has been home for her since her family relocated there in 1997. She has a good few years of luxury real estate experience under her belt, having worked for one of the most successful agents in London's notoriously competitive Kensington and Chelsea areas. She also claims to have the best knowledge about Dubai's brunches and social scene — sounds like a woman after our own heart.
Jess Eaton
Having made £35,000 in commission since she started, Jess is the most successful new broker in the history of her agency, and might be primed for a move into the lucrative Off-Plan department where she will get to be mentored by the company's top broker. But will her love for big nights out affect her performance and negatively impact her career? You'll have to watch and see.
Archie Adams
Ex-stockbroker City boy Archie very obviously fancies himself a bit of a ladies man. Describing dating within the workplace as "pretty incestuous but team building," he has already dated three colleagues and has no qualms about dating more. The man apparently also doesn't like working with other agents and has a history of cutting them out of deals so he can keep all the commission. We can already tell Archie is going to be one to watch...
Chris Lock
Chris felt it when Drake said "started from the bottom, now we're here." Raised on a Scottish council estate, he is now living his best life in Dubai and aiming to become a leading broker. He may banter a lot, but his salesman background drives him to competitively work on a deal until it is signed.
Ben Greenwood
After spending nine years in the Royal Air Forces as an aircraft engineer, Ben decided to leave home in the East Midlands to seek his fortune in Dubai and has since established himself as the top broker in his area of Dubai Hills. On the show, he hustles for higher commission and a promotion, and also has a rivalry with Archie over seniority.
Adam Kumar and Jake Matthews-Hubbard
Evidently not all luxury real estate is as cutthroat as it seems, as Adam and Jake are best buds who have set out to take the global property developer market by storm together. But there are downsides to coming as a package deal because their close friendship doesn't make much room for anybody else, and the duo find it difficult to bond with their colleagues.
Lucas Sturman
Though he's the youngest broker in the show, Lucas doesn't appear to be any less ambitious than his co-stars — in fact, his game plan is to retire by the ripe old age of 21. We'll just have to see if working in the high-net-worth market is indeed a fast track to such a plan! Lucas apparently spends a lot of his time trying to woo his colleagues – specifically Ellie and Jess. I mean, who could blame him, but eyes on the prize, buddy.
The first episode of Dubai Hustle will air at 8 p.m. on May 23 on BBC Three.