The Elite Season 4 Cast Includes A YouTuber & An X Factor Finalist
Meet the new students of Las Encinas.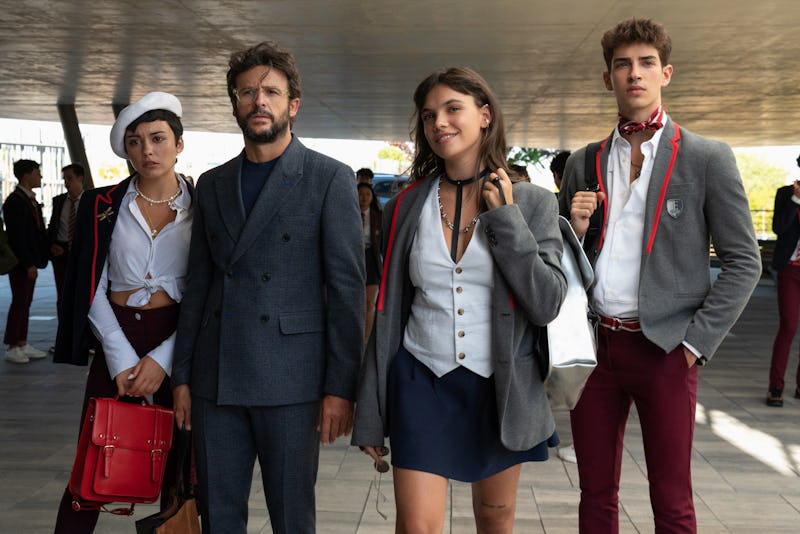 Netflix
Samuel and his friends will have a batch of new students to contend with when the doors of Las Encinas open for a new school year. Every season, the popular Spanish drama has added on new characters to follow, like Rebeka and Cayetana in Season 2 and Alexis in Season 3. Now Elite Season 4 will focus on the wealthy Blanco kids — Ari, Patrick, and Mencía — lead by their father, new school director Benjamín.
As showrunner Carlos Montero explained to Entertainment Weekly, the Blancos are "even richer than our rich" and for Ari, Patrick, and Mencía, having wealth is "something that actually defines them." Montero added that they are "very selfish" and "used to having their way," which will undoubtedly put them at odds with Samuel and the rest.
Another newcomer is Phillippe von Triesenberg (Pol Granch), a literal prince who the other students immediately dislike because of all the security he requires. Montero said that he was added because they wanted to explore "how a prince would be" if he had to attend school today.
While they might all clash with the older characters, Montero hopes these newer students become fan favorites too. "I am very proud of this new season, and it was a difficult thing to do because we have lost in the way many important characters," Montero said. "But I think I'm already in love with the new ones. I think we have a very powerful cast and I hope the audience will fall in love as much as I have."
Based on the Elite Season 4 trailer, many of the show's regulars will return, including Samuel (Itzan Escamilla), Guzmán (Miguel Bernardeau), Ander (Arón Piper), Omar (Omar Ayuso), Rebeka (Claudia Salas), and Cayetana (Georgina Amorós). Here's everything to know about the newest cast members of Elite Season 4.
Diego Martín as Benjamín Blanco
Benjamín appears to be a snobby elitist when he immediately targets scholarship students Samuel and Omar, but Montero said that there's definitely layers to him. "In our show, no one is ever just a villain or just the good guy," he said, and Benjamín is "not like it seems."
He's played by Diego Martín, who audiences might recognize as Ambassador-General Narciso Linares from The Alienist or Enrique Otegui from the soapy drama Velvet.
Carla Díaz as Ari Blanco
As Benjamín's oldest daughter, Ari is the Blanco sibling most likely to fall in line with her father's wishes. A rich mean girl, she's immediately the target of both Samuel and Guzmán's flirtations — which puts the two men at odds, just as they were starting to learn how to be friends.
Ari is played by Carla Díaz, a 22-year-old actor from Madrid who is known for her roles in Madres Amor y Vida, La Caza Monteperdido, and Seis Hermanas.
Manu Ríos as Patrick Blanco
Patrick, Benjamín's only son, ends up as a love interest for both Omar and Ander. While the show has portrayed threesomes and polyamory in the past, Montero said that Season 4 is the first time they fully explore what an open relationship means for all the parties involved.
Patrick is played by Insta-famous singer, model, and actor Manu Ríos. He became well-known as a teen when he began posting covers of One Direction, Rihanna and Adele songs on YouTube. His channel now has over a million subscribers, but he's relatively new to acting; the only other TV show he's starred in before Elite was Chiringuito de Pepe in 2014.
Martina Cariddi as Mencía Blanco
Mencía is Benjamín's youngest and most booksmart kid, but she's also the one he clashes with the most. She ends up in relationship with Rebeka — who only mentioned she was bisexual in prior seasons — all to upset her more conservative father.
She's played by Martina Cariddi, who, like Manu Ríos, is relatively new to acting. Cariddi has starred in a few shorts, and was in the 2019 movie While At War.
Pol Granch as Phillippe von Triesenberg
Though he's royalty, when Prince Philipe enters Las Encinas he only has eyes for Cayetana, who is now the cleaning lady at the school. "We thought it would be very interesting to match her up with royalty and what this contrast would mean," Montero said. "It's the first time she's aware that she's behaving like a groupie— especially with the prince. But once she realizes this she starts changing things."
The prince is played by Pol Granch, a 21-year-old singer who made it to the finals of Spain's The X Factor in 2018. While Elite is his first acting job, you can check out his music on his YouTube — he recently released a new single.