Ellie Kemper Addressed Her Involvement In An "Unquestionably Racist" Debutante Ball
"I want to apologize to the people I've disappointed."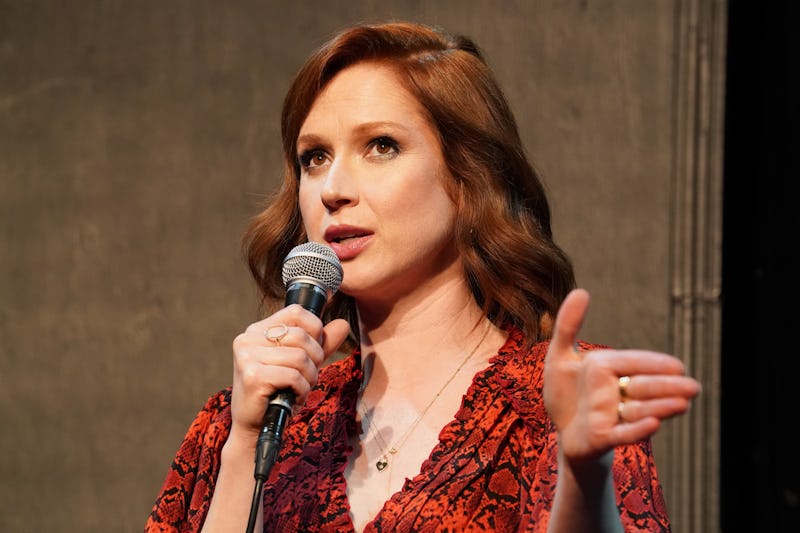 Rachel Luna/Getty Images Entertainment/Getty Images
Just days after photos of Ellie Kemper partaking in a debutante ball held by an organization with racist origins went viral on social media, the Unbreakable Kimmy Schmidt star responded to the backlash and apologized for her involvement in a statement posted to Instagram on June 7. In the post, Kemper confirmed that she had participated in the Veiled Prophet Ball in 1999, when she was 19 years old, acknowledging that she should have done her research about the event's roots. "The century-old organization that hosted the debutante ball had an unquestionably racist, sexist, and elitist past," she wrote. "I was not aware of this history at the time, but ignorance is no excuse. I was old enough to have educated myself before getting involved."
The Veiled Prophet Ball is held annually by the Veiled Prophet Organization, which was founded in St. Louis in 1878 to address "growing labor unrest in the city, much of it involving cooperation between white and Black workers," as reported by The Atlantic. The group did not allow African-Americans or Jewish people to become members until 1979. According to the outlet, during the Veiled Prophet Ball, a secret committee elects a man as the Veiled Prophet, who in turn selects a Veiled Prophet queen from the female debutantes in attendance, as well as five "Special Maids of Honor."
To this day, the Veiled Prophet Balls remain a symbol of racism and white elitism to many St. Louis citizens, with the last event occurring in December 2019. However, despite speculation on Twitter, including referring to Kemper as a "KKK queen," the group has no affiliation with the actual Ku Klux Klan.
As seen in a photo shared by the St. Louis Post-Gazette, Kemper was named the "Queen of Love and Beauty" in 1999. The actor went on to apologize for her actions and admitted that she initially thought the backlash was unwarranted. "There is very natural temptation, when you become the subject of internet criticism, to tell yourself that your detractors are getting it wrong," she said. "But at some point last week, I realized that a lot of the forces behind the criticism are forces that I've spent my life supporting and agreeing with."
Kemper also formally denounced white supremacy in all forms while recognizing her privilege as a white woman in the U.S. "I acknowledge that because of my race and my privilege, I am the beneficiary of a system that dispensed unequal justice and unequal rewards," she wrote. "I want to apologize to the people I've disappointed, and I promise that moving forward I will listen, continue to educate myself, and use my privilege in support of the better society I think we're capable of becoming."
After issuing the statement on Instagram, Kemper received support from many of her fellow actors, including Mindy Kaling, Aubrey Plaza, and Unbreakable Kimmy Schmidt castmate Tituss Burgess, who shared her post on his own Instagram page. "I love my Ellie," he wrote in the caption, before joking, "Oh, & P.S. Next time, just ask me, I'll tell ya what to do." Kemper shared the same sentiment to her co-star, writing "I love you Tituss" in the comments section.
This article was originally published on