Callum Scott Howells Had The Sweetest Reaction To Hanging Out With Elton John
The It's A Sin cast hung out with Elton at his pre-Oscars party (and Olly Alexander joined via FaceTime).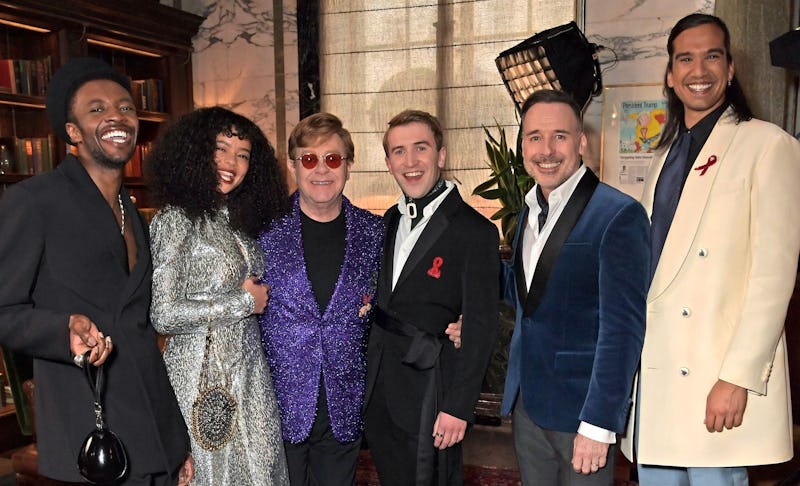 David M. Benett/Getty Images Entertainment/Getty Images
For the first time since its inception in 1993, the Elton John AIDS Foundation Oscars Party was held virtually on Sunday (April 25, 2021). In another first, members of the public also attended via a live stream for a fee, the proceeds of which went to causes supported by the foundation, raising over £2 million in total.
The event, which took place at the Rosewood Hotel in London, featured appearances from Lady Gaga, Cynthia Erivo, and Elizabeth Hurley, as well as a performance from Dua Lipa. But it's the cast of Channel 4's It's a Sin that stole the show, who joined the Rocketman singer and his husband David Furnish for a chat at the bar.
Cast members Lydia West, Callum Scott Howells, Nathaniel Curtis, and Omari Douglas were all in attendance and wearing stunning Oscar-worthy outfits. According to Howells, meeting John was like meeting royalty. "[He's] someone I never thought I'd be within arm's reach of, but It's a Sin meant so much to so many people and Elton responded in a similar manner," he told British Vogue. "You can't really ask for more than his support... other than people tuning in and watching the show of course."
Olly Alexander was sadly absent as he's currently promoting the new Years and Years song "Starstruck". However, thanks to co-star Lydia West, he did make a virtual appearance over FaceTime. Alexander was taken totally by surprise when the call came in, per Billboard, and John told called out "We miss you, Olly!"
Alexander and John have had quite the blossoming friendship as of late, following the actor's role on It's a Sin. In February, John invited the Years and Years singer onto his podcast Rocket Man, where he told Alexander he was "inspirational" and reminded him a lot of Freddie Mercury. "I miss him every day," John said, "because he was such, a bit like you, positive, full of life, full of energy, hilariously funny, and what a talent."
John also shared his love for the C4 show on Instagram too, citing it as an "incredibly moving account of the arrival of AIDS in the UK" which reminded him of "so many sad and devastating memories" of the time. "Many people were callous, ignorant and cruel," he wrote. "Thank God we have come so far since then."
The Your Song singer went on to thank Russell T Davies for "creating this moving testament to a pivotal movement in LGBTQ history," adding that the "cast are sublime" and that the show overall is a "TRIUMPH of creativity and humanity."