Every Song In Euphoria Season 2
HBO's hit teen drama is back with more angst and more music.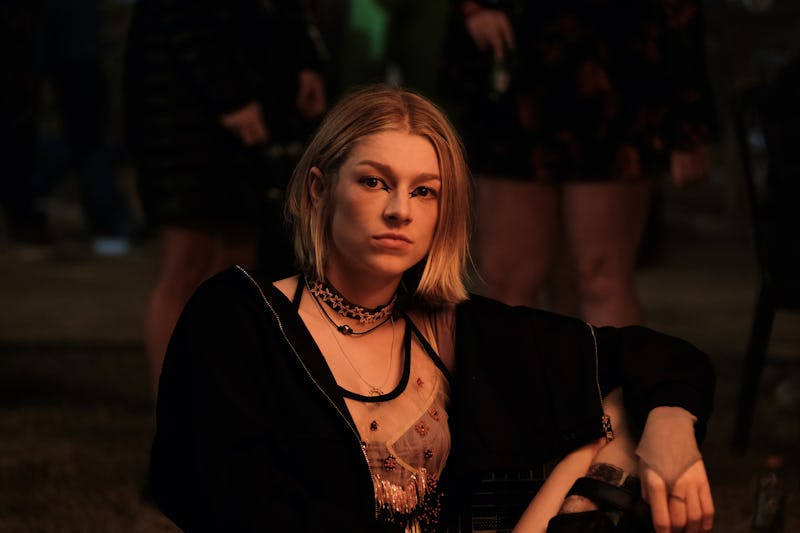 Eddy Chen/HBO
HBO's edgy teen drama Euphoria is back, and with all the angst and drama comes another eclectic soundtrack by Labrinth. The British musician has scored the show since its 2019 premiere, composing original tracks like "Still Don't Know My Name" and the Zendaya-led "All For Us." Alongside creator Sam Levinson's writing, Labrinth's work has helped the audience to feel the same emotional highs and lows that each of the characters are experiencing.
"With Euphoria, there was this energy of magic. It kind of felt like a fantasy world with this really dark, gnarly side to it, and I really enjoyed the contrast of those two things next to each other," Labrinth told Deadline of his approach to the show's music in 2020. "When I see gnarly right next to something pretty, I just feel like they're the best of friends, sonically. So, Euphoria was instantly inspiring, because I love working with those two energies."
As Labrinth explained during a conversation with Zendaya for Interview Magazine, he's been working on the Euphoria Season 2 soundtrack since as far back as December 2019. "Sam [Levinson] has been inundating me with music, just like, 'Lab, check this out.' I think he sent me like 20 tracks," he said at the time. "I'm really excited because I get a chance to refine what I didn't do before, if that makes sense."
A full soundtrack for Season 2 has not yet been released, but HBO will be updating its official Euphoria playlist with the songs featured after each new episode. This post will also be updated each week as more information becomes available.
Episode 1
"Don't Be Cruel" by Billy Swan
"I Want Action" by Poison
"Hit 'Em Up" by 2Pac
"Right Down the Line" by Gerry Rafferty
"Dirty Work" by Steely Dan
"Nate Growing Up" by Labrinth
"Dead of Night" by Orville Peck
"Hypnotize" by The Notorious B.I.G.
"Runway" by Blaq Tuxedo
"Back That Azz Up" by Juvenile, Lil Wayne, and Mannie Fresh
"Uhuh Yeah" by G.L.A.M and Colbie
"DIRT" By B.O.B
"Party Up" by DMX
"Madonna" by Tarik
"4,5,6" by Big Mali
"The Lake" by Labrinth
"(I Just) Died In Your Arms" by Cutting Crew
Episode 2
"Live or Die" by Noah Cyrus and Lil Xan
"I've Never Felt So Alone" by Labrinth
"Come Rain or Shine" by Judy Garland
"Do What You Want, Be What You Are" by Daryl Hall & John Oates
"Haunted" by Laura Les
"Right Down The Line" by Gerry Rafferty
"She Brings The Rain" by Can
"Return of the Mack" by Mark Morrison
"Blue Monk" by Thelonious Monk
"Outlast (feat. Dueling Experts, Apollo Brown, Joell Ortiz)" by Mello Music Group
"seaside_demo" by SEB
"Hennythings Possible" by Vintage Lee
"WTF Are We Talking For" by Labrinth
Episode 3
"Need You Tonight" by INXS
"Mystify" by INXS
"Never Let Me Down Again" by Depeche Mode
"The Look" by Roxette
"Chains of Love" by Erasure
"Lips Like Sugar" by Echo & The Bunnymen
"She Sells Sanctuary" by The Cult
"It Ain't Over 'Til It's Over" by Lenny Kravitz
"I Can Dream About You" by Dan Hartman
"Never Tear Us Apart" by INXS
"Call Me Irresponsible" by Bobby Darin
"Effigy (I Am Not An) by Ministry
"Como La Flor" by Selena
"Emotions" by Brenda Lee
"Gangsta Nation" by Westside Connection feat. Nate Dogg
"If" by Jo Stafford
"Watercolor Eyes" by Lana Del Rey
Episode 4
"I'll Be Here In The Morning" by Townes Van Zandt
"Sometimes I Feel Like A Motherless Child" by Mahalia Jackson
"Devil Inside" by INXS
"I Was Dancing In The Lesbian Bar" by Jonathan Richman
"This Is How We Do It" by Montell Jordan
"trademark usa" by Baby Keem
"Heartbeat" by Red 7
"Vitamin C" by Can
"Bailala" by Chika Di
"Don't Cha" by The Pussycat Dolls
"Method of Modern Love" by Daryl Hall and John Oates
"Drink Before The War" by Sinéad O'Connor
"Love Like This" by Faith Evans
"True" by Spandau Ballet
"Need You Tonight" by INXS
"I'm Tired" by Labrinth
Episode 5
"We All Knew" by Labrinth
"What's Up" by Labrinth
"Fever" by Sharon Cash
"What a Fool Believes" by The Doobie Brothers
"Understand Me" by Labrinth
"Yeh I F*ckin' Did It (Euphoria)" by Labrinth
"It Never Rains in Southern California" by Albert Hammond
This article was originally published on