Everything We Know About Euphoria Season 2
After two-plus years, the wait is finally coming to an end.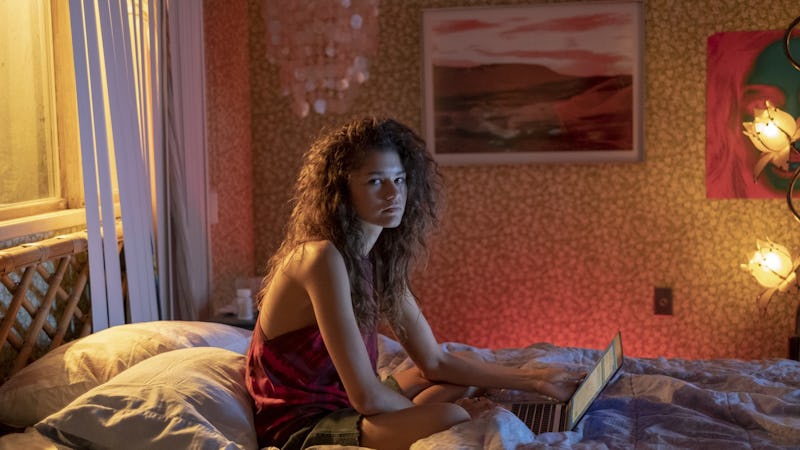 Eddy Chen/HBO
Most of the teens in Euphoria finished Season 1 in precarious situations, to say the least. Thanks to pandemic-related delays, fans have been waiting way longer than expected to find out what happens to the characters in Season 2. HBO kept viewers fed with two bridge episodes offering glimpses into Rue (Zendaya) and Jules' (Hunter Schafer) whereabouts following the Season 1 finale, but they're still eager for more. After two years, the wait is finally coming to an end, as the series' first new trailer was released on Nov. 23. Here's everything we know about Season 2 of Euphoria, including its plot, cast, trailer, and release date.
Before Season 1 ended, HBO announced that the series was renewed for Season 2, to the happiness of fans and the cast. "Euphoria creator Sam Levinson has built an incredible world with an extraordinary cast led by the supremely talented Zendaya," HBO Programming's Executive Vice President Francesca Orsi said in a statement, according to Deadline. "We are so grateful that he chose HBO as the home for this groundbreaking series... We look forward to following these complex characters as their journeys continue through the challenging world they inhabit."
How Did Coronavirus Affect Euphoria Season 2?
Zendaya, Levinson, and the other cast and crew had actually started production on Euphoria Season 2 in early March 2020, with a premiere date scheduled for later that year. The cast had wardrobe fittings, set tours, and a table read for their first episode, but the COVID-19 pandemic forced production to shut down right before they actually began shooting, like most other film and TV projects around the world.
Euphoria Season 2 Trailer & Premiere Date
The first teaser clip for Season 2 was released on Nov. 23. Alongside it, HBO announced that Euphoria Season 2 will premiere on Jan. 9, 2022. While each episode of Season 1 aired live on HBO, the teaser revealed that Season 2 will be released on HBO Max, though it's unclear how many episodes will drop at a time.
The first full-length trailer came on Dec. 20, just a few short weeks before the Season 2 premiere. The intense teaser picks up after Rue's relapse, shows her carrying around a questionable suitcase, introduces a new character who is Rue's "new favorite person," and shows multiple run-ins with law enforcement. As the trailer counts down to the new year, it becomes clear Season 2 will be a wild ride.
What's The Plot Of Euphoria Season 2?
Season 1 of Euphoria ended with Jules leaving on a train out of town alone rather than with Rue, who walked away from their plan after learning Jules is in love with both her and Anna (Quintessa Swindell). Rue then went home, snorted oxycodone, overdosed, and experienced a hallucination that sent her into a dreamlike state.
As Season 2 was repeatedly delayed due to the pandemic, Zendaya announced she and Levinson were planning to produce two COVID-friendly "bridge episodes" to hold fans over. The first, "Part 1: Rue," otherwise known as "Trouble Don't Last Always," aired on Dec. 6, 2020, and followed Rue on Christmas Eve, as she discussed her addiction with Ali, admitting to her relapse without hesitation. She also opened up about her feelings for Jules, suicidal thoughts, and remorse for her actions against her family.
In "Part 2: Jules," otherwise known as "F*ck Anyone Who's Not a Sea Blob," which aired on Jan. 24, 2021, Jules attends a therapy session on Christmas Eve after leaving Rue at the train station. She opens up about Rue's true love for her, resentment towards having to care for Rue, wanting to go off of her hormone replacement therapy, and her lingering feelings for "Tyler," aka Nate's fake online persona. It's also revealed that Jules' mother was recovering from addiction throughout Season 1. At the end of the episode, Jules goes home and finds Rue, who's visiting on her way to meet Ali. Jules attempts to apologize, but Rue gets overwhelmed, wishes her a merry Christmas, and leaves, leading Jules to break down and cry.
The first teaser clip shows Rue singing and dancing to Frank Sinatra's "Call Me Irresponsible" in her bedroom. "When you're younger, everything feels so permanent. But as you get older, you begin to realize nothing is, and everyone you love can drift away," she says in a voiceover. A montage of clips follows, featuring Lexi, Cassie, and Kat at a party, Fezco walking through a crowd, Nate driving with Cassie, someone walking with a hammer, Rue getting her mouth covered, an injured Cal driving a car, police raids, and several fights. At the end, Gia asks Rue if she's high, to which she replies: "I mean..."
In the official trailer, released on Dec. 20, it's clear that this season will be more intense than the first. Run-ins with law enforcement, Rue and Fez getting mixed up in a deal-gone-wrong, a potential kidnapping, and Cassie screaming that she's never been happier before a strange interaction with Nate and being muffled by someone's hand are just a few storylines fans will have to wait to see unfold.
Which Euphoria Cast Members Are Returning?
According to HBO's teaser clip, Rue, Jules, Nate Jacobs (Jacob Elordi), Lexi Howard (Maude Apatow), Kat Hernandez (Barbie Ferreira), Cassie Howard (Sydney Sweeney), Maddy Perez (Alexa Demie), Chris McKay (Algee Smith), Gia Bennett (Storm Reid), and Cal Jacobs (Eric Dane) will all be returning to the series. Unfortunately, the fate of Fezco (Angus Cloud) was left a bit more unknown, but considering he also appears in the teaser, it seems he'll be back for Season 2.
What Will Happen With Jules & Rue?
Viewers last saw Jules and Rue — "Rules," if you will — on a train platform, ready to run away to the city together. While Jules was very adamant things would be OK, Rue chose her family over their toxic relationship and decided not to leave. It's tough to say where the couple stands, but heading into the next season, Hunter Schafer told Entertainment Weekly that she'd want to see Jules grow in Season 2, hopefully overcoming issues that made her relationship with Rue so unhealthy. "I think she learns from experiencing things. And so to experience what she needs to, without being messy, that's from the sort of loving parent/sister relationship I feel like I have with her," she said. "That's what I want for her, although who knows how it will play out. I'm sure it will be more messy than I would hope for her."
Will Kat & Ethan Date?
Kat and Ethan finally had a heart to heart at the end of the season, and she seemed to want to give him a chance. Who knows, Kat and Ethan could be Euphoria's next great love story in Season 2.
Will Cassie & McKay Get Back Together?
Again, a lot was left open-ended in the Season 1 finale, including the status of Cassie and McKay's relationship. In an interview with Entertainment Tonight, Sydney Sweeney teased that Season 2 Cassie would have a lot to work through following her abortion and breakup. "I think that she still has more of that to overcome. I don't think that that's completely gone away," she said. "So, she still has to work with that and figure that out, especially now that McKay's not in the picture and the abortion and not wanting it to get out. There's more pressures of what people think of her." She wouldn't say if McKay and Cassie were over for good, suggesting that this couple might not be apart for long.
Will Lexie & Rue Get Together?
As Season 1 came to a close, a lot of fans started shipping Lexie and Rue (aka LeRue). The two shared a kiss in Season 1 and seemed to be getting closer.
What Will Maddy Do With That DVD?
In the Season finale, it looked like Maddy might have stolen a sex tape of Nate's dad from his house. Could she leak it to the police? Or use it for blackmail? If it's the video of Cal with Jules, it could send Cal to jail and haunt Jules, making it one of the more crucial wildcards of Season 2.
This post will continue to be updated as new information comes out.
This article was originally published on