Everything Cancelled & Postponed During The Period Of National Mourning
Here's what the death of Queen Elizabeth II means for TV schedules, sports events, and public services.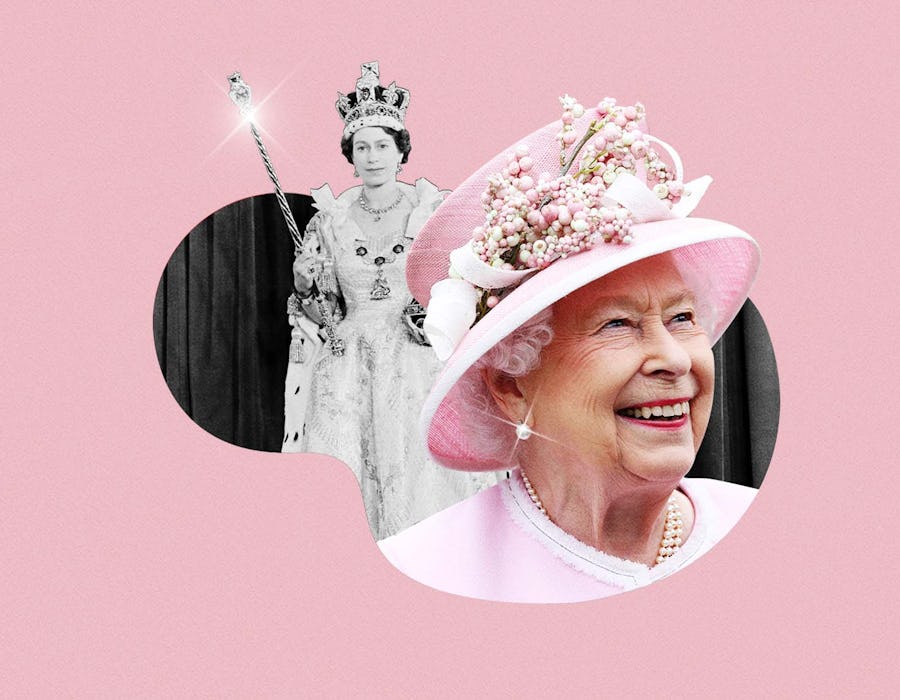 On Thursday, Sept. 8, Her Majesty, Queen Elizabeth II died at the age of 96. Following the announcement, the United Kingdom entered a 10-day period of national mourning. During this time, flags will fly at half mast on official buildings and parliament will be suspended. There will be further impact on the nation, too, with cancellations and postponements expected in television, sport, public services, and beyond.
On Friday, Sept. 9, the government published new guidance for the public and businesses during the period of national mourning. It states that there is "no obligation on organisations to suspend business" during this time. The guidance adds that some may "wish to consider closing or postponing events" on the day of Her Majesty's funeral. However, "this is at the discretion" of individuals.
Although the five-page Cabinet Office document states "there is no expectation on the public or organisations to observe specific behaviours during the mourning period," TV schedules, sports events, and some public services are facing significant changes as the nation mourns its longest-reigning monarch.
Find out everything that has been cancelled or postponed in the wake of the Queen's death, below.
Television
The period of national mourning has already significantly impacted the television schedule. BBC One aired continued news coverage of the Queen's death on Friday, Sept. 9, and continues to alter its regular output with commemorative programming as the Queen's funeral draws closer. The BBC has also confirmed that this year's Strictly Come Dancing launch show — which was due to take place on Saturday, Sept. 17 – has been moved to Friday, Sept. 23, with the first live show set to air the following day, on Sept. 24.
Meanwhile, BBC Two has also made changes to its regular schedule, even airing its parent channel's flagship soap opera Eastenders.
On ITV, viewers have witnessed several changes to the broadcaster's regular output, with This Morning, Loose Women, Emmerdale, and Coronation Street having all been subjected to schedule changes. ITV has also rescheduled the annual National Television Awards to Thursday, Oct. 13, as a mark of respect.
Channel 4 also introduced significant alterations to its usual programming, pulling the likes of Hollyoaks, The Simpsons, and The Last Leg. However, despite reports that suggested the show might be postponed, the launch of The Great British Bake Off 2022 will go ahead on Tuesday, Sept. 13.
On Monday, Sept. 19, BBC, ITV, and Sky will air live and uninterrupted coverage of the Queen's funeral at Westminster Abbey throughout the day, dropping their regular daily schedules. Meanwhile, Channel 4 will not broadcast the funeral service and will instead air the 1953 documentary A Queen Is Crowned, among other commemorative programmes.
Sport
According to government guidance, there is "no obligation" to "cancel or postpone events and sporting fixtures" during national mourning. "As a mark of respect, and in keeping with the tone of National Mourning, organisers may wish to hold a period of silence and/or play the National Anthem at the start of events or sporting fixtures, and players may wish to wear black armbands," the guidance adds.
On Sept. 12, the Premier League announced that any football matches scheduled for the weekend commencing Sept. 17 will go ahead. However, three fixtures that coincide with the Queen's funeral on Sept. 19 have been postponed.
The Football Association also released a statement confirming that all fixtures "will resume" on the weekend commencing Sept. 17, adding that "all scheduled football matches will be postponed" on the day of the Queen's funeral.
Public Services
Government guidance states that "public services will continue as usual, although there maybe some changes to service availability."
As per ITV, all rail and postal worker strikes scheduled for the week commencing Sept. 12 were postponed. General Secretary of the Rail, Maritime, and Transport (RMT) union, Mick Lynch, said in a statement: "RMT joins the whole nation in paying its respects to Queen Elizabeth. The planned railway strike action on September 15 and 17 is suspended."
The London Stock Exchange will continue trading as normal during the period of national mourning. However, reports stated that it would close in the event of a public or bank holiday for England and Wales. Following the announcement of a bank holiday for the Queen's funeral on Sept. 19, the Stock Exchange is yet to make a statement.
Scheduled Events
Some large-scale events to have been cancelled in light of the Queen's passing include the BBC Radio 2 Live in Leeds concert, which was scheduled to take place over the weekend of Sept. 17 and Sept. 18. Elsewhere, London's Hackney Carnival was also postponed on Sept. 11, and organisers are looking into hosting the event at a "later date" or showcasing the carnival "in another way."
London Fashion Week 2022 is scheduled to go ahead between Thursday, Sept. 15 and Tuesday, Sept. 20. In a statement following the death of Queen Elizabeth, the British Fashion Council (BFC) confirmed that all shows and presentations could go on as normal. However, they recommend that events on the day of the Queen's funeral (Sept. 19) ought to be rescheduled.
The BFC statement prompted a number of fashion houses, including Burberry and Raf Simmons, to cancel their planned London Fashion Week shows.
This article was originally published on