All The Lorde UK Tour Dates You Need To Know About
Plus info about her performance at the Barcelona's Primavera Sound Festival.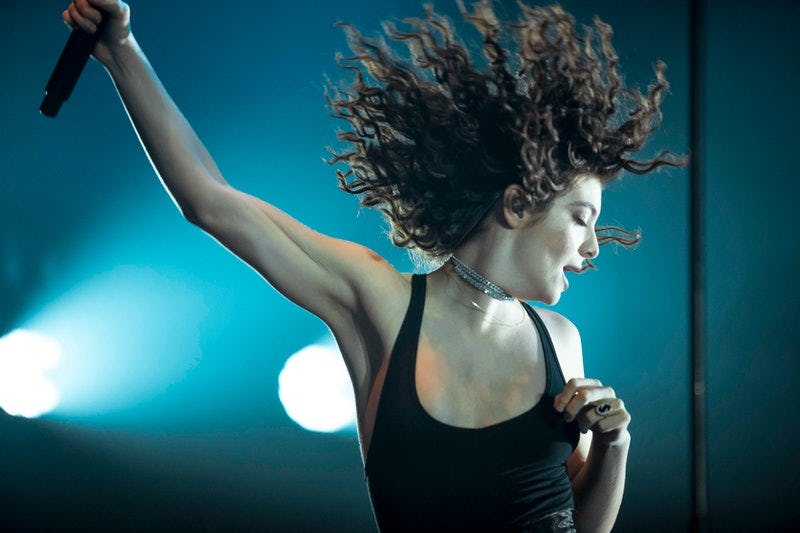 PYMCA/Universal Images Group/Getty Images
Oh, Lorde. Four years after her last music release, the two-time Grammy Award-winning singer has finally blessed us mere mortals with a new track, "Solar Power" — a tune that celebrates the summer, sunshine, and just pure, good vibes.
The release threw Twitter into a frenzy earlier this month, after an accidental leak. And even before it debuted on June 10, "Solar Power" had already caused some major drama. When Lorde updated her website with the album artwork — an image of herself that is well, quite literally, cheeky — she just about broke the internet. With that in mind, we all want to know: will Lorde tour the UK anytime soon?
Luckily, for fans of the "Royals" hitmaker, a UK tour is indeed on the way, and Lorde will be arriving to perform a string of dates in the UK in 2022. In a statement to Bustle, it has been confirmed the singer's 40+ date international tour will follow the release of her upcoming album Solar Power on August 20, 2021.
The tour will kick off in Lorde's homeland of New Zealand in February 2022, and then move on to Australia and North America before arriving in the UK for six shows starting at the O2 Academy in Leeds on May 25. From there, the singer is scheduled to perform in Edinburgh on May 26, in Manchester on May 28, and in Birmingham on May 30. The UK leg of the tour will then culminate with two dates at the Roundhouse in London on June 1 and June 2, and tickets for the upcoming shows will go on sale at 10 a.m. on Friday, June 25.
In addition to The Solar Power Tour in 2022, there's also another way you can see Lorde live in the not too distant future. Yup, that's right, in person, at an actual festival. She'll be performing at the second weekend of Barcelona's Primavera Sound on June 10, 2022, alongside other big headliners including The Strokes, Megan Thee Stallion, and Dua Lipa, among others. Talk about a fantastic lineup. It promises to be phenomenal — and you can buy tickets here.
In the meantime, you'll just have to rewatch the "Solar Power" music video over and over again, soaking in the good vibes, until our Lorde and saviour finally hits the road again
This article was originally published on