Lorde Just Broke The Internet With Her Cheeky "Solar Power" Cover Photo
You know what they say: Sun's out, buns out. "Lorde [is] on her way to get onion rings."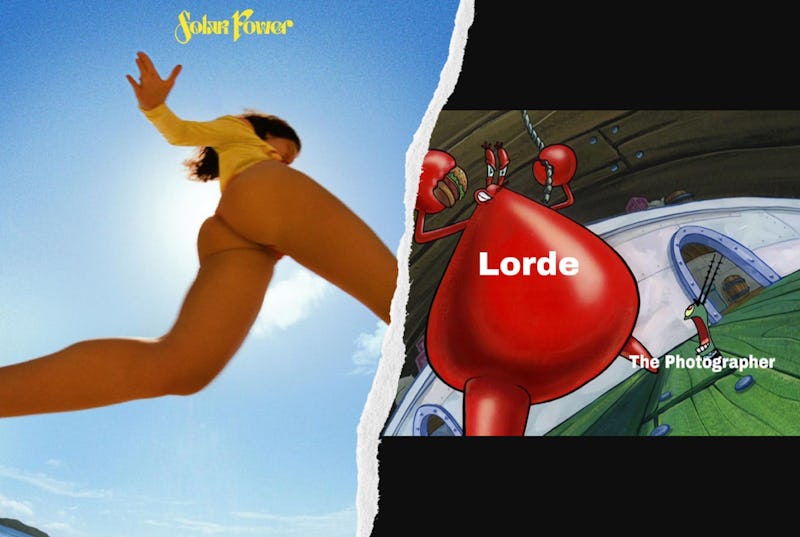 Instagram/@JackAntonoff/Twitter/@YaBoiAbod
Not only did Lorde just announce her grand return to music, but she did so by getting cheeky — literally. The two-time Grammy singer updated her official website on June 6 with the instantly iconic cover of her upcoming release "Solar Power," which shows a pants-less Lorde joyfully running on the beach, sun's out, buns out. Needless to say, her name has been trending on Twitter ever since, with fans exploding from excitement and, of course, making memes.
On June 12, Lorde confirmed in an email to fans that "Solar Power" was both the name of her upcoming studio album and its lead single, which was accidentally leaked earlier that day, just a few hours ahead of its scheduled surprise release. On June 21, she announced that the Solar Power album would finally arrive on August 20 and share the same cover art, which will also be released on vinyl and a "disc-less" music box. Her Melodrama collaborator Jack Antonoff shared the cover art on his Instagram, confirming that he will be involved in the upcoming project.
During a June 21 interview on The Late Show with Stephen Colbert, Lorde explained the backstory behind the now-iconic cover, explaining that it was just a candid photograph from a fun day on the beach. "My friend just took it," she said. "It was just me jumping over a friend on the beach… It's a little hardcore, but it was so joyful to me. It felt innocent and playful and a little bit feral." Colbert loved it, joking that "if I had a butt like that, I'd be jumping over somebody too," to which she agreed. "You got to do it while you've got it, you know?" she said, laughing.
The "Solar Power" cover art was the first sign from Lorde that her comeback was imminent. On May 25, the "Green Light" singer was announced as a headliner for Barcelona's Primavera Sound Festival in 2022, causing fans to speculate that her long-anticipated third studio album was coming soon, after years of saying that she was working on the album in emails to fans. But now that there's confirmation fans will hear new music soon, all they can focus on is her derriere. Twitter is going crazy with memes inspired by the "Solar Power" cover, comparing Lorde to everyone from Michael Cera to Peter Griffin's great aunt on Family Guy.
Twitter users also photoshopped Lorde into the most unlikely but wildly hilarious situations, from winning a World Cup championship to being the hero of Godzilla v. Kong.
Many fans also made clever references to Lorde's lyrics — and her iconic onion rings Instagram account.
And of course, some fans simply shared how excited they were that "lorde is about to do what jesus never could: come back a third time," one Twitter user joked.