Twitter Is Having A Total Meltdown After Lorde's "Solar Power" Accidentally Leaked
Oops! In response, Lorde released her comeback single and music video hours later.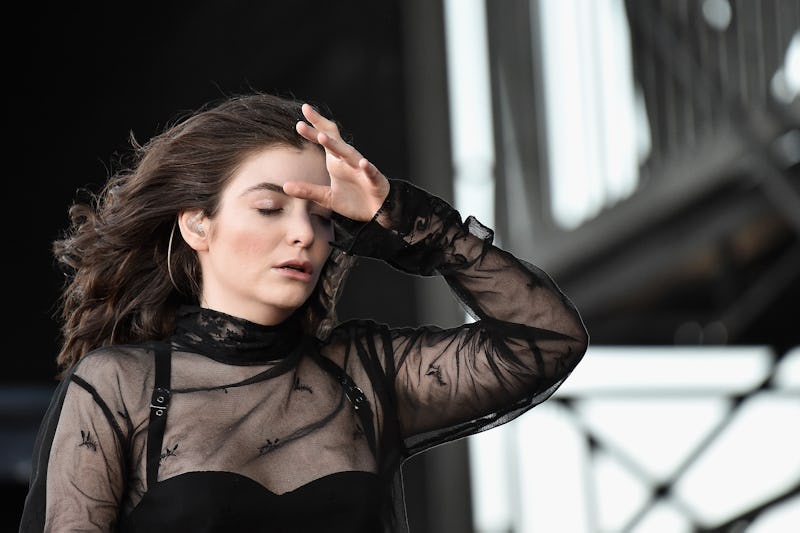 Steven Ferdman/Getty Images Entertainment/Getty Images
As the great Beyoncé once said, somebody's getting fired. Well, maybe. Lorde's new single "Solar Power" accidentally leaked early on June 10 after Apple Music and Tidal posted it ahead of schedule, but both streaming services swiftly took it down minutes later. As revealed by credits posted on Tidal, Phoebe Bridgers and Clairo serve as background singers on the highly anticipated song, which was produced by Melodrama collaborator Jack Antonoff, as he previously hinted on Instagram.
"Solar Power," Lorde's first single in nearly four years, is just as bright and sunny as the song's instantly iconic cover art teases. Over just an acoustic guitar and her signature aquatic bass-lines, Lorde recalls a lovely day on the beach, with her toes in the sand and her boyfriend taking pictures behind her. "I hate the winter, can't stand the cold," she boldly declares in the song's opening refrain, marking just the first of Lorde's witty and candid one-liners fans have missed so much. She even compares herself to a "prettier Jesus," and well, she's not wrong.
The formal release date for the song was originally rumored online to be June 21, but Lorde and her record label decided to unleash the song and its music video hours after the leak.
While some artists and labels have leaked songs themselves to garner buzz, like Lady Gaga did with her 2013 ARTPOP deep cut "Aura," others have been devastated by leaks, like when Dua Lipa got emotional on Instagram Live while addressing the leak of her album Future Nostalgia, and it's unclear whether the leak was intentional in Lorde's case.
Some fans have been basking in the glory of the song, while others haven't been able to soak up the "Solar Power" just yet. But all of Twitter has turned to memes, as Twitter does best, with most fans imagining how the singer may have reacted when she heard about the leak.
Other fans attempted to describe how Lorde's team is probably dealing with the situation using the most extreme yet apt comparisons.
Of course, the lucky fans who have been able to hear "Solar Power" have also been getting in on the meme action, poking fun at some of the most memorable lyrics.
Blink three times if you feel it kicking in (and by "it," I mean the effects of "Solar Power").