Everything You Need to Know About 'Flack,' Anna Paquin's New Show
It's a brutally honest look at the high-stakes world of celebrity PR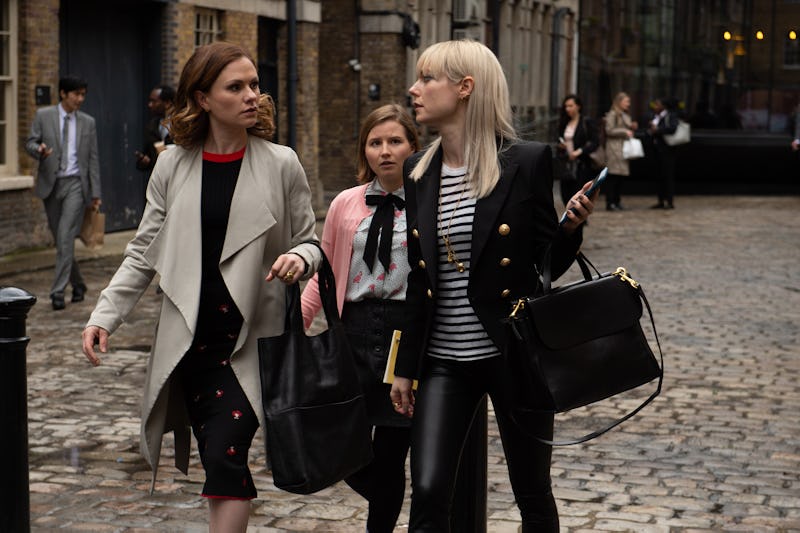 If you're looking for a juicy new show to take up residence rent-free in your brain, we have just the one. Amazon Original Flack, starring Anna Paquin, brings you behind the curtain of the sordid and fascinating world of celebrity crisis management PR. This fast-paced comedic drama is available to stream all at once on January 22, only on Prime Video. Get ready to be obsessed.
The series stars Anna Paquin as Robyn, a granite-willed publicist who adeptly manages the careening lives of her celebrity clients, even as her own life spins out of control. Robyn and her fellow "flacks" — Eve, Melody, and Caroline — spin the most outrageous of scandals into little blips on the radar for their troubled clientele, all without breaking a sweat. Set in the hyper-ruthless world of UK celebrity PR, the show explores the sensitivity of modern life in which a personal problem can go viral instantly. It's equal parts comedy and drama, with an unfiltered, brash, and sarcastic tone. Yet there's serious heart underneath the brilliantly barbed one-liners.
Read on to learn the all you need to know before jumping into what's sure to be your new favorite show, Amazon Original Flack — stream the entire series on January 22, only on Prime Video.
1. Robyn Is A Compelling Anti-Hero
Paquin's character will instantly earn your respect for being a total pro at her job. It'll give you goosebumps to watch her transform the outrageous flubs of her spoiled clients into "no big deal" moments. Nobody earns the respect of a celebrity like Robyn.
As a PR pro she is able to fix any crisis for her clients but can't seem to do the same for herself. Robyn struggles to keep her personal life together, but constantly finds herself caught in her own web of lies. While desperate to better herself, Robyn uses drugs, alcohol and illicit affairs to keep her inner demons at bay. But the hard exterior and take-no-prisoners attitude is hiding a heart-breaking wound.
2. You'll Learn So Much About The Celebrity PR World
If you're into tabloids at all, you know that the UK entertainment press is pretty much the most brutal in the world. That's why it's extra juicy that Flack is based in a London-HQ PR firm called Mills Paulson. Robyn and her cohorts deal with the most unforgiving media possible. Each episode follows a different client that needs a PR nightmare fixed. From a squeaky-clean celebrity chef with a compulsive womanizing habit to a beauty mogul caught having cosmetic procedures which undermine her product, Robyn's strategy is sometimes to bury, sometimes to pay off, and other times to start another small fire to distract from the giant one.
3. Four Badass Women Lead The Show
The PR firm of Mills Paulson is masterminded by Robyn and her office family, a cast of diverse and capable women who represent a true cross-section of the people you find in media. Sophie Okonedo plays her extremely intimidating PR veteran boss Caroline who you kind of can't help but want to be, because she's the most impressive person ever. The refreshingly blunt Eve (Lydia Wilson) is Robyn's uber-fun colleague who can somehow stay out til 4 a.m. partying, yet wake up the next morning to be sharp-tongued and brilliant at her job. At the bottom of the totem pole — but not our hearts — is Robyn's intern Melody (Rebecca Benson), who hasn't yet become totally hardened by the insanity of their day-to-day work. Bless her heart! Like family, they drive each other crazy, but their steel bonds are forged in the daily five-alarm fires they band together to extinguish.
4. It Feels Super Relevant Today
The hyper-visibility of the social media-driven world means that each day brings another opportunity for a gigantic celebrity to say something cringey — or worse. Many of Robyn's clients do and say seriously embarrassing (sometimes cancellable) things on the regular, and this show contextualizes the crisis management process going down once those things are said.
What's more, even if a celebrity presents a certain image on social, there's often more to the story than meets the eye. Because behind every celebrity news story, tweet, or paparazzi sighting, there's a publicist pulling the strings. Flack puts all of these facts in thoughtful perspective, without sacrificing juiciness.
This article is sponsored by Amazon Original 'Flack.' Stream the whole thing on January 22, only on Prime Video.