Everything We Know About A Possible Falcon & The Winter Soldier Season 2
This may not be the end for Sam and Bucky.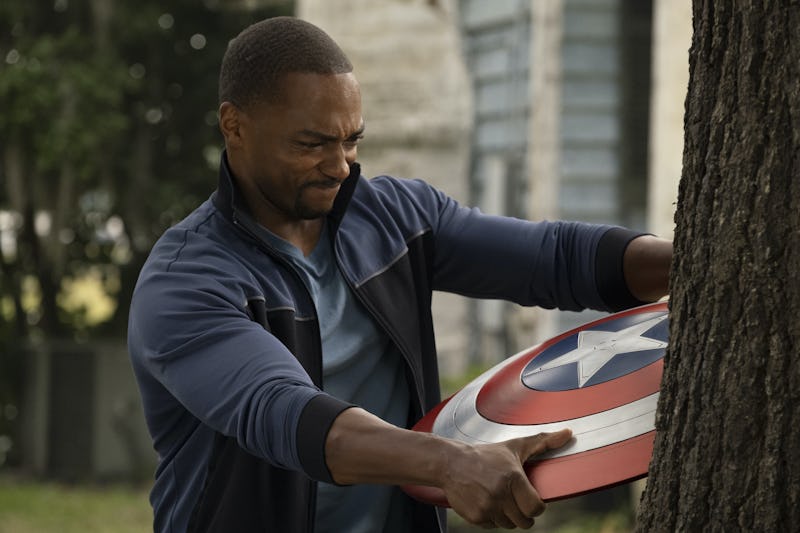 Marvel Studios
It looks like The Falcon and The Winter Soldier will end as it began: with Captain America's shield in Sam Wilson's hands. Though fans are likely eager to see more of Sam and Bucky's adventures together, they'll have to be content with just the six-episode show for now. "Six hours is what we landed on as the best way to tell our story," Marvel producer Kevin Feige explained at TCA in February. He added that for Falcon and The Winter Soldier and WandaVision, the "per-episode cost is very high," so each show was billed as a limited series.
However, there are hints that producers are leaving the door open for a possible Falcon and The Winter Soldier Season 2. In an April 19 interview with IndieWire, Marvel Studios VP of Production and Development Nate More confirmed that they'll be submitting the show for the Drama Series category at this year's Emmy Awards, rather than the expected placement in the Limited Series category.
Though More didn't confirm if this meant the show was renewed, he did say he could see the story continuing. "We've definitely kicked around ideas because we always like to keep thinking about where things can go," he explained. "Hopefully at the end of this season, you will see the potential for what we could tell in a subsequent season."
While he said that WandaVision is a show you can only do once — as Wanda returning to The Hex would be backtracking her character growth — Falcon and The Winter Soldier is a little more open-ended. "Falcon and The Winter Soldier is really about dealing with, to me, the legacy of what a superhero is, through the lens of Captain America and his shield, but ultimately through the lens of all these different characters. And that's a story I think you can revisit in subsequent seasons because it's an evergreen story. It's a conversation."
Take from that what you will; at this point, fans will just have to hope that Marvel decides to continue that conversation. Here's everything else to know about a potential second season.
The Falcon and The Winter Solder Season 2 Premiere
If the show is renewed for a second season, it's unlikely that it would come out any time soon. Marvel still has several limited series on it's docket, including Loki, Hawkeye, Ms. Marvel, She-Hulk, and Moon Knight. Hawkeye isn't even projected to debut until 2022, while most of the other projects are still without release dates, so we could be looking at way beyond 2022 for a potential Season 2.
The Falcon and The Winter Soldier Season 2 Cast
If the show moves forward, we can likely expect Anthony Mackie's Sam to more fully take the lead as Captain America. There are even hints that Danny Ramirez's character Torres could become Sam's Falcon, which would be an interesting dynamic that a second season could explore. Other possible options for future storylines could be visiting with Carl Lumbly's Isaiah Bradley and his grandson, Elijah Richardson's Eli Bradley, who grows up to be a Young Avenger. We could also perhaps see Sebastian Stan's Bucky return to Wakanda, or how Emily VanCamp's Sharon Carter is adjusting to her new life (if Sam and Bucky do end up getting her a pardon). We could even follow up with Erin Kellyman's Karli, depending on what happens in Episode 6. Suffice to say, there are a lot of potential storylines that could make for a great Season 2.