Faouzia Is The Next Big Thing — Just Ask John Legend & Kelly Clarkson
The singer-songwriter has had a dizzying rise, and she's not done yet.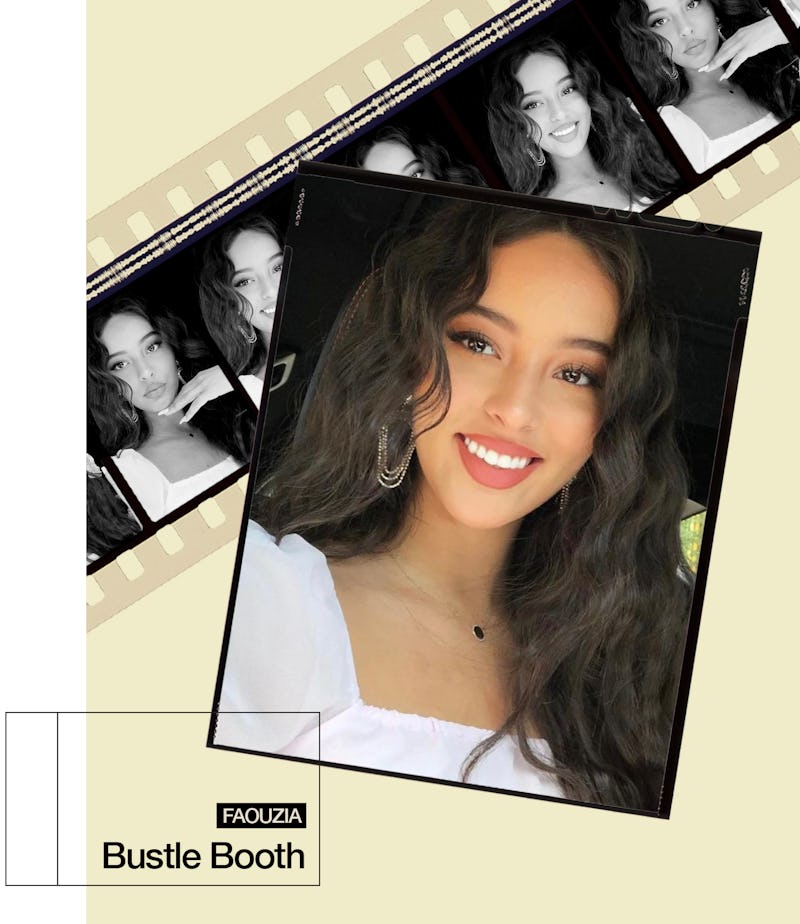 Courtesy of Faouzia
Faouzia Ouihya headlined her first rock show when she was 5 years old. The crowd was made up of literal rocks (found in her parents' garden), but she still put on a full performance. "I'm doing the same thing now. I'm in my basement [making music] alone, singing to rocks," Ouihya tells Bustle. "That is kind of who I am, though. I like to keep to myself."
Born in Morocco and raised in Winnipeg, Canada, the singer-songwriter grew up listening to a mix of pop radio and her parents' favorite Arabic music. She started playing piano early, studiously practicing without realizing that it was all building up to something bigger — but once it started, Ouihya's ascent was swift. Her first collaboration with renowned DJ David Guetta, the 2018 bop "Battle," snowballed into back-to-back recording sessions with the likes of Kelly Clarkson and John Legend. She had a record deal by 18, and the singles off of her first album, Stripped, have amassed millions of views. At 20, Faouzia is a force to be reckoned with.
"Collaborating with these artists I grew up listening to, I feel really lucky. I look very calm on the outside but my brain is like AAGHHH," Ouihya says. Her latest song, "Minefields," is a dramatic ballad sung alongside John Legend and co-written by herself and Charlie Puth. The video features Ouihya playing the piano against a sweeping backdrop, harmonizing with Legend as dust swirls around them. Unlike the bubblegum pop songs and dance tracks topping the charts right now, Ouihya's work is stripped down, focusing mostly on her commanding voice. "I grew up just singing and playing the piano, so I love that my first body of work is just the piano and me," she says. "My EP was made over the span of so many years, so to me it doesn't feel like a project, it just feels like my life."
While it's clear that Ouihya takes her career seriously, she absolutely does not take herself too seriously. Speaking over Zoom, she laughs easily, ripping on her poor middle-school fashion choices and describing her very un-chill reaction to meeting Kelly Clarkson. Ouihya exudes joy — and her next single "Hero", out June 29, will showcase a different side of her. "It's going to be a little more fun and playful," says Ouihya. "So you can actually see my personality."
Learn more about Faouzia in her Bustle Booth questionnaire below.
In The Bustle Booth
What's your coffee order?
Blonde vanilla iced latte — and if I bring it home I add a little Smucker's caramel sauce that I have in my pantry, I love that caramel.
What are the saved weather locations on your phone?
Winnipeg, New York, Cupertino
What's your sign?
Cancer
Favorite overused movie quote?
Something from a Disney movie. They have the best quotes, but I can't pick just one!
What was your favorite cartoon as a kid?
SpongeBob
What's one movie or TV show you're currently obsessed with?
I'm not watching any movies or TV shows.
Who is your celeb idol?
Ariana Grade, I admire her vocals and her personality so much.
If you had to be on a reality TV show, what would it be?
Big Brother. But I would not go on it to win — I would want to be a floater, just be there for the experience.
Go-to karaoke song?
"Bust Your Windows" by Jazmine Sullivan.
What's something that's inspiring you lately?
My friends and family have been really inspiring to me. Listening to their stories and what they are going through has been sparking a lot of ideas when I'm writing.
What is something you would want people to say about you?
Not many people know that I write my songs, so that is something I would like to be known for.
This interview has been edited and condensed.