Everything To Know About FBoy Island Season 2
The cast includes a dental student, an accountant, and a home-schooled concert pianist.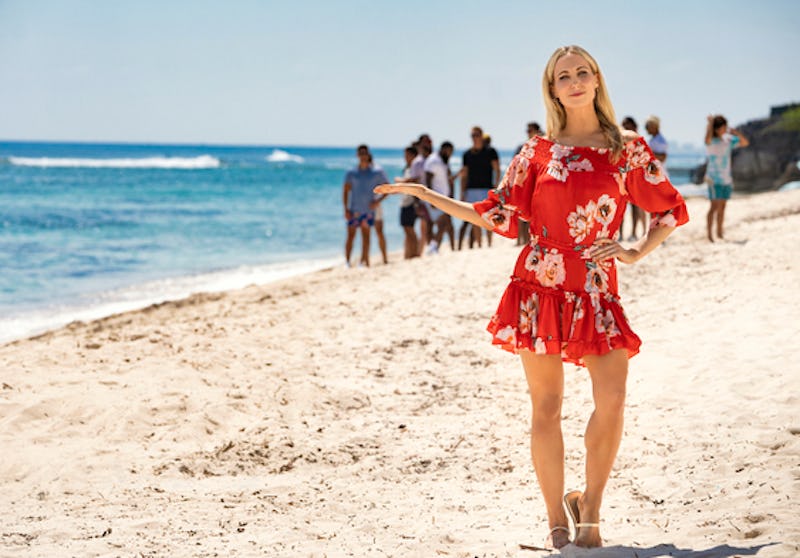 HBO Max
FBoy Island has been renewed for Season 2, and has already promised more surprises for audiences. "With a title like FBoy Island, we knew we would get the audience's attention and we're thrilled that they've responded to the self-aware, comedic nature of the format," Sarah Aubrey, HBO Max's Head of Original Content, said in a statement. Jennifer O'Connell, the company's Executive Vice President of Non-Fiction and Live-Action Family programming, added that Season 2 will continue to keep viewers on their toes. "Season 1 undoubtedly kept the audience guessing but we have even more big twists in store for Season 2. To the next batch of Fboys, beware, we're coming for you!"
Showrunner Sam Dean — an executive producer on Love is Blind — previously teased some of those potential twists in a July 2021 interview with The Hollywood Reporter. "It is totally the most modern expression of a dating show that we have for that age group at the moment and I would love it to branch out," he said. "Would the audience like to see more women and would people be interested in seeing an FGirl Island? This show is a great conversation-starter."
Here's everything else we know so far about FBoy Island Season 2.
The FBoy Island Season 2 Premiere Date
HBO Max confirmed that the second season will premiere on July 14 with three episodes. Previously, series creator Elan Gale told THR that the Delta variant seems "particularly difficult and terrifying," so it wasn't clear if and when a new season of FBoy Island would be filmed. He added that they had a lot of limitations during filming due to the lockdown. Still, safety permitting, he wants to spend more time in production in the future so "we can explore the depths of the relationships further" and "have more dates so that the contestants can get to know each other even better." We'll see how much Gale and his team were able to pull off when Season 2 debuts in July.
The FBoy Island Season 2 Cast
In Season 1, Nakia Renee, CJ Franco, and Sarah Emig navigated the dating pool together in the hope of finding a lasting connection. Prior to Season 2 casting announcements, Gale teased that future seasons could be even more diverse than the first. When asked about making a second season with bisexual cast members, Gale told Refinery 29 that "there is absolutely no reason why we shouldn't do that … There should be no rules moving forward with FBoy Island."
On June 14, People revealed the entire cast for Seaosn 2. The three single ladies hoping to find love are: 26-year-old Mia Emani Jones, a dental student in Tampa; 25-year-old Michigan-based model Louise Barnard; and Tamaris Sepulveda, a 29-year-old Account Executive from NYC.
The 26 male contestants for Season 2 range from software consultants to Soundcloud rappers, along with a home-schooled concert pianist and a dental school student — though that doesn't necessarily indicate who is a nice guy and who is an fboy.
FBoy Island Reviews
Like most streaming sites, HBO Max does not typically release its viewership numbers. But Gale told Salon that he's hoping the show's level of self-awareness around what makes a nice guy versus an fboy will win over viewers who might have been otherwise put off by the title. "There's no such thing in my mind of a 100% fboy or 100% nice guy," Gale said, adding they "talked a lot about the verbage" of the loaded terms. "A lot of these guys fall into a lot of gray area in between. Being a nice guy doesn't mean you're going to do everything right; being an fboy doesn't mean you're going to do everything wrong. We use these titles, but what we really get to see is there's every kind from 0 to 100 on the fboy to nice guy spectrum."
So far, reviews have been mixed. The show currently holds a 38% critical score on Rotten Tomatoes, and an 80% audience score. "FBoy Island is not trying to be anything more than a sudsy summer distraction. And by that metric, it's a masterpiece," Judy Berman wrote for Time. On the other end of the spectrum, Caroline Framke wrote for Variety, "It didn't take long for FBoy Island to make me feel like my brain was leaking out my ears, drip by stupefied drip."
This post will be updated as more information becomes available.
This article was originally published on