First Kill Left Multiple Cliffhangers To Resolve in A Potential Season 2
Will Cal and Juliette's star-crossed romance survive?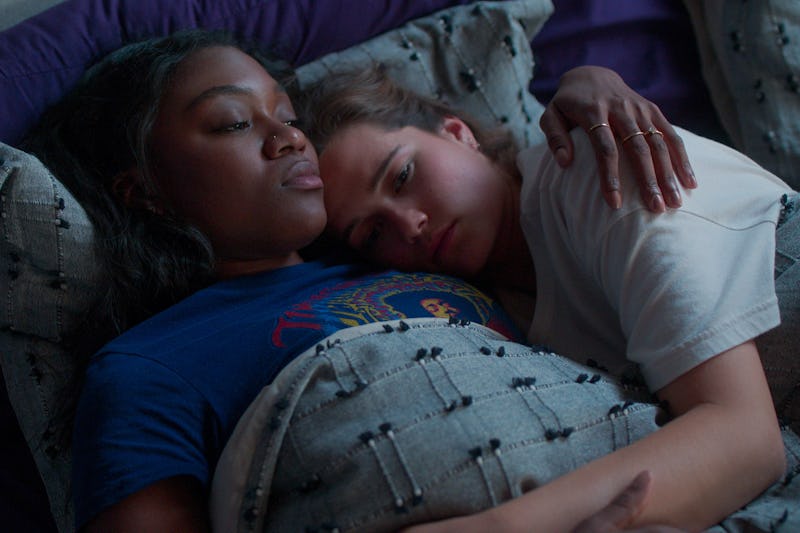 Courtesy of Netflix
The star-crossed lovers trope is hardly new, though Netflix's First Kill adds a supernatural twist. Based on a short story by bestselling author Victoria "V.E." Schwab, who also created and wrote the sapphic fantasy teen drama, First Kill centers on legacy teenage vampire Juliette Fairmont (Sarah Catherine Hook), who's tasked with claiming her first victim to take her place within her powerful family of bloodsuckers. As it turns out though, Calliope "Cal" Burns (Imani Lewis), the new girl in town Juliette set her sights on, is a vampire hunter from a celebrated family of slayers. Naturally, "both find that the other won't be so easy to kill and, unfortunately, way too easy to fall for," the streamer's official description reads.
"What makes this story unique is that it's two queer teenage girls. I don't think we see enough of that," Lewis recently explained to the New York Post of Juliette and Cal's romance. "And their fight isn't with their sexuality; it's this lineage that they were both born into. I think it's interesting that they were both trying to prove themselves in obtaining their first kills, but they end up going on this different journey. I think it's so awesome how it all plays out. It's really special."
Though Netflix has yet to renew the Emma Roberts-produced series for a second season, multiple finale cliffhangers certainly left the door open for another installment. Here's everything we know so far about a potential First Kill Season 2.
The First Kill Season 2 Cast
Anything can happen, especially in a show with the word "kill" in its title, but, in addition to Hook and Lewis, the Season 1 cast also included: Elizabeth Mitchell (Margot), Will Swenson (Sebastian), Aubin Wise (Talia), Jason R. Moore (Jack), Gracie Dzienny (Elinor), Phillip Mullings Jr. (Theo), Dylan McNamara (Oliver), and Dominic Goodman (Apollo).
"I love strong female characters, I love powerful calculated confident characters, and for [Cal] to be from a family of monster hunters, I was like, 'I have to be part of it,'" Lewis added to the Post of her character. "The fan support for the show already is bananas. It's so sweet and funny and warm."
The First Kill Season 2 Plot
In a recent interview with Manny the Movie Guy, Schwab explained that she wrote the short story, which appeared in the 2020 anthology Vampires Never Get Old: Tales With Fresh Bite, as a "launching point for the rest of the world." After the series' first episode, the story essentially ventured into new territory, though, and the author credited showrunner Felicia D. Henderson with helping build out the plot from what she'd previously sketched.
The series leans heavily into the Romeo and Juliet and Twilight parallels, even quoting Shakespeare's "violent delights have violent endings" line in the Season 1 finale. The quote came after Cal called Juliette a "special kind of monster" and vowed to spend the rest of her life "trying to figure out how to kill" her and every legacy vampire like her. Following the painful split, both characters were in obvious pain, and there's sure to be a reconciliation, or at least an attempt at doing so, ahead in Season 2.
Meanwhile, Talia helped newly turned son Theo escape Apollo and Jack's plan to "put down" their beloved bloodthirsty family member. In order to save his life, the Burns matriarch begrudgingly turned Theo over to Juliette's vampire brother Oliver so he could become part of a "new family." Oliver is up to no good, though, reminding his new "brother" that he returned to Savannah to "ruin some lives," before introducing him to some other supernatural "friends" to help them "run this b*tch" in a potential second season. Slayer Jack was last seen packing up some vampire-hunting weapons, though, and will likely be fresh on their trail.
The First Kill Season 2 Premiere Date
Though Roberts was announced as a producer in October 2020 following a reported bidding war, the full cast wasn't announced until May 2021. According to a Twitter sighting, filming in metro Atlanta, Georgia, was underway around the same time. Pending a renewal and similar production schedule, fans can likely expect Season 2 to drop sometime around summer 2023.
This post will be updated as more First Kill Season 2 details become available.