Florence Pugh Reveals The Truth Behind Her "Fake" British Accent
The actor said that many fans on social media think she's American.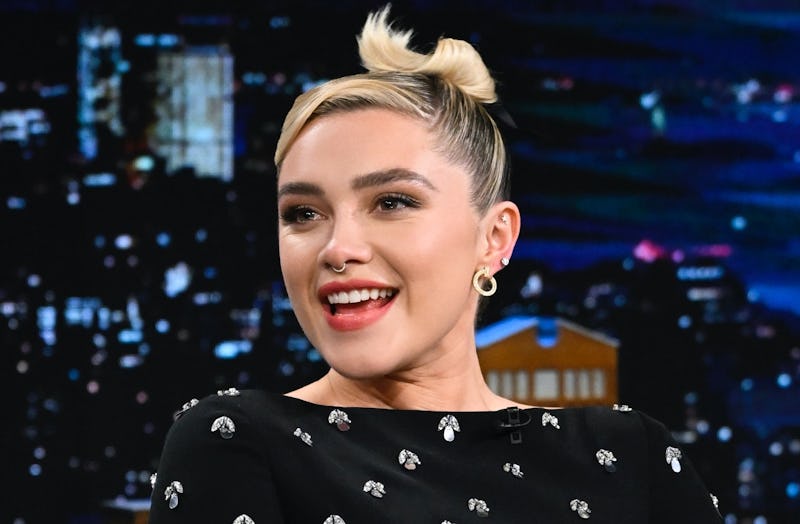 NBC/NBCUniversal/Getty Images
Those of us who paid close attention to the infamous Don't Worry Darling press tour know that Florence Pugh is no stranger to social media speculation. During a recent appearance on the Off Menu podcast, the Little Women star was quizzed about some of the more bizarre Twitter rumors to have come her way in recent months, including that she has been faking her British accent all along.
After podcast co-host James Acaster admitted that he initially believed Pugh was an American, the actor responded: "So many people think I'm American. Then sometimes when I do things publicly, like if I present an award or I'm on a stage talking, they're like, 'That is the fakest English accent I have ever heard.'"
Pugh went on to say that she is often accused of "doing an accent" on Instagram, adding, "I'm like no, that is me. That's literally me. So sorry." However, despite the British actor's recent clarification, many on social media simply "aren't buying it."
"Florence Pugh has an accent? I feel like I've never heard her real voice until now. Feels fake because I'm not used to it," wrote one Twitter user, while another previously joked: "Florence Pugh's British accent sounds fake. Lady claims she was born in Oxford but I'm not buying it. She looks and talks like she's from Kansas."
Referencing the actor's role in Puss in Boots: The Last Wish, another added: "I thought they'd just hired Florence Pugh to do a British accent for the movie. She has such an American face."
Meanwhile, discussing different accents on the Off Menu podcast, Pugh also revealed that she can do a northern English accent "quite easily." She continued: "My gran is from Grimsby so I grew up taking the p*ss out of my grandad."