Everything To Know About A Potential Freeridge Season 2
The On My Block spinoff is part of an "incredible universe" of stories, according to Netflix.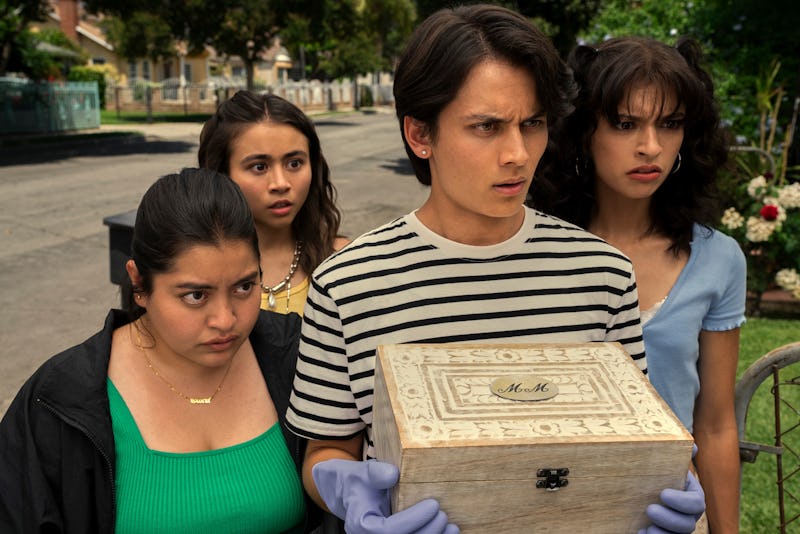 Kevin Estrada/Netflix
The On My Block spinoff, Freeridge, dropped Feb. 2 — and like its predecessor, it's definitely the kind of show you can get lost in for a season-long streaming session. The series follows the new Core Four of Gloria, Ines, Demi, and Cam, two sisters and their friends who get caught up in a mystery when a cursed box comes into their lives. At the same time, they're also just kids navigating high school. They were introduced back in the On My Block series finale as a group of eager teens observing the original characters, a callback to the first time viewers met Monse, Cesar, Ruby, and Jamal.
There are other connections between Freeridge and On My Block, too. In fact, Netflix has described the show as part of an "incredible universe" — which evokes ever-growing franchises like Game of Thrones and Yellowstone. It definitely bodes well for a potential Freeridge Season 2. Additionally, On My Block and Freeridge co-creator Lauren Iungerich signed a multi-year overall deal with Netflix back in 2020, Deadline reported. It's unclear how long that deal lasts, but it could certainly mean more Freeridge, and maybe even other titles set in the same neighborhood.
Until then, here's everything to know about a potential Freeridge Season 2.
Freeridge Season 2 Plot
If Freeridge is renewed, it will naturally be a while before fans hear about plot specifics. However, there's definitely plenty to explore — and no spoilers, but it's safe to say Freeridge follows in the footsteps of On My Block in its penchant for a good cliffhanger.
For an idea of when you might be able to expect Freeridge renewal announcement, a recent example of a potential timeline can be found with Netflix's Wednesday. The popular show was formally renewed on Jan. 6, nearly two months after the show premiered.
Freeridge Season 2 Cast
Keyla Monterroso Mejia, Bryana Salaz, Ciara Riley Wilson, and Tenzing Norgay Trainor played the new Core Four characters of Gloria, Ines, Demi, and Cam, respectively. Just like the On My Block besties stuck together from season to season (with, admittedly, some bumps in the road), you can likely count on them to reprise their roles in a potential second season.
The stars addressed the possibility in a recent interview. Collider's Steve Weintraub told the cast that he'd be "shocked" if the show didn't get a second season, at which several of the stars immediately crossed their fingers — so clearly, they're already a cohesive group behind the scenes, too.
Freeridge Season 2 Potential Premiere Date
If Netflix renews Freeridge for a second season, it's definitely possible that you'll see it by next spring. The show's predecessor, On My Block, had a pretty regular release schedule — dropping one season a year from 2018 through 2021, with all but Season 4 premiering in March. (The last was presumably shaken off course due to lockdown, like many shows.)
This post will be updated with the trailer, release date, and additional plot details as more information on Freeridge Season 2 becomes available.