William & Kate's Kids Baked For A Jubilee Party & The Photos Are Priceless
George, Charlotte, and Louis continue to be the best part of the festivities.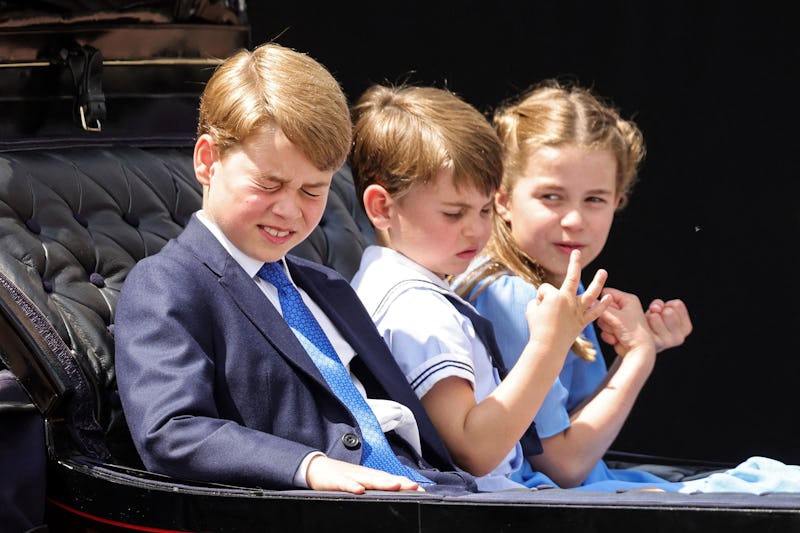 CHRIS JACKSON/AFP/Getty Images
The British royal family has been out in force celebrating Queen Elizabeth II's Platinum Jubilee, and that includes Prince George, Princess Charlotte, and Prince Louis. In addition to creating meme-worthy moments, Prince William and Kate's little ones rolled up their sleeves and got to work for the people, baking cupcakes ahead of a street party on Sunday, June 5. The trio's culinary adventure was captured in a photo montage posted to the Duke and Duchess of Cambridges' Instagram account, and the images were absolutely adorable.
"Baking cakes for the local community in Cardiff to enjoy at a Platinum Jubilee street party taking place today!" the Cambridges' caption read. "We hope you like them!"
Their message accompanied a short video comprised of seven photos of the kids baking, joined in some by Kate. Charlotte appeared to have taken the lead on pouring in flour and cracking eggs, but Louis did some sifting while wearing an endearing look of total concentration. Kate led frosting duty, and the kids' excitement seemed to be at about an 11.
Many of the Cambridges' followers shared just how much they loved the montage in the comments. "Aww this is lovely!" one person wrote. Another commended the kids on their efforts, writing, "Brilliant ! Well done George, Charlotte and Louis!!"
Throughout the weekend of the queen's jubilee, the kids had a notable presence. The three were busy attending events like Trooping the Colour and the Platinum Jubilee Pageant, which meant a lot of waving and behaving as they joined their great-grandmother, parents, and other senior royals. Still, George, 8, Charlotte, 7, and Louis, 4, managed to keep their composure quite well amid all that time in the spotlight. And, frankly, any slipups only entertained spectators all the more.
"Prince Louis (aka 'Boss Baby'), stealing all our hearts and the show with his great-grandmother, the Queen, on the balcony after Trooping the Colour today!" tweeted one fan, alongside multiple photos of his expressions during the queen's birthday parade. Another shared a clip of Charlotte quieting an overly excited Louis during the pageant, writing, "Princess Charlotte had enough" next to a face-with-tears-of-joy emoji. As for George, he won over yet another viewer by looking like he wanted to pretend he didn't know his younger brother as Louis again waved super enthusiastically.
All in all, it seemed to be a wonderful weekend for their great-grandma and the entire royal family. Queen Elizabeth released a statement on Sunday thanking her subjects for the part they played "in these happy celebrations."
"When it comes to how to mark seventy years as your Queen, there is no guidebook to follow. It really is a first," she wrote, in part. "But I have been humbled and deeply touched that so many people have taken to the streets to celebrate my Platinum Jubilee."