What To Know About Ghislaine Maxwell's Rumored Husband
She met him in 2013 at a conservation conference.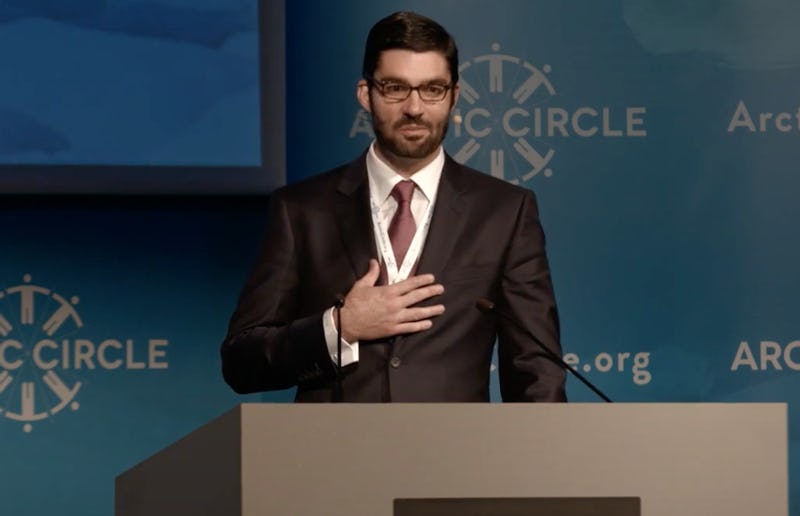 ArcticCircle/YouTube
Peacock's new docuseries Epstein's Shadow: Ghislaine Maxwell looks to peer further into the life of Jeffrey Epstein's longtime girlfriend Ghislaine Maxwell and unpack her alleged crimes. The British socialite, who dated Epstein in the '90s, is alleged to have acted as a co-conspirator in Epstein's sex trafficking ring, targeting grooming, and even abusing the young women involved in it. (Maxwell has denied the claims but is awaiting trial on charges of enticement of minors, sex trafficking of children, and perjury).
Though Maxwell remained closely associated to Epstein for decades, it wasn't until she was arrested in July 2020 (after Epstein's 2019 death) that she revealed in a bail hearing that she's actually married to someone else. Here's everything we know about her mysterious spouse, who is briefly explored in the final episode of Epstein's Shadow.
Who Is Ghislaine Maxwell's Spouse?
Though Maxwell declined to reveal her spouse's identity, The New York Times speculated in August 2020 that her husband is likely Scott Borgerson, a 44-year-old tech entrepreneur. No actual record has been found of their marriage, and Borgerson denied that he ever dated Maxwell to The New York Post in 2019. (The New York Times also acknowledged that it's possible Maxwell lied during the bail hearing, or that her spouse is someone other than Borgerson). Still, the Daily Mail reported in 2019 that Maxwell was hiding out in Borgerson's $3 million secluded property in Manchester-by-the-Sea, Massachusetts. Neighbors claimed that while Maxwell "rarely ventured out" of the house, Borgerson was spotted walking her dog.
Borgerson claimed the dog was his, but two of Maxwell's friends anonymously told the New York Times that she and Borgerson share the five-bedroom home in Manchester-by-the-Sea, and that she sold her own Upper East Side home in 2016. (That was the same year she struck confidential settlements in civil court with two of Epstein's accusers.)
According to prosecutors, Maxwell used an anonymous LLC called Granite Realty to buy a mansion in New Hampshire in December 2019 that was only an hour away from the home she shared with Borgerson. That mansion was eventually where the FBI arrested Maxwell on July 2, 2020.
Who Is Scott Borgerson?
As writer Nina Burleigh explains in Epstein's Shadow, Borgerson was previously in the Coast Guard and was "very connected" to the Trump administration. He's most known for being a tech entrepreneur and the CEO of the maritime innovation company CargoMetrics (which he stepped down from in 2020).
Per a 2016 profile in Institution Investor, Borgerson grew up in Missouri in a Marine family. While he briefly entertained being a Presbyterian priest, he ultimately decided to attend the U.S. Coast Guard Academy. He went on to attend Fletcher, a graduate school for global affairs, and earned a masters in law and diplomacy. By 2007, he was a fellow in residence at the Council on Foreign Relations, and also wrote about the effects of global warming on the Arctic region for Foreign Affairs magazine.
In 2010, Borgerson founded CargoMetrics. His interest in maritime issues, global warming, and oceanic conservation also led him to become involved with Arctic Circle, an organization dedicated to solving economic and environmental issues in the region.
How did Ghislaine Maxwell and Scott Borgerson Meet?
In order to rebrand herself from socialite to philanthropist (and likely distance herself from Epstein), in 2012 Maxwell founded and appointed herself the CEO of the Terramar Project, an oceanic conservation organization that was later disbanded in 2019. In 2013, Maxwell was invited to speak at an Arctic Circle convention in Reykjavik, where she was introduced to Borgerson.
Epstein's Shadow explains that Borgerson was married with two kids when he first met Maxwell, but that he eventually filed for divorce and the two got together. (His ex-wife alleged that he was abusive, which Borgerson responded to by calling her "erratic.") Per The New York Times, Maxwell and Borgerson's relationship was a mutually beneficial one: Borgerson made TerraMar look more legitimate by being its director — though he didn't actually do any work there — and Maxwell gave him and CargoMetrics access to her high-profile contact list.
It's unclear where Borgerson is now, but he continues to deny any connection to Maxwell beyond them being former friends.