What To Know About Ghislaine Maxwell's Controversial Father
"I think everything about her relationship with her father led her into her relationship with [Jeffrey] Epstein."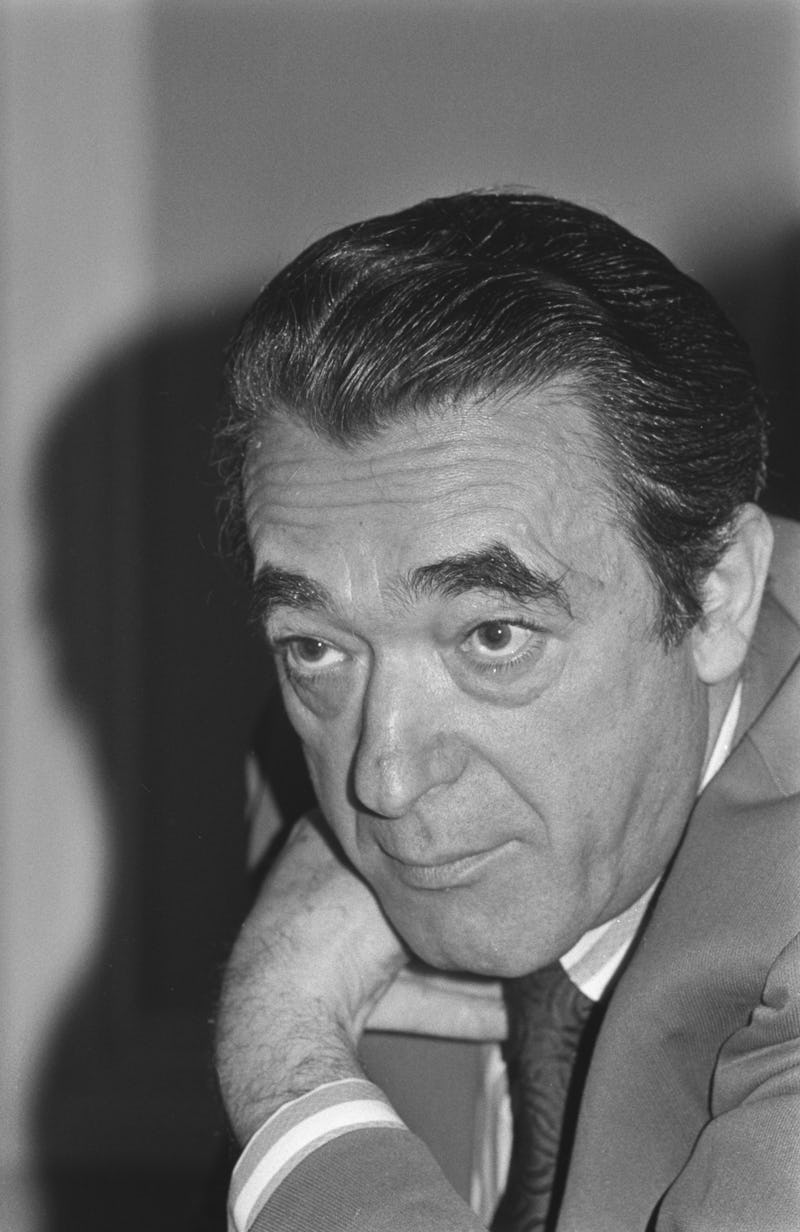 Evening Standard/Hulton Archive/Getty Images
Peacock's new docuseries Epstein's Shadow: Ghislaine Maxwell puts Jeffrey Epstein's longtime girlfriend at center stage. The series sets out to demystify Maxwell, who cultivated a reputation as a philanthropic British socialite while allegedly aiding Epstein in targeting and abusing young women in a sex trafficking scheme. (Maxwell has denied the claims but is awaiting trial on charges of enticement of minors, sex trafficking of children, and perjury).
Starting with her childhood in the premiere episode, the show explores how Maxwell's famous father, newspaper tycoon Robert Maxwell, shaped her into the person she became. As writer Anna Pasternak — one of Ghislaine Maxwell's old Oxford friends — explains in the series, Robert Maxwell was "quite frankly, a terrifying father." Pasternak said that as the youngest child, Ghislaine was his favorite, but she also had to learn how "to navigate a man with a terrible temper."
"I think everything about her relationship with her father led her into her relationship with Epstein," Pasternak said. Here's what else to know about Robert Maxwell.
Robert Maxwell's Early Life
As Peter Jay, Maxwell's former chief of newspaper staff, explains in Epstein's Shadow, Robert Maxwell was born Ludvik Hoch in 1923. As an Orthodox Jew, he grew up in one of the most impoverished areas in Czechoslovakia. Per Forbes, most of his family members were killed in the Holocaust when Nazi Germany took over, but Maxwell managed to escape. At 16, he arrived in France and later fought for the British army in World War II by lying about his age. He was eventually promoted to the rank of captain and was awarded a Military Cross for "storming a German machine-gun nest."
According to Maxwell's biographer Tom Bower, Maxwell's cold reputation came from his experiences at war. "Anyone who had fought on the front line from the Normandy beaches to Germany, facing constant danger and death for months on end from the enemy's snipers and shells, was unlikely to suffer fear," Bower wrote.
Robert Maxwell's Businesses
After the war, Maxwell became determined to never again live the life of poverty that he had growing up. He became a naturalized British citizen, and per a 1948 London Gazette notice, officially changed his name from Ludvick Hoch to Ian Robert Maxwell. Fluent in Russian, English, and French, he briefly worked for the British Foreign office, but soon became interested in the business world. Per Forbes, he paid £13,000 (around $360,000 in today's dollars) to buy out a small publishing company in 1951. He renamed it Pergamon Press, and they made technical journals written by scientists and academics — a sector that had no competition at the time. His dominance over that market caused his business to grow rapidly, and the company went public in 1964.
By 40 years old, Maxwell was a multimillionaire, and even had a seat in Parliament. But he always strove for more money and power. He invested heavily in other publishing companies (like the Mirror Group's six papers and the New York Daily News), pharmaceutical, and computer firms, per The Guardian. Eventually, he participated in the shady practice of asset-stripping, shifting around loan's he'd borrowed for one of his main businesses to make others look more profitable. Per The New York Post, when an American company about to acquire Pergamon looked closer at its financials in 1969, they realized Maxwell was double-dealing and fired him. But Maxwell simply bought back Pergamon in 1974; by the 1980s, Maxwell had invested in a global media empire, and Forbes estimates he was generating $3 billion in annual revenue.
Robert Maxwell's Family
In 1945, Maxwell married French Protestant Betty Meynard, and they had nine kids together (Ghislaine was the youngest, born when Maxwell was 38). Per The New York Post, their large family lived in a 53-room mansion in Oxford, England.
As Fall: The Last Days of Robert Maxwell author John Preston wrote, the family was happy until a car accident in 1961 left Ghislaine's eldest brother comatose. Following the accident, Maxwell became a very strict father to his remaining kids, and "they lived in increasing dread of incurring his disapproval."
But unlike her siblings, Maxwell tended to dote on Ghislaine the most. He even bought a $20 million, 190-foot superyacht in 1987 and named it Lady Ghislaine. When she was an adult, Ghislaine acted as Maxwell's "unofficial goodwill ambassador," holding corporate parties to boost his image even as he did questionable business dealings behind the scenes, per The New York Post.
Robert Maxwell's Death
On Nov. 6, 1991 Robert Maxwell was found dead in the ocean. He had been missing for six hours from his Lady Ghislaine yacht, which was cruising near the Canary Islands. It was ruled that he accidentally fell to his death, but in the 20 years since, people have theorized that he died by suicide. According to Robert's son Kevin Maxwell, Robert had defaulted on £50 million in loans from Goldman Sachs, and he was meant to meet with the governor of the Bank of England to explain himself right before his death.
"He was a man who could not face the ignominy of jail, of being shown to be a liar and a thief. And he very much knew that was coming," Roy Greenslade, a former editor of one of Maxwell's newspapers, The Daily Mirror, told The Guardian. "I believe Maxwell threw himself off [the yacht]."
In the face of controversy, Ghislaine became Robert's "greatest defender," the The Last Days of Robert Maxwell author Preston. Still, Ghislaine left Britain to avoid the scorn and settled in New York City. Months after her father's death, Ghislaine started dating Jeffrey Epstein; as her friends surmise in the docuseries, meeting Epstein at such a vulnerable point of her life is likely what indebted her to him all those years.