Gilmore Girls Fans Rejoice After Rory's Baby Daddy Is *Finally* Revealed
"It was supposed to be very obvious."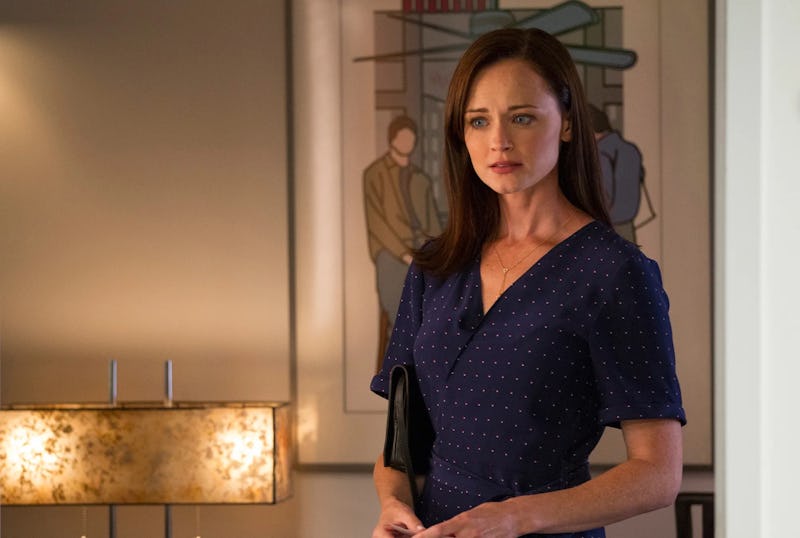 Netflix
It's been seven years since Gilmore Girls: A Year in the Life ended with that cliffhanger, where viewers were left to figure out who was the father of Rory Gilmore's unborn child. But seeing as she was having an affair with Logan, even though he was engaged to French heiress Odette, many fans assumed he was the baby daddy. Series creator Amy Sherman-Palladino has never confirmed or denied this. Still, viewers may finally have an answer to that all-important question, thanks to an unlikely source on the show's production team.
Valerie Campbell, a costume supervisor on A Year in the Life and the key set costumer on Gilmore Girls, responded to the age-old question on TikTok. "Let's do the math," she said before reviewing the potential candidates, including Paul, the Wookie, and Logan. Campbell explained that it can't be Paul because "she definitely wasn't sleeping with him" and that it can't be the Wookie because "she'd definitely be showing, but we never gave her a pregnancy belly, and that is very, very important. We never gave her one; we were never instructed to give her one." So, the obvious choice for Campbell is, "you guessed it, Logan."
Campbell even said that Sherman-Palladino was surprised at people questioning the baby's identity at all, telling her that "it was supposed to be very, very, very obvious." In response, one fan commented: "It was very obvious because Logan is Rory's Christopher. She became just like Lorelai." Another wrote: "Yes! You have made me so happy confirming."
In a second video, a user asked Campbell that "if it's obvious, why is Matt Czuchry [Logan] saying Amy told him, and he has to keep it a secret?" referring to this BUILD Series interview where the actor said it was up to the writers to settle. "It's their story … if they ever want to reveal that, then they can do that." For Campbell, this just showed that Czuchry could keep a secret and that the actor was just "being cheeky." Campbell also clarified that Jess Mariano is definitely not the father, either. "Seriously, guys. It's not an immaculate conception," she joked.