Twitter Is Singing The Same Tune About Glastonbury's Headliners
Sir Elton John, Arctic Monkeys, and Guns N' Roses will perform on this year's Pyramid Stage.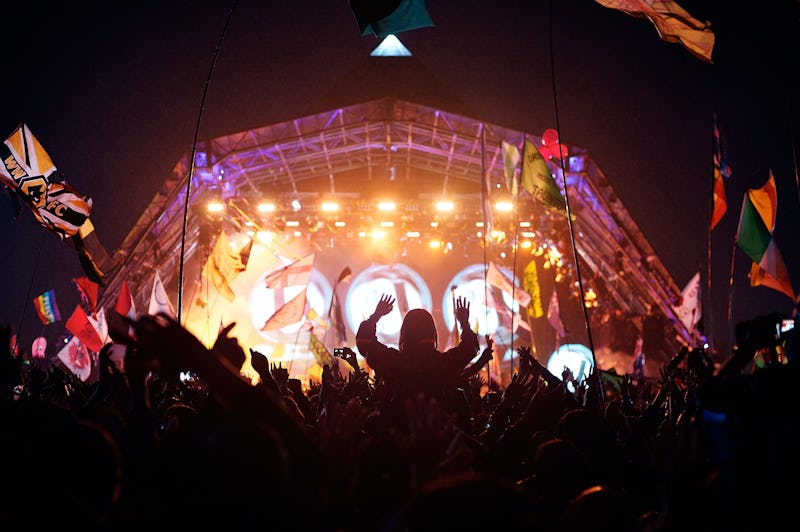 Felix Kunze/Redferns F
Following last year's electrifying festival that hosted the likes of Billie Eilish, Sir Paul McCartney, and Kendrick Lamar, music fans everywhere were delighted to learn that Glastonbury is indeed returning to Somerset's Worthy Farm in 2023. The first major act confirmed for this year's festival was Sir Elton John, who will headline the legendary Pyramid Stage for what is set to be the final UK show of his last-ever tour. On March 3, the final two Pyramid Stage headliners were announced as Arctic Monkeys and Guns N' Roses, while other big names, including Lizzo, Blondie, Fatboy Slim, Lewis Capaldi, and Lil Nas X, among many others, were also confirmed to perform.
However, following this year's much-anticipated Glastonbury announcement, many were quick to point out the all-white, all-male headliner lineup's notable lack of diversity — particularly after the festival's own "diversity statement" released ahead of the 2023 festival, which reads: "We realise we can always do more to ensure that we are being proactive in embedding diversity and inclusion in everything that we do."
"Glastonbury has a real problem getting women headliners," one fan wrote on Twitter, pointing out that just four of the last 30 festival headliners have been women. "Having three all-white, all-male headliners is so far from leading by example," another fan commented. "Yes there's diversity on the bill, but that trio topping the Pyramid is such a shame."
Meanwhile, others shared their view that Lizzo "should be the Glastonbury headliner," with one fan writing: "Love this lineup, however, it's sad to not see Lizzo as the Friday headliner. Arctic Monkeys have headlined previously. Give amazing women like Lizzo a chance."
Find more fan reactions to the controversial Glastonbury Festival 2023 headliner lineup, below.