This New Lifetime Movie Is Based On The Story Of A Mom Who Suddenly Disappeared
Jennifer Dulos went missing in 2019.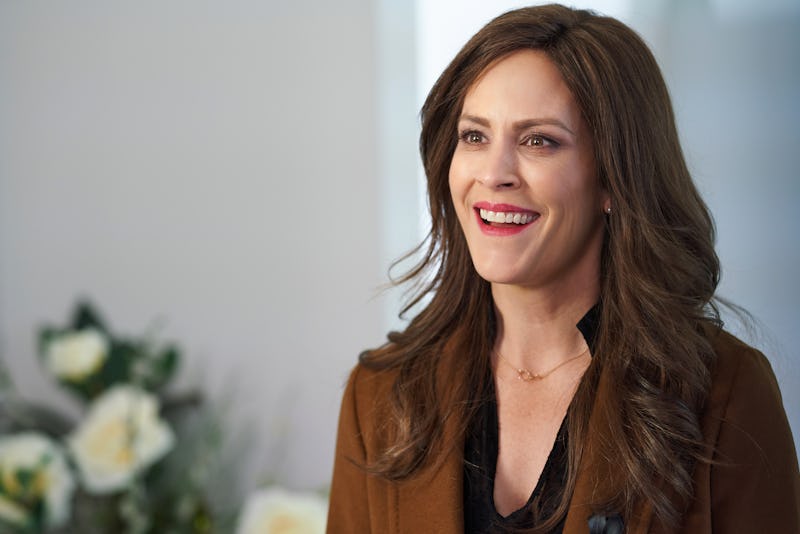 Lifetime
Lifetime loves a ripped-from-the-headlines story, and its new movie Gone Mom is based on one such tragic tale. In May 2019, Jennifer Dulos disappeared in Connecticut after dropping her five kids off at school. Per CBS News, the investigation soon turned to her estranged husband Fotis Dulos, with whom she was in a divorce and custody battle. According to CBS, documents showed that Jennifer was fearful of Fotis, and during divorce and custody proceedings reportedly said, "I am afraid that my husband will harm our children to punish me."
After Jennifer disappeared, Fotis' lawyer claimed that Jennifer hadn't died. Instead, he alleged that she'd pulled a Gone Girl — aka staged her own death to pin the blame on her husband and then run away to live a new life. Jennifer's family firmly denied the claim. "Evidence shows that Jennifer was the victim of a violent attack in her New Canaan home. This is not fiction or a movie. This is real life, as experienced every single day by Jennifer's five young children, her family, and her friends," her family said in a statement to CNN. "We are heartbroken. Jennifer is not here to protect her children, and these false and irresponsible allegations hurt the children now and into the future."
Jennifer's husband denied any involvement in her disappearance, but was ultimately charged with her kidnapping and murder. Shortly after being charged in early 2020, he died by suicide, the Stamford Advocate reported. Investigators believed him to be responsible for Jennifer's death after they obtained video footage of him dumping trash in many different bins. Some of the garbage recovered included bloody clothes that matched Jennifer's DNA, per CBS News. Though Jennifer's body was never found, a medical examiner concluded that she was dead based on the large amounts of blood and other evidence, determining that she'd sustained "non-survivable injuries."
There was more to the case after Fotis' death. Per CBS News, investigators believe that Fotis had help from his girlfriend Michelle Troconis, who was allegedly spotted in video footage with him while he was throwing away Jennifer's bloody belongings. The Hartford Courant reported that Troconis pleaded not guilty to conspiracy to commit murder and evidence tampering charges. She insists that she's innocent and that she herself has been a victim of the media frenzy stemming from the case. According to the Courant, she's currently awaiting trail and will likely go to court in 2022.
May 24, 2021 marked the two year anniversary of Jennifer's disappearance, and her body has still not been found. Per CBS News, Jennifer's five children now live with her mother in New York City.
If you or someone you know is experiencing suicidal thoughts, call the National Suicide Prevention Hotline at 1-800-273-8255 or text HOME to the Crisis Text Line at 741741. You can also reach out to the Trans Lifeline at 877-565-8860 or the Trevor Lifeline at 1-866-488-7386, or to your local suicide crisis center.