The Great British Bake Off Is Back For 2020, But Not As We Know It
New location, new rules, new presenter.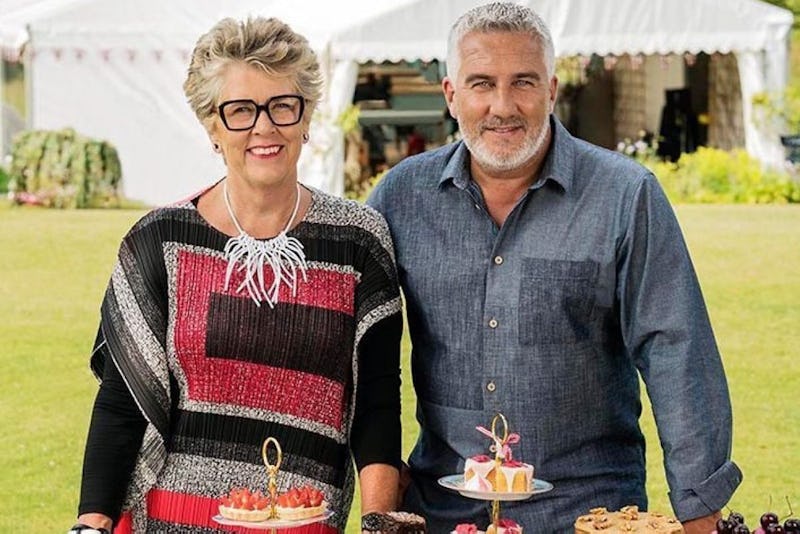 Channel 4 / Great British Bake Off
In a television landscape filled with cancellations and postponements, news that Channel 4's The Great British Bake Off is returning to our screens later this year will be very welcome indeed. Along with a brand new host and location, the upcoming eleventh series will adhere to restrictions brought on by the coronavirus pandemic. So, although GBBO is coming back in 2020, viewers can expect a much different series this time around. Here's everything you need to know about the show's return.
As the Radio Times reports, filming of the new series has now officially wrapped, after production was derailed back in April following the nationwide lockdown. Speaking to Broadcast, Channel 4 producers revealed the 2020 series had been completed thanks to a "mammoth sacrifice" made by the show's cast and crew — many of whom were required to live in a self-contained biosphere for six weeks in order to safely film, and ensure bakers could enjoy more relaxed social-distancing guidelines.
Creative director at Love Productions, Kieran Smith, teamed up with managing director Letty Kavanagh to select a location which housed all cast and crew, 80 producers, around 20 children, chaperones and dog walkers, as well as 20 hotel staff members.
"So many people rely on Bake Off for work that we knew we had to work out a plan," Smith commented.
Smith also revealed that to gain access into the hotel, every member of the Bake Off team was required to self-isolate for nine days and take three COVID-19 tests beforehand. Production was given the green-light once health and safety protocols were put into place, and filming eventually got underway back in July with a "gruelling" six-week shoot, the Radio Times reports.
"It was a massive operation, we even built 12 practice kitchens for the bakers to use on their days off," Smith explained, while Kavanagh added, "It felt like the safest place in Britain."
As Metro reports, the long-running baking competition has also moved from its usual home in Welford Park, Berkshire, and instead set up shop in a fresh, more COVID-secure filming spot. "It's all happening in deep secret, somewhere in darkest deepest Britain in the shires," teased Sky Studios chief commercial officer, Jane Millichip. However, Bake Off's new home has since been revealed to be situated within the grounds of Down Hall Hotel in Essex.
Elsewhere, comedian and actor Matt Lucas was announced as Sandi Toksvig's replacement earlier this year, after it was revealed Toksvig would not be returning to the series. Lucas is set to co-host alongside fellow Bake Off presenter Noel Fielding throughout the upcoming season, and discussing his delicious new TV gig, he told Channel 4 news: "I'm chuffed to bits to be joining the most delicious show on television. I can't wait to break bread with Noel, Prue and Paul and meet the brilliant bakers."
As it stands, an official series 11 start date is yet to be announced, and questions surrounding the show's 2020 return were raised when Bake Off was not included in a press pack outlining Channel 4's autumn TV highlights. However, much to everyones relief, Sky Studios' Millichip recently confirmed: "You will have your Victoria sponge this year."
The Great British Bake Off is expected to return to Channel 4 later in 2020.
This article was originally published on