Greg May Be Hiding Something From Katie On The Bachelorette
Rumors about the fan favorite's intentions have been swirling online.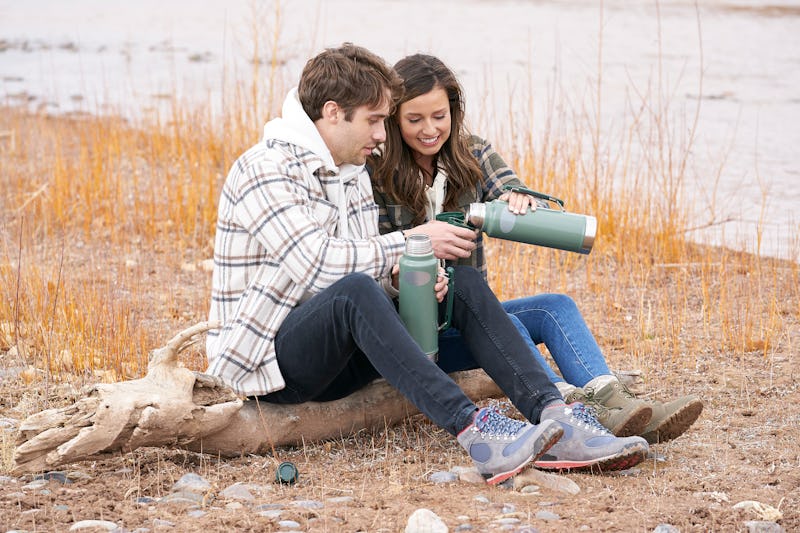 Katie Thurston's Bachelorette season is only a few episodes in, but already, there's a lot of attention surrounding Greg Grippo. The 28-year-old got the first impression rose and the first one-on-one date with Katie, who took him fishing. With the beautiful snowcapped mountains of New Mexico as their backdrop, the two pitched a tent, snuggled up by the river, and bonded over the loss of their fathers. It's clear that Katie feels really strongly towards Greg and, if the editing is any indication, it seems like he'll go far in the competition. However, with recent rumors swirling about Greg's true intentions, is it possible he could be hiding something big from Katie? Here's what to know about the Edison, New Jersey native.
Greg Was Popular in College
Greg grew up in New Jersey, where he attended Rutger's preparatory school. He graduated from Saint Michael's College, a private Catholic school in Colchester, Vermont, with a degree in Business Administration and Marketing in 2016. He also played DII basketball in college and had quite the fan club according to Cosmopolitan, who dug up adoring anonymous tweets fellow students submitted about Greg. "Greg Grippo, you can get it any day ;)," one reads.
Greg's Instagram Is Very Wholesome
Greg's Instagram is full of cute pictures of him holding babies and dogs and shots of him hanging out with his family. As we learned from one of his and Katie's first private chats, he is a doting uncle who loves playing with his many nieces and nephews (remember that darling handmade necklace he gave Katie?). Altogether, his feed paints a very wholesome picture of his life. Not to mention that Greg openly cries during movies and says he wants to treat his future wife "like a queen."
Greg is Not Afraid to Be Vulnerable
Since the first moment Greg stepped out of the limo, he's been really open about how nervous he was to meet Katie. "What I loved about Greg is he was just true to himself, which was this very nervous, very uncomfortable guy," Thurston told Us Weekly. "He didn't try and act cool or, like, be this guy that he's not. He was just like, 'This is me and I'm really freaking scared.'" While lots of guys go for cheesy jokes or over-the-top first impressions, Greg chose to simply be his nervous, sweet self, which ultimately landed him the first impression rose.
On their first one-on-one date together, Greg also revealed how devastating the loss of his father has been for him. Greg and Katie both cried over dinner, reminiscing about spending time with their dads growing up and taking solace in each other's arms. Greg has proved that he does not shy away from his feelings, which is something Katie clearly wants in a partner.
Greg is Looking For The One
Greg is serious about finding a life partner to settle down with. His Bachelorette bio describes him as a "hopeless romantic" who wants to "travel the world with his wife before having kids, of which he says he wants to have at least six!" He's extremely close to his family and looks to his parents' marriage as a source of relationship inspo. Katie has been similarly clear about her intentions to leave The Bachelorette happily engaged with someone who respects and cherishes her, so it makes sense that Greg has caught her eye.
Greg Might Have Some Acting Aspirations
Greg's LinkedIn lists him as working in marketing, serving as an account representative for a company called Mondo. However, there have been some rumors swirling recently that Greg may have other aspirations. Someone sent an anonymous tip to the gossip account Deux Moi alleging that Greg attended the William Esper Acting School between 2017 and 2019, despite no evidence of it on his LinkedIn or social media accounts. The tip also claimed that Greg is a disingenuous person who has been living at home with his mother, only going on The Bachelorette to "kickstart his acting career." Another source claimed to The Sun that Greg "is absolutely lying about his career and intentions on the show. He's always wanted to pursue an on-camera career."
With Katie already questioning some of the guys' motives, this omission feels like it could be a big deal. To complicate the situation even more, Katie recently liked (and then quickly unliked) a @chattybroads meme calling Greg out for hiding his acting career aspirations, according to fan account @bachelorteaspill. Then, Greg's sister Samantha publicly called Katie out for liking the post. "@thekatiethurston likes this post but was such a supporter of removing the toxicity and mean girls when she was on Matt's season," Samantha commented. "You'd think if those intentions when[sic] genuine she'd have just as much of an issue with this post as well. Really disappointed in this."
Unfortunately, it is impossible to speculate what all this might mean for all the fans hoping Katie and Greg end up together. It could be nothing or it could mean major trouble...who's to say!
This article was originally published on