Twitter Has *Thoughts* On Gwyneth Paltrow's "Wild" Ski Crash Trial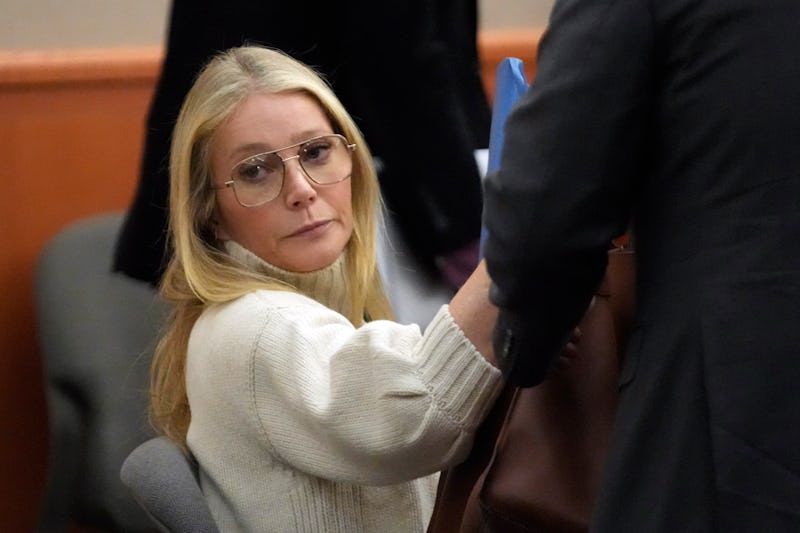 Pool/Getty Images News/Getty Images
What Twitter has dubbed the "trial of the century" began on Tuesday, March 21, when Hollywood star Gwyneth Paltrow appeared in court for the first day of a civil trial over allegations she seriously injured a man in a "hit-and-run ski crash." As per the BBC, 76-year-old Terry Sanderson filed a lawsuit against the actor, claiming that Paltrow caused the 2016 ski accident and then continued her descent down the slopes at the Deer Valley resort in Utah.
Sanderson, who is seeking $300,000 (£245,000) in damages, alleges that the Oscar-winner left him with "permanent traumatic brain injury, four broken ribs, pain, suffering, loss of enjoyment of life, emotional distress, and disfigurement."
"After the accident, he deteriorated abruptly and many of the activities he loved to do, he stopped doing," Sanderson's attorney claimed, adding that his client is now unable to enjoy wine tastings following the accident.
Paltrow and her legal team deny the allegations, claiming that she was not responsible for the on-slope collision. The actor has also countersued Sanderson, seeking $1 million (£815,000) in damages plus legal fees, and the actor's lawyer described Sanderson's claims as "utter BS."
Despite the severity of the case and allegations, social media has been a buzz with its usual running commentary, with some calling the Paltrow trial a "fever dream" and others drawing tongue-in-cheek comparisons to Ryan Muprhy's American Crime Story.
"I thought Gwyneth Paltrow being on trial for running into a skier and skiing away years ago was a fever dream," one Twitter user joked. "No one has ever looked more on trial for a skiing incident," another user wrote, referencing the actor's courtroom attire.
Find more social media reaction to Paltrow's ski accident court case, below.