The Handmaid's Tale Is No Longer About Survival — It's About Revenge
Season 4 introduces a new June.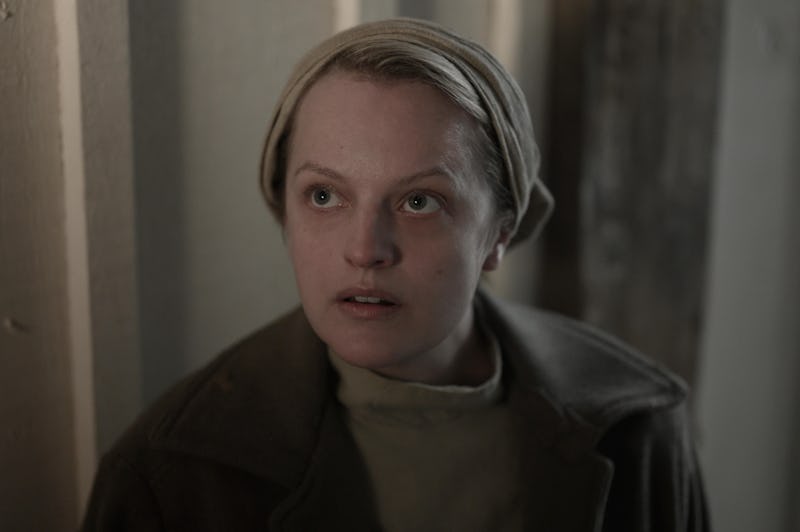 Hulu
Spoilers ahead for Episodes 1-3 of The Handmaid's Tale Season 4. The Handmaid's Tale Season 4 opens moments after we last left June, bleeding from a bullet wound in her stomach. The handmaids are in a vacant shop trying to save her life and evade the guardians, who are still close by. Eventually, Janine cauterizes June's entry wound with a wide-barrel curling iron as Dionne Warwick's "I Say A Little Prayer" blares in the background. Welcome back to Gilead, where survival by any means is the watchword. But not for long.
In time, the handmaids find a hideaway on the farm of a commander with dementia and his child-bride, Mrs. Keyes, who is committed to revolution. As June convalesces, the handmaids get a taste of freedom, trading their red capes and state-sanctioned rapes for the Marthas' green work-clothes and flings with the farm's guardians, also on the side of Mayday. For some, like Alma, these weeks are a good enough reprieve from the horrors of being a handmaid; she starts to falter on the larger cause. But for 14-year-old Mrs. Keyes, the handmaids' arrival isn't an end. It's a beginning. She greets June as if this is the coming of her savior. "You're the one I've been waiting for," she tells June, who is septic and once again fighting for consciousness. "He sent me dreams of you. We were killing people together."
Mrs. Keyes ignites something different in June, who, since the beginning of the show, has been motivated by survival: stay alive, stay in Gilead, save Hannah. In Season 3, she emerged as a leader with the strength and charisma to expand her personal mission to saving other children. But she was still a handmaid. Who is she now, stowed away on the edge of civilization without a bonnet? In the past, she was a reluctant leader. Here, she's defending Janine against the outbursts of Mrs. Keyes in one scene, then helping Mrs. Keyes process her sexual assaults in the next. By the end of the episode, she'll allow the teenager to crawl into bed with her. Maybe this is just a new, more sympathetic June — or maybe this is exactly what it takes to amass power among those who've been without a champion.
Even amid Gilead's lowest ranks, there is hierarchy. People like Janine, desperate for love, keep ending up on the bottom, shaking off trauma and pressing forward as a means of survival. "I think if she felt all of the pain and anger and rage that she has every right to feel, it would kill her," Madeline Brewer tells Bustle of her character. "So she doesn't. Everything Janine does, to me, is pretty much a way of staying alive." June is driven by something even harder. "June is motivated by revenge, by needing desperately to save Hannah."
Unbeknownst to June, her plans of vengeance are already coming to fruition. Over in Canada, Fred and Serena Waterford are cooped up in a detention center that looks like a luxury ryokan. When they learn that June snuck 86 kids out of Gilead, they're nearly speechless. And while Aunt Lydia has been reinstated by the commanders, June's treachery has ruined both her reputation and her nerves. As the pecking order disintegrates, this season promises a question more complicated than if and when Gilead will fall. Ringleader. General. Mother. Messiah. Who will June Osborne be when it finally does?