Hayley Kiyoko's Self-Care Routine At 30 Is Just What 16-Year-Old Hayley Needed
"It's so easy to work until you burn out, so I've really focused on creating balance between the grind and space to rest."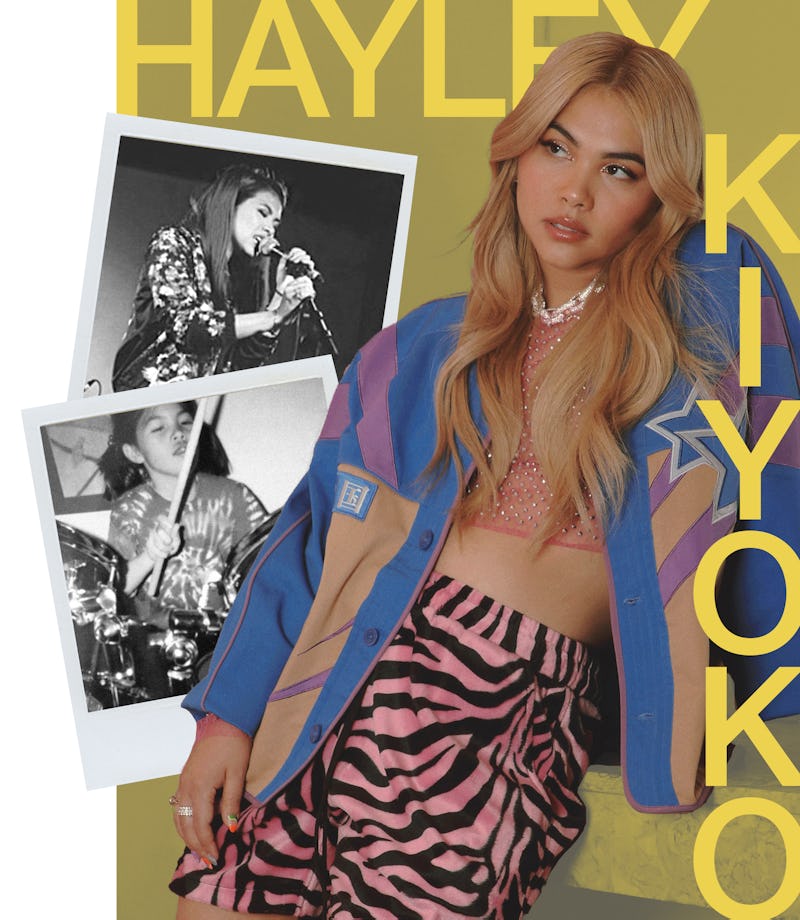 After entering her 30s in April, Hayley Kiyoko is still processing how absolutely insane her past decade of life was. "My 20s were a rollercoaster, full of hard lessons and exciting, life-changing moments," she tells Bustle.
That may be an understatement. In the past ten years, Kiyoko made her Disney Channel debut in the criminally underrated movie Lemonade Mouth, then ditched the House of Mouse to forge an independent music career, releasing a slew of EPs before her debut album Expectations landed in 2018 to acclaim from critics and even Taylor Swift. She also came out as a lesbian, influencing her biggest hits like "Curious" and "Girls Like Girls," and gradually garnering a devoted fanbase of LGBTQ kids who finally felt represented by Kiyoko. She's even been deemed "Lesbian Jesus" more times than we can count.
Now, at 30, the singer is feeling Pride-ful, taking the stage at Pride events this summer. But she's also learned her limits, and how to take better care of herself when she reaches her maximum workload. "I definitely learned a lot about myself and the importance of self-care," she says. "It's so easy to work until you burn out, so I've really focused on creating balance between the grind and space to rest, to just breathe and get inspired."
Right before Pride Month kicked off, Kiyoko released two new songs — "Found My Friends" and "Chance" — that explore the dynamics of queer love, fear, and self-doubt in a way only Kiyoko could. The music video for "Chance" co-stars Alexandra Shipp and outlines the honeymoon stages of love, including the nagging fear that comes with embracing a new relationship. "Found My Friends," which she wrote at a "challenging time" before the COVID-19 pandemic set in, analyzes the struggles that made her fear rejection, leading to the brave admission that she can't stand alone.
I'm inspired daily by each and every young queer person who is surviving day by day and navigating their unique identity. It still takes a tremendous amount of courage to live openly ...
"Life is a beautiful but challenging journey and I realized that nurturing a healthy friendship with myself, instead of focusing on negativity and self-doubt, only makes those challenges much easier to overcome, and makes life brighter," she says. "I hope the song encourages listeners to be compassionate with themselves."
Looking forward, Kiyoko is currently working on her sophomore album, and if her 30-year-old attitude is any indication, it will be more relaxed and self-assured than ever, without losing the vulnerability and brutal honesty that fans related to in the first place. "I'm so excited about what's to come in the years ahead," she says. "I have so much more to experience and share with the world."
Hayley Kiyoko Q&A
What advice would you give to your 16-year-old self?
My advice would be to stay true to yourself, and be kind to yourself, and never be afraid to dream big. It's only going to get better.
Where do you see yourself 16 years from now?
I feel like the ultimate dream is to end up living in a peaceful place surrounded by nature and the people I love. I hope in 16 years that I'm still making music, acting in and directing films, and continuing to tell the stories that resonate with people from all walks of life.
Where and how are you celebrating Pride in 2021?
This year has been quite busy in a good way compared to 2020 where we were all still in quarantine and celebrating virtually. I just played my first live show for LA Pride at the Coliseum and it was such an emotional experience! To see people gathering together again after all that we've endured and to be onstage … there is nothing like it!
Who inspires you in the LGBTQ+ community?
I'm inspired daily by each and every young queer person who is surviving day by day and navigating their unique identity. It still takes a tremendous amount of courage to live openly to not only yourself but others. It's even more inspiring to see how much love and compassion people have for one another in the community.