H.E.R. Explains How Hannah Montana Influenced Her Career & Love Of Sunglasses
"She paved the way for artists who want to be rock stars and live a normal life, like me."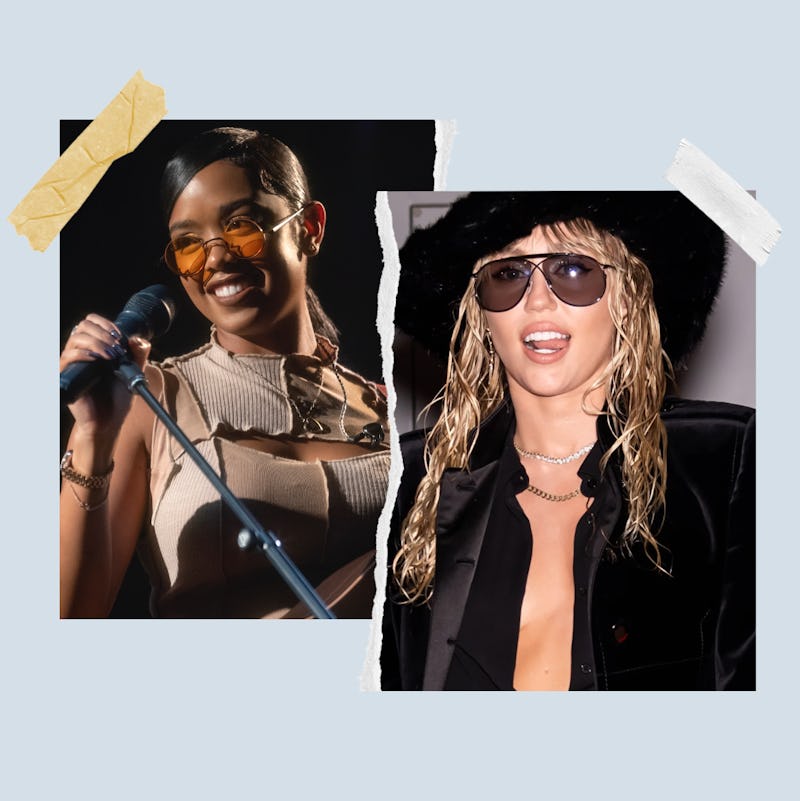 Lacey Terrell/Amazon Studios/Gilbert Carrasquillo/Getty Images
H.E.R. has taken home four Grammys, including Song of the Year for "I Can't Breathe," won an Oscar for her "Fight For You" song, and performed at the Super Bowl in the span of just three months in 2021. Yet somehow, people can't recognize the certified music sensation without her sunglasses on. You can thank Hannah Montana for that, which is in part why she covered Miley Cyrus' lovesick anthem "7 Things" on Twitter, setting social media ablaze and receiving praise from Cyrus. "I get it now because I remember watching Hannah Montana and being like, 'How do people not recognize her? It's just a wig'," she tells Bustle. "And I'm, 'It's just glasses.' But people do not recognize me without them."
However, it won't be long until people start recognizing H.E.R. no matter what she's wearing. The singer is gearing up to release Back Of My Mind on June 18, a 21-track R&B opus that marks her proper debut record after arranging her previous EPs into compilation albums (H.E.R. and I Used to Know Her, both of which received Grammy nominations for Album of the Year). To mark the occasion, H.E.R. joined Billie Eilish and Kid Cudi in developing special shows to celebrate Amazon's annual Prime Day.
"I'm kind of like modern-day Hannah Montana, you know?"
For her virtual concert film, H.E.R. took inspiration from Los Angeles' legendary Dunbar Hotel, recreating the historic lounge where Black artists performed and showed off their skills in the segregated 1920s. "All the music that we see today is inspired by all of those legends, and the Dunbar was such a huge part of that," she says. "It was a safe place for artists back when Black artists couldn't perform at some of the other venues. We just thought it was really important to talk about history and do it in a whimsical way and in a fun way that brings up my new album Back In My Mind just because I celebrate R&B music in this album, and they're the pioneers."
Before her Prime Day Show premieres globally on Prime Video on June 17, H.E.R. opened up to Bustle about her upcoming album, the R&B icons that inspired the special concert, and just how much Hannah Montana shaped her career — and her now-iconic sunglasses.
In the spirit of celebrating R&B history, which icons have influenced you?
Prince is one of the biggest ones because he was genreless. I don't think that you can really box music. It's good to reference and understand what the roots are and what it is at its core. But Prince made so many hits and in so many songs for everything. "Purple Rain" [which she performed at Coachella] was one of my biggest influences as far as my guitar playing. Alicia Keys is up there for me, Lauryn Hill. People like that.
You set the internet a flame when you covered Miley's "7 Things." What inspired that, and what other Miley songs would you cover?
I'm a huge Miley fan. I'm a huge Hannah Montana fan. I grew up watching Hannah Montana, even being inspired by her story, and the show was always on in my house. I think I'm going to start doing more TikTok covers of songs that were such a big part of my childhood. I remember learning how to play "7 Things" and just singing it over and over with my cousins. Maybe I'd do "The Climb," that's a classic, but of course, *singing* "If we were a movie, you'd be the right guy."
What did Hannah Montana mean to you?
She paved the way for artists who want to be rock stars and live a normal life, like me. I'm kind of like modern-day Hannah Montana, you know? I wear the glasses and people wouldn't know me and don't recognize me without the glasses. I have Hannah Montana to thank. I really, really loved that show. It was great. All the songs were amazing. The hooks were amazing. And of course, as she started to grow, Miley's songs [did too] and you just felt her powerhouse vocals the older that she got. That was really dope to see.
What was your goal going into this new album?
I don't know if I really had a goal in the beginning. I think I just kind of create, and then we see what it turns into because that is life. With the other EPs, it was the same thing. It was all about those emotions that I felt in high school and graduating high school and becoming a young woman, the evolution of woman. Now for me, the difference musically and lyrically is that it's a lot more sure. Obviously I'm not the same person I was at 18.
Back Of My Mind is so much more sure of those thoughts and feelings. Before, my project was, "Can you focus?" and "What are we doing?" And now it's very much, "This is who I am. This is what I want." So I'm owning the space a lot more. Musically, I'm owning that too. You see a lot more musicianship on this project and you hear a lot more live drums, live guitars, and keys. It's a celebration of R&B and all of the things that make up R&B — alternative R&B, hip-hop-inspired R&B, stripped down R&B, bluesy R&B. There's a lot of colors in this project.
Are there collaborations on this album?
There's tons of collaborations, but what's really dope about this is there's a lot of artists behind-the-scenes, the collaborators, some of the writers and producers that I worked with are female, a lot of them. So I'm really excited that a lot of women were part of this project in that way.
You recently stepped into the country world by performing with Chris Stapleton at the CMT Awards. How did it feel kind of dipping into that world?
Oh man. You know what? When they called me about it, I was so excited because I am a country music fan and there's a lot of artists that I've grown up listening to like Carrie Underwood and Rascal Flatts, and now artists like Kane Brown, who I think is really dope. I just feel any stage, that there's nothing that I can't do. I don't like to limit myself. I really genuinely have fun just creating music, whatever that means. I don't believe in staying in a comfort zone of any kind when it comes to music. Chris Stapleton is one of my favorite artists and I just think he's so soulful and so great and so him hopping on this song, performing it live with me ... I knew it was just going to be something really, really special. I'm still thankful that I got to do that. I never imagined myself being on that stage. It was really, really fun working with him.
What did your Oscar win for Best Original Song mean to you?
Oh my gosh. I don't even know how to describe that feeling to you. I was blown away. I couldn't even believe I was at the Oscars period. Because of COVID, it wasn't a lot of the hectic things that happens at award shows. It was very chill. I got to talk to Angela Bassett and people like that, so I was just so excited to be there. When they called my name, I just couldn't believe it. I was mostly just proud to have been a part of Judas and the Black Messiah and to win for that film specifically, just because of what it's about. The Fred Hampton story was a part of history that was kind of hidden from us and the narrative has been changed. Movies and television have the power to change the narrative of some of these stories. I was just proud to be a part of that.
People still can't recognize you without your glasses. How do you keep up that mystique and why is it important for you to keep that privacy?
I think there's going to come a point where people are going to recognize me regardless, and I think I'm ready for it. I'm just thankful to be living my dream. I think in the beginning, it was just important for the music to shine. I think we get caught up in all the other things, the image and what everybody's doing and this perfect filter and glamorous life. That's not the reality of it, and I think you can feel that when you really listen to the music and listen with our ears and not our eyes. But now, I'm slowly revealing myself and organically giving more and connecting more to the people that I know listen to my music and love to watch me perform. We'll see what happens in the future, but it's all a balance and it comes with the territory.
Now that you've achieved some of these milestones, what's next?
The biggest goal I have as of now is the EGOT. I believe there's only two other Black people with the EGOT, but I'm only 23 and I've got the GO so far. I've got the Grammy and the Oscar. So all I need is the Emmy and the Tony and I think that's in my reach.
This interview has been edited and condensed for clarity.