House Of Ho Season 2 Introduces Two New Cousins — And Even More Drama
Get ready for some generational and cultural clashes.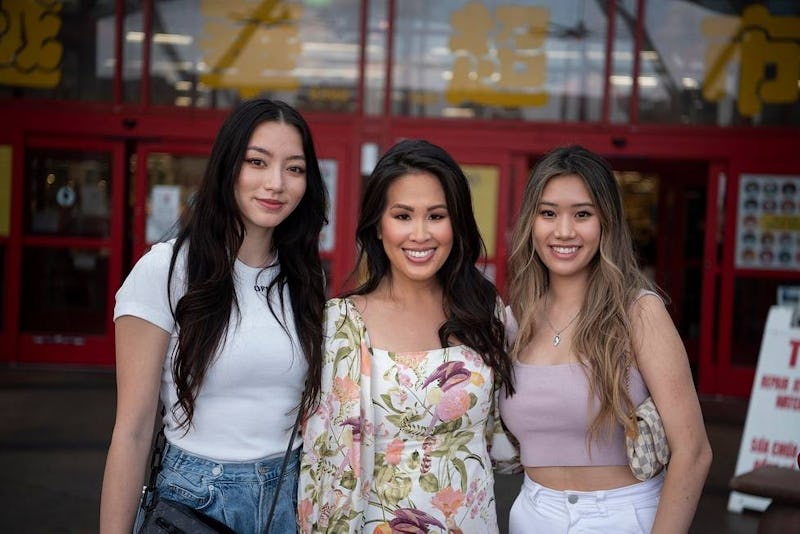 Callaghan O'Hare/HBO Max
Reality TV loves to showcase the lives of the rich and famous, and HBO's docusoap House of Ho is no different. Centered on a wealthy Vietnamese American family in Houston, Texas, House of Ho follows patriarch Binh Ho and all the members of his close-knit family, from his kids Washington and Judy to their influencer cousin and rebellious aunt. Across Season 1, the series explored not only The House of Ho cast's opulent lifestyles but also the drama and culture clashes that unfold within an intergenerational Asian family.
Now House of Ho is back for Season 2, and it's bringing in new family members — California-based younger cousins Kim and Bella Ho — and delving further into topics like divorce, sobriety, and IVF struggles. "I think the biggest misconception is that we're doing this all for show and we're trying to represent ourselves as a bunch of crazy rich Asians," Washington said to People. "This is just how we live, and we're not trying to portray anything else except be[ing] as authentic as possible with all production going around so that we can inspire other Asians to be able to open up, be vulnerable."
Here's everything else to know about the glamorous Ho family.
Binh Ho
Per Deadline, Binh Ho is described as the "super strict patriarch" with "nothing but good intentions." As their daughter Judy explained in the House of Ho trailer, her parents were refugees who immigrated from Vietnam in 1975. Today, Binh is an investment banker at Lu Investment, Inc.
Hue Ho
Hue is a "highly critical mom" who also defends her children against Binh's anger, particularly when it comes to their son Washington's drinking and partying. Outside of her family, Hue's passion is cooking, and she hosts weekly Sunday dinners.
Judy Ho
Judy is the eldest child of Binh and Hue. The most responsible of her siblings, she became a lawyer and is the mother to three kids. In Season 1, she went through a divorce, and at the end of the season began dating Dr. Nathan "Nate" Nguyen. He proposed to her right at the end of Season 1, and Season 2 dives back into their evolving relationship.
"We're still trying to take it slow so my parents can get to know him better, spend a little bit more time with him, and know that he has good intentions," Judy told Hollywood Life in December 2020. "My dad has really enjoyed his time with him. I think my dad's on board at this point."
Based on the trailers, Season 2 will show their lavish marriage ceremony, along with the surprise reveal that they eventually want to move to England together. Per People, it will also likely acknowledge the tragedy that Nathan experienced in February 2021, when three of his kids from a former marriage died in a house fire in Texas. "It's a reminder of mortality, and that the time that we have, it's running out," she told People. "And we always prioritize our time together and the time that we have with our children."
Judy Ho's Instagram has a few family photos, but it appears she mostly stays off of social media.
Washington Ho
Unlike his older sister, Washington was initially characterized as a former playboy and partier who tended to lead a destructive lifestyle. But House of Ho Season 1 explored him starting a journey towards sobriety. This storyline continues into Season 2, as he re-evaluates his career and life — and at one point, unfortunately, has a relapse.
"[In Season 1] the biggest challenge for me was like, 'Hey, do I continue on my journey and open up and share my personal struggles as an Asian person and as a male, father, a husband? Do I really want to be that vulnerable?'" Washington told ET Online. "Because the comments I got from Season 1 ... I'm thankful for them. Without that, I wouldn't be as inspired to get better and I'm really looking forward to seeing what the fans react to on this season."
Today, it looks like Washington spends a ton of time with his kids, Roosevelt and Lincoln, and his wife, Lesley.
Lesley Ho
Lesley is Washington's wife, and she juggles raising their kids with working as a pharmacist full-time. She grew up in a middle-class family in Oklahoma, and House of Ho Season 1 followed her as she learned to adapt to a lavish (and demanding) lifestyle — all while being on camera.
"I think [being on camera] expedites your relationship," Lesley told NextShark. "Stuff that you may not talk about for months, or kind of let bubble for a little bit, we're forced to talk about in front of the cameras, so it kind of puts pressure on your relationship. So good or bad, but in our case, I don't think we'd be at this point now with him sober if it weren't for this show."
Like Washington, Lesley Ho's Instagram is full of pictures with their kids.
Aunt Tina
Tina is Binh's sister, and compared to her brother, she's much less conservative. She wears short dresses, dyes her hair purple, and parties with the newly divorced Judy in Season 1. She quickly became a fan favorite of the show, inspiring an entire video titled "Aunt Tina's Funniest Moments." She's undoubtedly going to be a scene-stealer in Season 2, as well.
Cousin Sammy
The Ho's older cousin is Sammy, who becomes Washington's head of marketing, his assistant, and his confidant during the course of the show. In Season 2 though, drama brews between them, as Washington realizes that Sammy is maybe not a good influence as he tries to maintain his sobriety.
Sammy's Instagram is full of modeling and workout pictures; she also has a YouTube channel where she reviews beauty products and gives gym advice.
Bella Ho
Bella is the Hos' younger cousin and returns to Texas after studying nursing in California. She's the daughter of famous Vietnamese singer Thanh Ha, though she doesn't seem intent on pursuing a similarly creative career in the spotlight. "The first day [filming], it felt really weird," Bella told the Houston Chronicle. "They're always like, 'Act like the camera's not there.' With three cameras in my face, I don't know how to do that."
Kim Ho
Alongside Bella, Kim is the other younger cousin who returns to Texas from the Bay Area. According to the Season 2 trailers, she ends up encouraging Lesley to get more in touch with her old party side.
She also told the Houston Chronicle that her and Bella's stories will revolve a lot around the generational divide in their family. "Between me and Bella, I think there's a perspective we bring that's different from the older generation that was struggling with being displaced from Vietnam and starting fresh," she said. "Our struggle is showing appreciation for the sacrifices they made for us, but sometimes that can be detrimental to our mental health. Our parents, all they could think about was for the family to succeed and to get food on the table."
This article was originally published on