Why Anne Boleyn's English-Language Bible Was So Significant
The Tudor queen was challenged the status quo in more ways than one.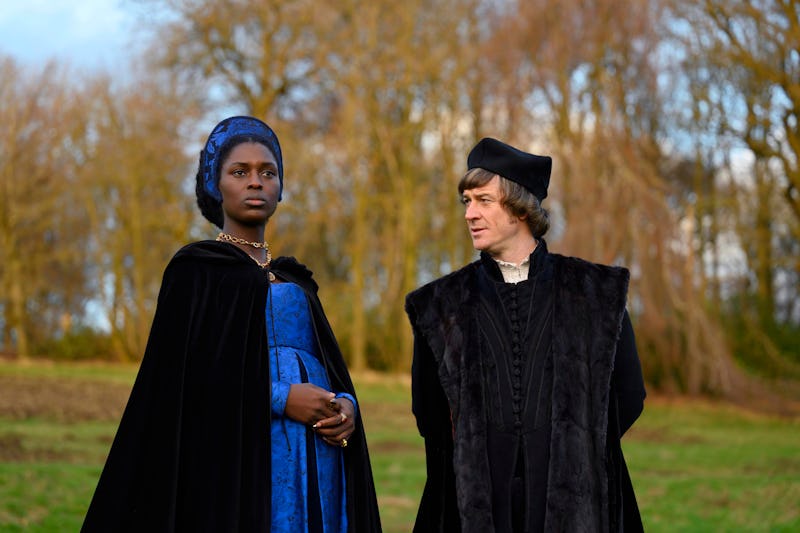 Fable Pictures Ltd/ The Falen Falcon Ltd / Sony Pictures Inc.
From the casting to the storyline, Channel 5's new historical drama Anne Boleyn aims to "challenge audiences' perspectives on who Anne Boleyn was, both as a Queen and a woman." Starring Jodie Turner in the titular role, the three-part drama retells the infamous story of Henry VIII's second wife though her eyes. While many may know all about Boleyn's shocking fate, viewers can also expected to learn more about the more influential side of Anne Boleyn, too. The historical reimagining sees Anne with one of the first English language Bibles, but is that historically accurate?
In episode one of Anne Boleyn, the royal is gifted a bible published in English by her brother George, played by Paapa Essiedu. On receiving the bible, Boleyn is portrayed to be overjoyed by the notion that her subjects would be able to read the scriptures "in their mother tongue." Turns out, Channel 5's depiction of Anne Boleyn's English bible is only part of the story.
Back in the 1500s, it was "still strictly forbidden to translate the Bible into English," explains the British Library. And, while "church services were by law conducted in Latin," it explained, "most people in Europe were unable to speak Latin, and so could not understand the Bible directly. This, in turn, gave the Church and the King great power over their subjects."
Meanwhile, genius author and scholar William Tyndale "believed that ordinary people should be able to read (or listen to) the Bible" and so translated the New Testament from its original Hebrew before being betrayed and horribly executed for his so-called crimes.
As history goes, Boleyn, who was devoutly religious Protestant, championed both religious and poverty reform in the country, including translating the bible into English. Interestingly, Anne Boleyn is said to have smuggled in a copy of Tyndale's scandalous The Obedience of a Christian Man into the English court during her time as Henry VIII's "mistress". The book, which she showed to Henry, is said to have helped fuel his break from the Catholic Church, leading to Henry's annulment to his first wife Catherine of Aragon, and eventual marriage to Boleyn.
As Professor Lipscomb explained to The Express: "We could argue that Henry VIII would not have broken with the Roman Catholic Church if it weren't for Anne's influence." During her short time as Queen, Anne Boleyn had also managed to get an "ornate copy of Tyndale's 1534 edition of the English New Testament."
Both Boleyn and Tyndale were executed sometime in 1536, however, a few short years later Henry VIII ordered that a copy of the Bible in English be placed in every parish church in England.
Channel 5's Anne Boleyn attempts to detail in part some of Anne Boleyn's influence. "As history is written by the victor, Anne's been branded everything from an enigma to a witch, a sexual temptress, a cold opportunist, a traitor… But the crux of it was that she challenged the status quo," said Anne Boleyn director Lynsey Miller, in a statement sent to Bustle, "and that terrified those whose positions were dependent on maintaining it…"