What The Real James Fitzgerald Thinks Of 'Manhunt: Unabomber'
Fitzgerald seems to be pleased with the show — but notes that it isn't 100% accurate.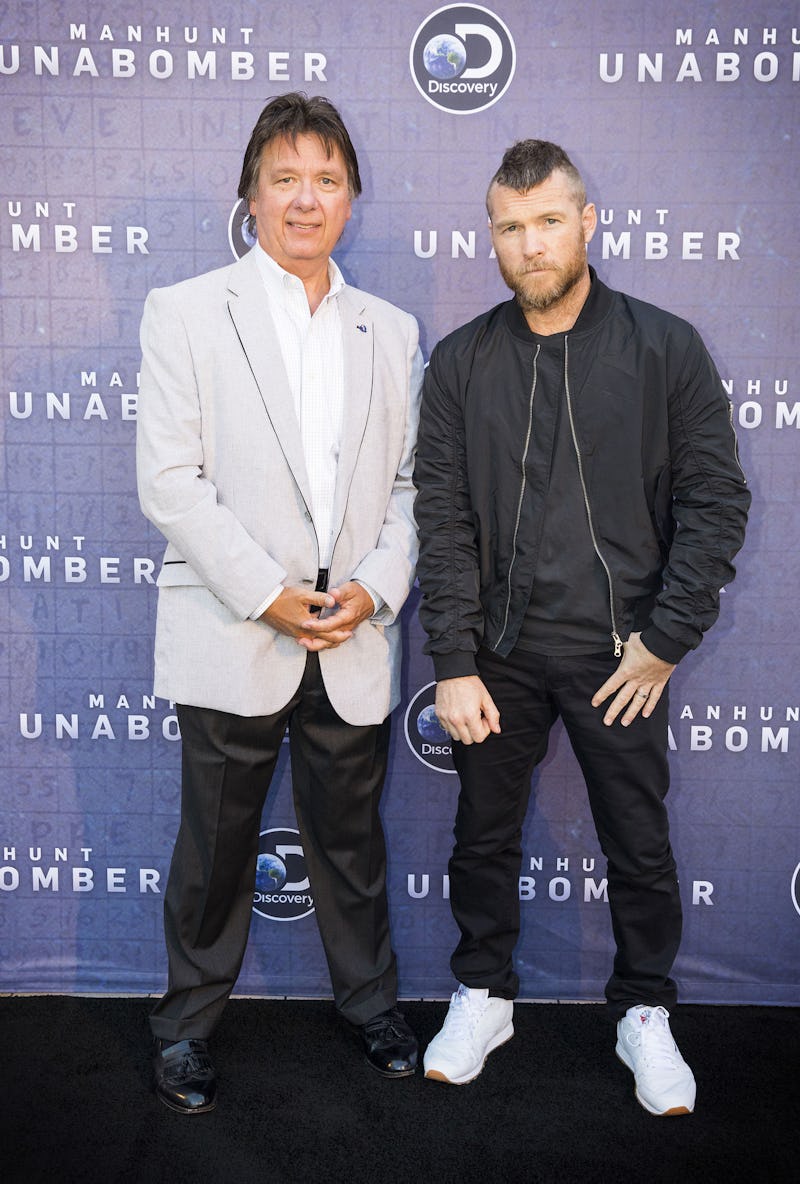 Discovery
As true-crime continues to gain traction in the movies and television sphere, Discovery Channel decided to try its hand at the genre with one heavy hitter of a show. Manhunt: Unabomber is an eight-part limited series that follows the crimes, investigation, and eventual arrest and conviction of Ted Kaczynski, better know as the Unabomber, who pleaded guilty to 16 bombings and was sentenced to life in prison. The series spends the bulk of its time following the man who was essential in identifying this killer: FBI agent and criminal profiler James "Fitz" Fitzgerald. As he's a crucial figure in the real case, fans will be glad to know that Manhunt: Unabomber's portrayal of James Fitzgerald is accurate, and the real man has given actor Sam Worthington — and the series — his stamp of approval.
"They are in the high 80 percentile [of accuracy]," Fitzgerald says in a phone interview with Bustle, though he adds that "the Fitz character is a composite character." But while the real Fitz didn't do every interview or crime scene visit, he "knew the agents who did, debriefed the agents who had been there, or looked at pictures of crime scenes." Overall, he says the series is "a metaphorical look at my role in the Unabomber case, as well as bits and pieces of other agents who did it. It's relatively factual. I will say, if it is about language analysis that is shown on the screen, that was me. That was the real Fitz."
The Discovery series certainly gives plenty of attention to the forensic linguistics methodology that he pioneered. Fitzgerald used the Unabomber's own words against him, combing his 35,000-word manifesto for clues that would reveal who the killer was.
"I said, 'This guy has given us a gift, he's opened a window to his soul. Let's dive into this and find everything we can from the aspect of his usage of language,'" Fitzgerald recounts. "I said, 'I know there are clues in here somewhere.'"
But, the series didn't just get the language part right. Fitzgerald says that Worthington also went out of his way to dig into the real investigator's mind to better portray him. "As soon as he was cast for the role, within days, he sent me a long email with about 25 questions," Fitzgerald says. "He wanted to know about growing up, my favorite food, my best day, my worst day. He wanted to know left-handed, right-handed."
One thing the series did fabricate was the profiler's meetings with Kaczynski in prison. Fitzgerald says there was a time when he was scheduled to interview Kaczynski, but the meeting fell through at the last second.
"I was supposed to meet with him in 2007. I drove halfway to the prison," he says. "The correctional officers who handled Kaczynski called and said that he changed his mind and that he was busy that day. This is a guy who is locked up 23/7 in a jail cell, but he was busy."
When news of the series came about, Fitzgerald says he attempted to contact Kaczynski via letter. He wrote, "I want to make sure we got all the facts straight right and I would like to come out and talk to you to present your side of the story." But, Kaczynski never answered. Instead, the Manhunt team used the questions Fitzgerald prepared for the real meeting in the fictionalized one. And, whether they met or not, he's clear on one thing: "[Kaczynski] knows who Jim Fitzgerald is. ... I think [he] would like to put me in my place," Fitzgerald says. "At least try to ... or prove that he truly is smarter than me. Quite frankly he is probably smarter than 99.9 percent of the people out there. He took his gift of intelligence and decided to kill people with it."
Like his character in Manhunt: Unabomber, the real Fitzgerald also doesn't quit. He says, "Given the task, the real Fitz really is mission-oriented. If it comes to helping solve the Unabomber case, or putting the pieces together of the JonBenét Ramsey case, or sticking to my guns with the 2001 anthrax case, I find myself completely devoted to it, not willing to give up."
But, the obsession with the Unabomber that Fitz has in the show isn't quite as true to real life, Fitzgerald says. "He was never truly in my head. I went through times away from my family, my home during the Unabomber case and it made things difficult for me on a personal level. But I wouldn't say I was obsessed with identifying, arresting, and convicting the Unabomber. But I certainly had laser-like focus and I didn't sleep much and I was working weekends and long days — it finally all paid off."
So, Manhunt: Unabomber may not have had the participation of the Unabomber himself, but the series took pains to ensure that the portrayal of Fitzgerald and the investigation was pretty accurate. And, for fans who want to know more about the real FBI profiler, they can read Fitzgerald's three published books, which he says will eventually be a four-book memoir series — titled A Journey to the Center of the Mind — about his career and cases he has worked. "If [fans of the series] want to get ahead of things, they can certainly read my third book where I walk them through that case from my perspective with 100 percent accuracy," Fitzgerald says.
For more of the dramatized version of true events, stream Manhunt: Unabomber on Netflix.
This article was originally published on