How To Stream John Wick: Chapter 4
Keanu Reeves is back as the fan-favorite character.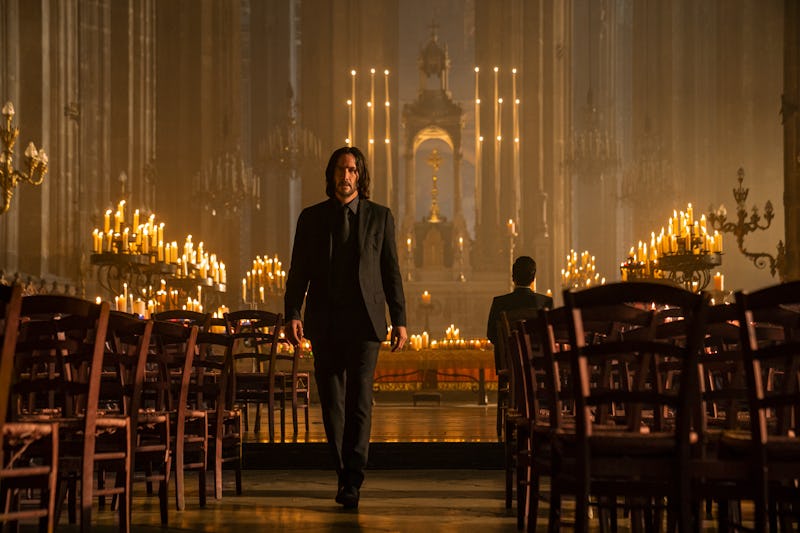 Murray Close/Lionsgate
When the first John Wick premiered in 2014, it becoming a surprise hit, spawning two sequels that collectively grossed nearly $600 million worldwide. The action thriller was such a success, in fact, that the fourth and fifth installments were shot back-to-back, and two spin-offs — a limited series, The Continental, and a film, Ballerina — are in the works. And there may well be even more Wick on the way: Keanu Reeves has said he'll continue to play the franchise's titular character for as long as audiences enjoy the films.
In John Wick: Chapter 4, which hit theaters on March 24, 2023, a wounded John Wick must defeat The High Table — a council of 12 crime lords who run the world's most notorious mafias — before earning his freedom. Though it's unconfirmed whether Halle Berry and Jason Mantzoukas (who appear in John Wick: Chapter 3 – Parabellum as Sofia and Tick Tock Man, respectively) will reprise their roles in Chapter 4, fans are thrilled that Laurence Fishburne's Bowery King, the late Lance Reddick's Charon, and Ian McShane's Winston are confirmed to appear.
But not everybody wants to head to the theater to see Reeves perform his own stunts. Below, how to stream John Wick: Chapter 4.
Is John Wick: Chapter 4 Available To Stream?
Unsurprisingly, the only way to see Keanu Reeves' Baba Yaga in action right now is by going to a theater.
An exact streaming date is unknown at this point, but given that the first three John Wick movies are available on Peacock, the fourth installment will most likely hit the same streaming platform following its theatrical run. And because it's a Lionsgate film, it'll also land on Lionsgate Plus, as well as Prime Video, thanks to their deal dating back to 2017.
Bustle will keep this story updated as Lionsgate announces its plans for John Wick: Chapter 4's digital release.
What Are Critics Saying About John Wick: Chapter 4 ?
So far, critics seem to be enjoying the latest installment of the John Wick franchise, though it's not without flaws. Variety's Owen Gleiberman enjoyed the film, but he complained that it was unnecessarily long. "At moments, it's like the action film as liturgical church service. Yet the movie is conceived as a knowingly overstuffed gift to John Wick fans, and on that level it succeeds. The marquis keeps trying to assassinate Wick before the morning of the duel, and this results in several delectable fight sequences," he wrote. "One is set in the middle of the speeding centrifugal traffic that surrounds the Arc de Triomphe, one is shot thrillingly from an overhead doll's-house view, and then there's the spectacular climax, which unfolds on the Rue Foyatier in Montmartre, the 222-step stairway that leads to the Basilica. With Wick spinning into action (and, at one point, rolling down the entire flight), it becomes an exhilarating stairway to hell, one that winds up delivering John Wick to the gratifying karmic destination he has spent this series earning."
USA TODAY's Brian Truitt shared the same sentiments regarding the length of the movie but praised its casting and electrifying action scenes. "Even for an action-movie lover, 169 minutes of Chapter 4 is a smidge much: You'd never call a Wick film chatty but the middle lags between the bullet-ridden onslaughts. Not that one has to wait long for the next epic action sequence," he wrote. "This one is chock-full of bangers, including a festival of samurai swords in a Japanese hotel, a waterfall-filled throwdown in a German nightclub, one particularly cool fight from a nifty floorplan view where Wick lights people up with fire bullets, and a most excellent and electrifying traffic jam at the Arc de Triomphe."