How To Stream Jurassic World: Dominion
The original cast reunites in the franchise's new installment.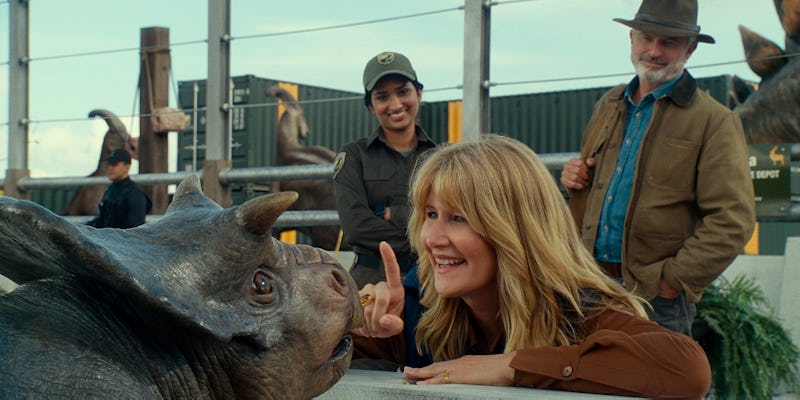 Universal Pictures
Nearly 30 years after Jurassic Park premiered in the summer of 1993, the franchise is still going strong: The latest installment, Jurassic World: Dominion, garnered a whopping $143.4 million at the box office during its opening weekend. Dominion unites the stars of the original film — Laura Dern, Sam Neill, and Jeff Goldblum — with Chris Pratt and Bryce Dallas Howard, who've led the more recent movies. Together, the team takes down a genetics research company that's experimenting on dinosaurs and humans.
Although the original Jurassic Park is almost three decades old, it's cast a long shadow in the real world as well as on movie screens. In an interview with Vogue, Dern, who plays paleobotanist Ellie Sattler, said, "An incredible young woman recently came up to me and said that seeing Dr. Ellie Sattler at 13 years old made her believe that a woman could do any job a man could ... It really touched me so much, and there are so many young women and men in STEM I've heard from over the years with similar stories."
Safe to say, it's a pretty big deal to have Dern and her co-stars reprising their roles. But where can viewers catch them in action? Below, how to watch Jurassic World: Dominion at home.
Is Jurassic World Dominion available on streaming?
As of now, no — but fans won't have to wait too long to stream the new movie. According to IGN, Universal (the studio behind the film) has a deal with its streaming service, Peacock, that allows Peacock to release Universal's films four months after their initial theatrical release dates. This means that Jurassic World: Dominion will probably appear on Peacock sometime in October 2022.
A Peacock subscription with ads costs $4.99 per month. If you want to avoid ads, you can pay for a premium plus subscription, which costs $9.99.
In the meantime, you can always catch Jurassic World: Dominion in theaters, or stream the tried-and-true Jurassic Park for free on HBO Max.