Will There Be A Jurassic World 4?
The franchise's latest film may not be its last.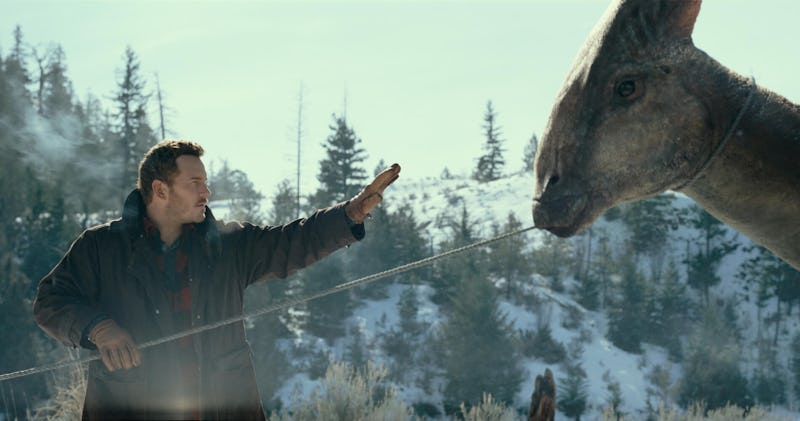 UNIVERSAL PICTURES
Better late than never. Four years since the last Jurassic World movie hit theaters, the trilogy is coming to an end with the premiere of Jurassic World: Dominion... or is it?
After a slew of delays, the third movie in the Jurassic World series is finally here. It features a handful of familiar faces from the original Jurassic Park franchise, including Laura Dern, Jeff Goldblum, and Sam Neill; they star alongside Chris Pratt and Bryce Dallas Howard, who are reprising their roles from the first two Jurassic World films. The story picks up four years after the events of Fallen Kingdom, and takes place in a world where dinosaurs live alongside humans (as you might expect, it's hardly going smoothly).
In an interview last year, director Colin Trevorrow explained how Dominion develops the relationship between humans and dinosaurs, and how it caps off the trilogy as a whole. "We really wanted to create a world where we could address this conflict in a way that feels closer to the conflicts that we have now, which is that they're not simple, and things go wrong," Trevorrow told SlashFilm. He continued: "I think that the trilogy that we've made, really is sometimes amazingly so, has found its way closer to our human experience in a way that I don't think I could have imagined when we did Jurassic World."
So what does this all mean for the Jurassic franchise? Below, everything that's known about the possibility of a Jurassic World 4 movie.
Will There A Fourth Jurassic World Movie?
It's possible. While Dominion marks the completion of the Jurassic World trilogy, some have hinted that there's space for more Jurassic movies. In May 2020, Jurassic World producer Frank Marshall told Collider that Dominion was "the start of a new era" after being questioned about the franchise's cinematic future, adding: "The dinosaurs are now on the mainland amongst us, and they will be for quite some time, I hope."
In Jan. 2022, Marshall doubled down on his comments in an interview with SlashFilm. When asked if there's still hope for more human-dino action, Marshall replied: "Yeah, absolutely." However, he backtracked slightly by clarifying that its future would depend on Dominion's success. "I think that Dominion's going to wrap up this trilogy, but we're not resting on our laurels … We obviously want to make quality, good movies with great storytelling, great writers and directors, but we're definitely looking to do more in the Jurassic world."
Fans who are eager for more T-Rex-filled adventures can at least look forward to more episodes of Netflix's Jurassic World Camp Cretaceous. The animated series' upcoming fifth (and final) season premieres on July 21, 2022.
What Are Critics Saying About Jurassic World: Dominion?
Although fans have eagerly waited for the threequel, early reviews for Dominion have ranged from lukewarm to unapologetically scathing. In his review for the Washington Post, writer Thomas Floyd called it an "overstuffed, ungodly blockbuster amalgamation." Rolling Stones' David Fear called the film "an extinction level event" and criticized Trevorrow and co-writer Derek Connolly for being "more interested in giving audiences a blockbuster buffet than a well-cooked entrée." Joshua Rothkopf from Entertainment Weekly noted that even with the return of Jurassic Park cast members, "there's surprisingly little chemistry or humor," adding that Dominion "rarely captures the magic [of the original]."