Knock At The Cabin May Start Streaming Sooner Than You'd Think
M. Night Shyamalan's new horror film debuted in theaters on Feb. 3.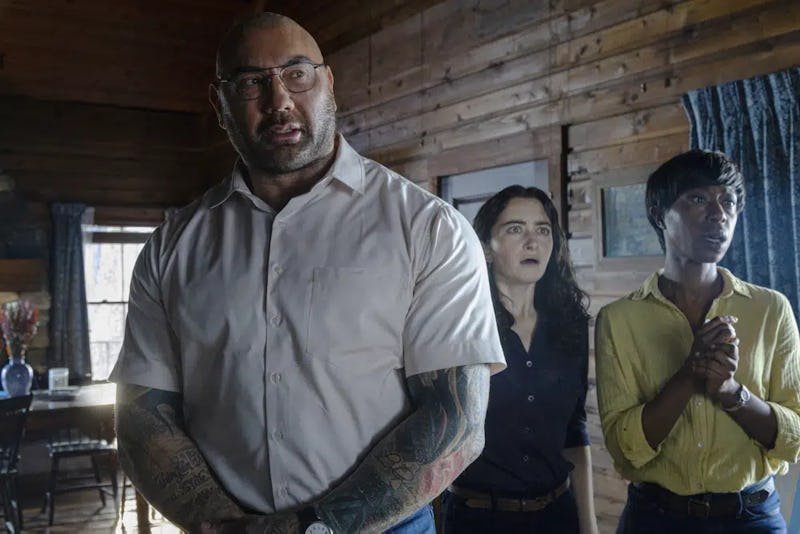 The Sixth Sense director M. Night Shyamalan is back with Knock at the Cabin. The new horror flick will make you think twice before trusting anyone — even those in your own family — and it boasts an A-list cast, including Dave Bautista, Jonathan Groff, Ben Aldridge, Nikki Amuka-Bird, Abby Quinn, and Rupert Grint.
Knock at the Cabin joins films like M3GAN and Skinamarink — which some have called one of the scariest films they've ever seen — in what's shaping up to be a strong slate of horror releases in early 2023. But they've all hit theaters before becoming available to stream, and some would prefer to watch their scary movies at home, surrounded by pillows and blankets (and maybe with the lights on). So, how can viewers stream Knock at the Cabin? Here's everything you need to know.
What Is Knock At The Cabin About?
Knock at the Cabin follows 8-year-old Wen (Kristen Cui), who's celebrating her birthday by vacationing with her parents, Eric (Groff) and Andrew (Aldridge), at their cabin in rural Pennsylvania. While there, Wen is approached by a mysterious stranger named Leonard (Bautista), who explains that he needs her family's help to save the world — but when she goes back to tell her parents, it's already too late. Leonard and his accomplices Sabrina (Amuka-Bird), Adriane (Quinn), and Redmond (Grint) have already broken into the cabin to warn of a forthcoming apocalypse — a catastrophe that can only be avoided if Wen's family makes a major sacrifice.
Is Knock At The Cabin Available To Stream?
Knock at the Cabin premiered in theaters on Feb. 3, and for the foreseeable future, movie theaters are the only place where you will be able to watch the flick. However, in 2021, the film's distributor Universal Pictures made a deal with Peacock that allowed some of their films to become available on the streaming service four months after hitting theaters. If this guideline is followed, Knock at the Cabin will start streaming on Peacock in May or June 2023, though Universal has yet to announce an exact date for its streaming premiere.
What Are Critics Saying About Knock At The Cabin?
Knock at the Cabin currently has a 68% Fresh score on Rotten Tomatoes based on over 230 reviews, which indicates overall critical approval. While this may be on the lower end of the site's Fresh scale, it's actually Shyamalan's best score in years, following poor reviews of previous films like Glass, Old, and The Last Airbender. Next Best Picture's Dan Bayer called it the director's "best film in years," while Inverse's Hoai-Tran Bui said it was his "most technically impressive film thus far." Critics have also singled out Bautista's performance, with the Seattle Times' Chase Hutchinson saying he "shines and shows his range" the most among the cast, even with all-around strong performances; Awards Radar's Joey Magidson writes that the actor "walks away with the film, giving incredible pathos to what could have felt like a villainous character."
However, critics are divided over how scary the movie actually is, with Slant Magazine's Jake Cole calling it "less of a thriller than an unorthodox character study." If you're easily spooked by jump scares, perhaps this is the horror flick for you.