Dave Bautista Accidentally Got A Tattoo Of Peaky Blinders' Cillian Murphy
The Glass Onion actor admitted he's a "little embarrassed" over the artwork.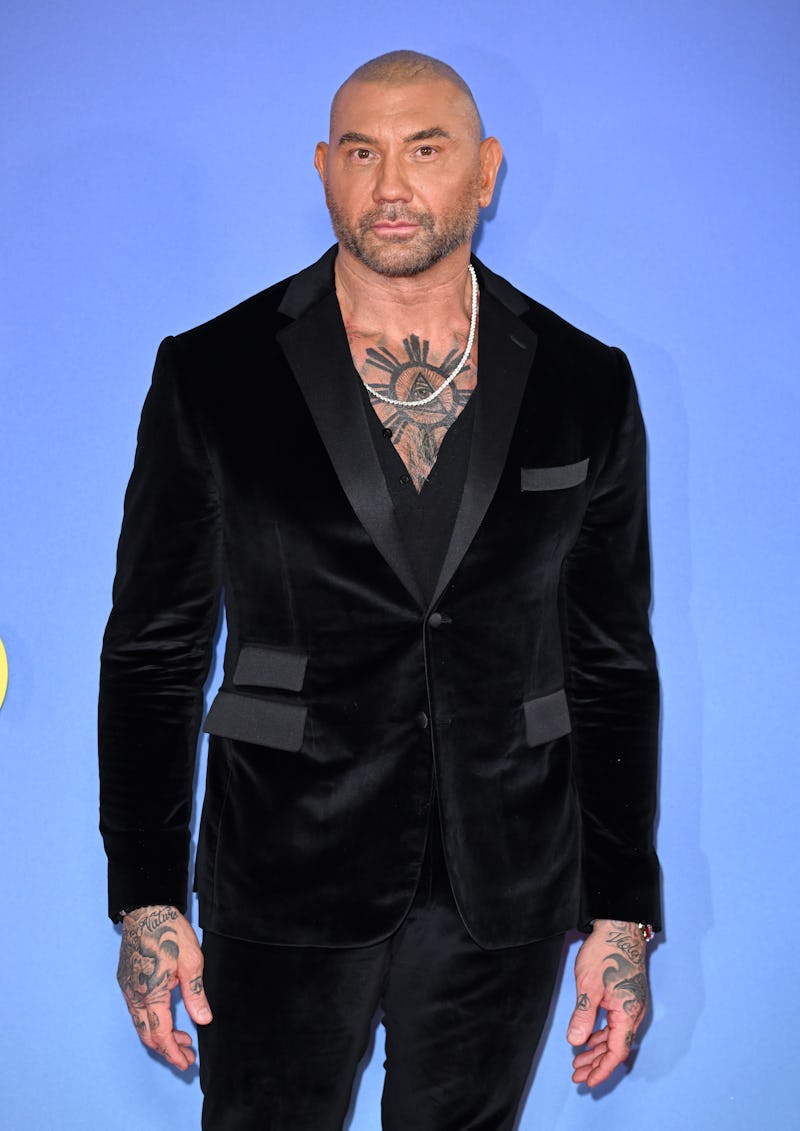 Getty Images/Karwai Tang
A former bouncer-turned-WWE wrestler who is now forging a path on the silver screen, Dave Bautista well and truly left the Marvel universe behind with a starring role in detective drama Glass Onion: A Knives Out Mystery in Dec 2022. Perhaps best known for playing Guardians Of The Galaxy warrior Drax the Destroyer, Bautista hasn't just been collecting up roles in the likes of Dune, Spectre, and Blade Runner 2049 — he's also been busy racking up an impressive number of tattoos. One of them, however, has ended up looking exactly like a fellow actor.
In a filmed interview with GQ, Bautista shows off some of his favourite ink, before explaining the backstory behind a very familiar-looking thigh tatt. Along with the phrase "Gentleman Hooligan" it shows a shadowy character with chiselled cheekbones smoking a cigarette and wearing the classic baker boy flat cap favoured by Peaky Blinders' Thomas Shelby. The gang ringleader is, of course, played by Irish actor Cillian Murphy.
"'I found this cool picture and it was of Cillian Murphy from Peaky Blinders," Bautista explained, "and I asked [my tattoo artist] John to alter it so it didn't look so much like Cillian Murphy. And I got it and I thought, 'Okay that doesn't look exactly like I have a tattoo of Cillian Murphy on my thigh.'"
Though the design disguises Murphy's face with artful blood-splatters and a dark brim to hide his eyes, Bautista explained that fans recognised the original subject almost immediately.
"The first time I posted it on my social media, all I got was, 'Oh my God. You've got a tattoo of Cillian Murphy,'" he admitted. "It is what it is. I'm a fan, so, you know, [I'm] a little embarrassed, but not ashamed. So, Cillian, there you go. Your face is tattooed on my thigh.''
The phrase "Gentleman Hooligan" meanwhile holds personal significance for the former wrestler. "I'm really from the streets. I grew up poor and that was kind of the life I knew until I was in my 30s," he explained. "But I always consider myself a gentleman as well. I give a lot of respect to people because that's just the person I am. That's how I was raised."