How To Stream Scream VI
Ghostface is back in theaters — but when will fans be able to watch the film at home?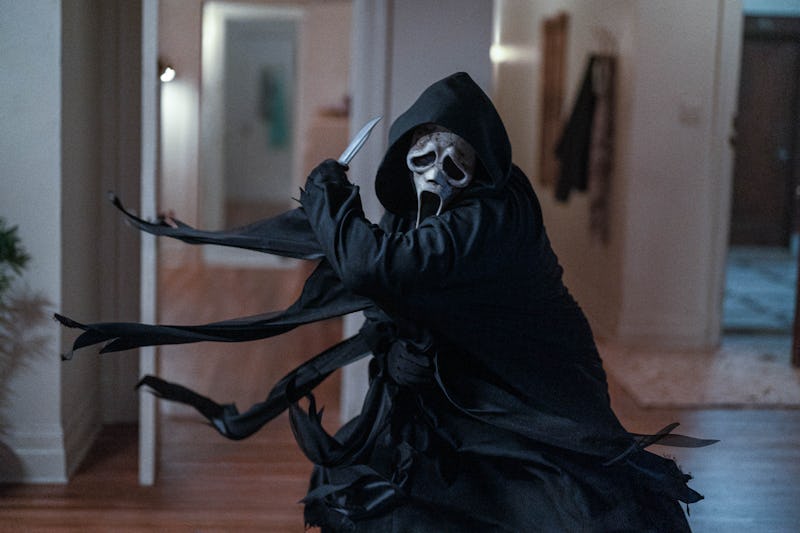 Courtesy of Paramount Pictures
When Scream premiered in late 1996, it became an instant phenomenon, thanks to the now-iconic Ghostface mask and a storyline that poked fun at the horror genre while still making audiences jump out of their seats. After spawning multiple sequels that grossed over $600 million at the box office, the Scream franchise seemingly came to halt in 2011 — that is, until the start of 2022, when the slasher series returned in a big way. Though Scream 5 picked up exactly where Scream 4 left off, it served as a relaunch for the franchise, and ended up raking in $140 million — an impressive feat considering the 11-year gap.
Fortunately, Scream fans didn't have to wait another decade to enjoy the next installment, Scream VI, which hit theaters on March 10, 2023. Not much is known about the plot of the new film except that Ghostface's bloody rampage continues in the Big Apple, where four survivors who'd escaped the fictional Woodsboro had hoped to make a fresh start.
But not everyone wants to head to the theater to watch Ghostface terrorize his victims. Below, how to stream Scream VI.
Is Scream VI Available To Stream?
At the moment, the only way to catch what's new in the Scream saga is by trekking to the theater; a streaming premiere date has yet to be announced. Still, most of Paramount Pictures' theatrical releases hit streaming 45 days after debuting in theaters, give or take. So, in the case of Scream VI, which is out in theaters on March 10, 2023, the slasher film will likely be available to stream on Paramount+ in late April.
For what it's worth, Scream 5 hit theaters on January 14, 2022 before hitting Paramount Plus on March 8 — 53 days after its exclusive theatrical run began. Fans of the iconic Scream franchise also had the option of purchasing a digital copy of the fifth installment one week before its streaming debut.
What Are Critics Saying About Scream VI?
So far, critic reviews for Scream VI mostly skew positive. Inverse's Jake Kleinman enjoyed the film but noted that it isn't without flaws. "As a movie, Scream VI ranks near the top of the franchise. It delivers the thrill, violence, and whodunnit mystery the franchise was built on, all cranked up to 11," he wrote. "But the meta-commentary here is basic at best, and its Ghostface is one of the worst. (Weird for a movie practically obsessed with exploring the various killers who've worn that mask.)"
On the flip side, The Washington Post's Michael O'Sullivan wasn't impressed by the franchise's latest installment, calling the storyline stale and gimmicky. "It's tempting to call 'Scream VI' — the latest installment in the long-running meta-slasher franchise, now set in New York City instead of the fictional Woodsboro, Mich., and featuring a whole gaggle of Ghostface killers — less of a fresh idea than a cynical exercise in boosting an existing intellectual property to make a buck," he wrote. "But including a line of dialogue in the new screenplay that does exactly that — an allusion to the bad habits of horror franchises, including the fictional 'Stab' series, films-within-these-films that serve as stand-ins for the one you're watching — doesn't inoculate the makers of this latest chapter against accusations of trafficking in lazy formula."