How To Stream The Banshees Of Inisherin
Catch up on the awards season darling ahead of the Oscars.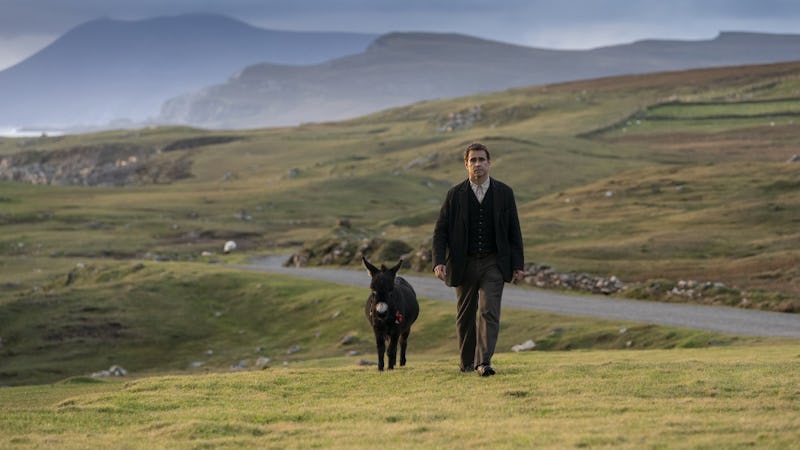 Jonathan Hession/Courtesy of Searchlight Pictures.
Set in 1923 on a small, fictional Irish island during the Irish Civil War, The Banshees of Inisherin follows the sudden and dramatic falling-out of two lifelong friends — a seemingly quotidian event with outsized consequences. Directed by Martin McDonagh, the dark comedy stars Colin Farrell and Brendan Gleeson, whose performances are up for Best Actor and Best Supporting Actor, respectively, at the 95th Academy Awards.
Farrell and Gleeson's performances aren't the only things the Academy liked about the film: The Banshees of Inisherin scored a whopping nine nominations for the 2023 Oscars, including Best Picture, Best Original Screenplay, and Best Director. And it's already won big this awards season, having taken home statues at both the Golden Globes and British Academy Film Awards. "I never expect my films to find an audience, and when they do it's shocking for me," Farrell said while accepting the Best Actor award on stage at the Golden Globes in January.
Whether you're itching to revisit The Banshees of Inisherin ahead of Oscars, or looking to catch up on all of this year's top contenders, the good news is that the film is now available to watch on multiple streaming platforms. Below, how to stream The Banshees of Inisherin.
Is The Banshees of Inisherin Available To Stream?
The Banshees of Inisherin has been available to stream on HBO Max since December 13, 2022. At the moment, you can also rent or purchase the film on VOD platforms like Apple TV, Amazon Prime Video, and YouTube Movies.
What Are Critics Saying About The Banshees of Inisherin?
Rolling Stone's David Fear called it "masterpiece." Comparing the film to McDonagh's previous films, In Bruges (2008) and Three Billboards Outside Ebbing, Missouri (2017), Fear noted that the storyline takes much more of a subdued approach. "You won't believe how lyrical the colloquialism 'feck' can be, regardless whether it's used as a noun, a verb, an adjective, a sign of affection or a salty exclamation," he wrote. "But if you're familiar with McDonagh's early theater work, you'll recognize the real roots of this mournful, magnificent addition to his tales of talkative men and violence."
Mashable's Kristy Puchko praised Farrell and Gleeson's on-screen reunion, as well as the film's twists and turns. "Unlike his last couple of comedies, The Banshees of Inisherin is freed from Hollywood's dictates. As such, McDonagh revels in dodging broad comedy, choosing a less frantic tone that envelops audiences in the slowness that soothes and stings the island's natives," she wrote. "This patient pacing means there's no escape from the social awkwardness of the core conflict as it escalates into social anarchy. McDonagh and his cast are ruthless in this execution, providing catharsis with dark cackles, along with breathless bits in between where we wait on edge for whatever might come next… McDonagh toys with our hopes like a cat batting a mouse, and each swipe is an exhilarating thrill."