How To Stream Women Talking
The new film is based on Miriam Toews' acclaimed novel.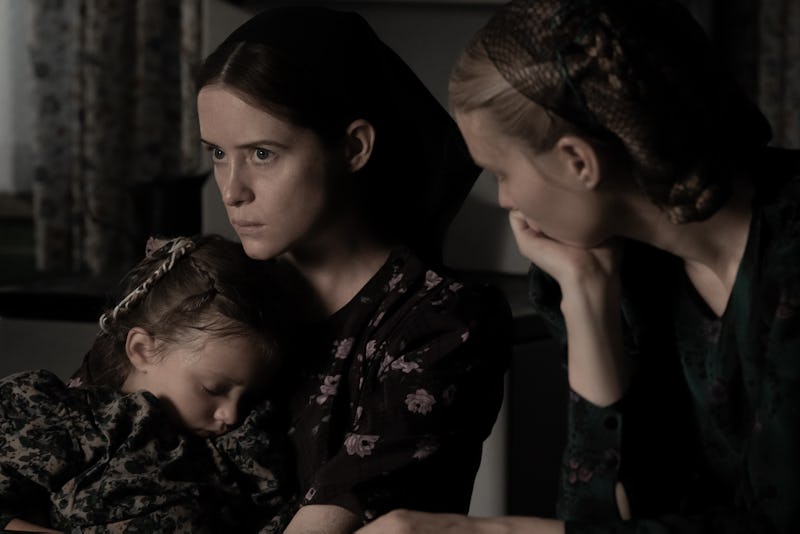 Michael Gibson/Orion
Women Talking — the new film starring Claire Foy, Rooney Mara, and Jessie Buckley — is a chilling tale. It's inspired by Miriam Toews' novel of the same name, which fictionalizes real events that took place in Bolivia between 2005 and 2009. The story centers around women in a conservative Mennonite community, who are being systemically drugged and raped; when law enforcement gets involved, the women slowly recall their traumatic experiences, and are forced to make tough choices.
In The Atlantic, Shirley Li wrote of the movie, "They talk and talk and talk for hours, trying to reach a decision before the men who hurt them return the next day. Often, the women nitpick one another's words — why they're chosen, how they're used, and what they mean. Is 'fleeing' their community the same as 'leaving' it? Would forcing themselves to forgive their violators equal true forgiveness? To some, this may sound like the kind of verbose material more fit for a stage play than a film. But Women Talking ... is vibrant cinema."
As of this writing, the film is still playing in theaters — but sometimes, there's nothing like watching a movie from the comfort of home. Below, how to stream Women Talking.
Is Women Talking Available To Stream?
Women Talking was released in theaters on Dec. 23, 2022, and there's yet to be any official word on when — or where — it'll make its streaming debut. As it's a United Artists movie, it will likely become available to rent or buy on VoD services (think Amazon Prime Video, Apple, Vudu, etc.) around 45 days after its theatrical premiere, though that's only a rough estimate. For example, Bones and All, another United Artists film, actually ended up debuting on VoD services less than 30 days after it bowed in theaters.
It also isn't yet clear when (or if) Women Talking will hit subscription services like Netflix or Hulu. Bustle will keep this article updated as the plan for Women Talking's streaming release is announced — and in the meantime, you can always read (or listen to!) Toews' novel.
What Are Critics Saying About Women Talking?
Critics largely loved the film. As mentioned above, The Atlantic's Shirley Li labeled Women Talking "vibrant cinema." The New Yorker's Richard Brody, for his part, enjoyed the movie — but liked the writing more than the directing: "The exceptional, often overwhelming power of the script that Polley wrote, based on Miriam Toews's novel, is, if not undercut, not amplified by the filming. Polley's script is, for the most part, uncompromisingly original and forthrightly distinctive; the images and performance (which I consider a function of directing), are, although skillful and sincere, conventional."