UK Viewers Will Have To Wait To Watch Another Round
The BAFTA-winning film about drinking (and friendship) stars Mads Mikkelsen.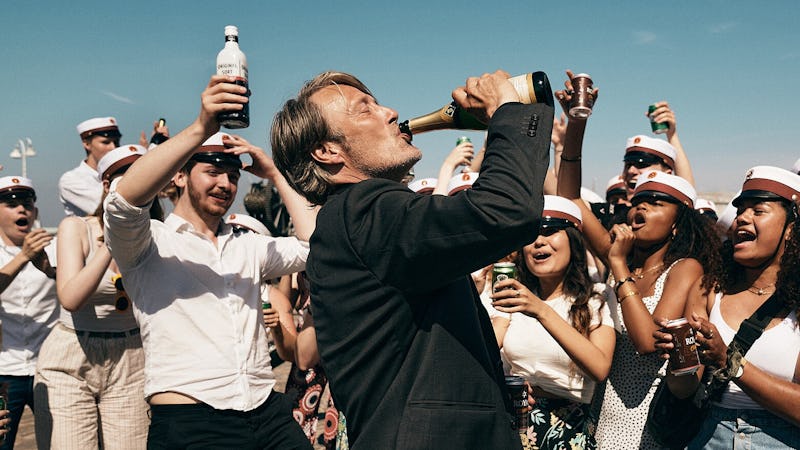 Samuel Goldwyn
With two Oscar nominations and a recent BAFTA win, Danish film Another Round has been stirring up a serious buzz on the film circuit. Starring Hannibal actor Mads Mikkelsen, the comedy-drama tells the story of four high-school teachers who test out a theory that humans perform better they have a small amount of alcohol in their blood. While the film was originally scheduled to be released in late 2020, it had to be postponed due to the pandemic. So, how to watch Another Round in the UK?
There's good news and there's bad news. Good news first: film distributors Studiocanal UK has confirmed that Another Round will be released in the UK. Bad news: it won't be until June 25. They also told me that while "there is no news regarding streaming platforms yet," they expect "this will be a few months after the cinema release." So we have a while to wait yet.
Mads Mikkelsen, who was nominated for the best leading actor BAFTA for his role in the film, plays Martin, a history teacher, who along with his fellow teacher friends, tests a Norwegian theory that humans are born with a 0.05% blood alcohol level shortfall. Naturally, their experiment impacts their own lives and those of their students, family, and friends.
Directed by Thomas Vinterberg, Another Round received critical acclaim both for its portrayal of friendships and alcohol.
"We wanted to create a tribute to alcohol, but it goes without saying we also wanted to paint a nuanced picture. We never wanted to be moralistic about drinking, but also we did not want to make an alcohol advertisement," he told BBC News.
Vinterberg and his film took home the 2021 BAFTAs for the film not in the English language at the award ceremony on April 11. In his speech, he joked: "I did have a small suspicion that you Brits might like a film about drinking."
The film director also paid tribute to his daughter, Ida, who sadly died in a car crash in 2019: "She was more enthusiastic about this project than anyone else has ever been," he said. "It made her miss her hometown Copenhagen and now we miss her, and we made this movie for her so the honour granted by you, BAFTA voters, means more to us than you can ever imagine."